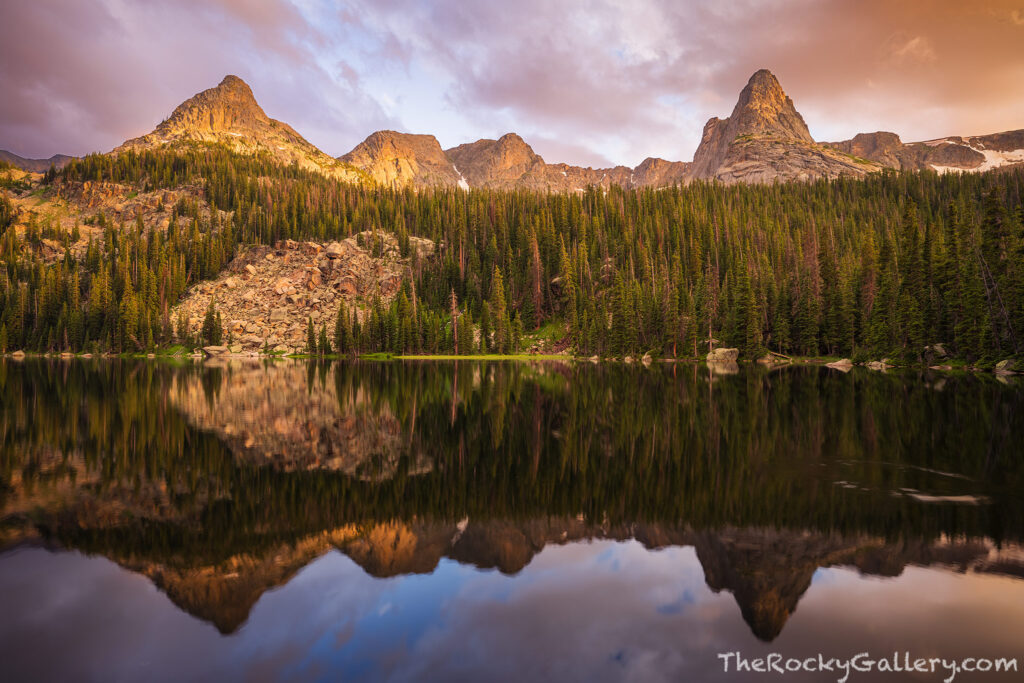 It's prime backcountry and backpacking season in Rocky right now. Almost all the snow is gone though there is still some to be found here in there in a shaded nook or cranny. The wildflowers are in full bloom as are the mosquitos. Even so, its one of my favorite times of year in Rocky Mountain National Park.
When the backpacking lottery comes around March 1st every year, summer seems like its forever off. Even though March 1st is still right in the middle of the winter season, one can start dreaming of where they are going to try and land backcountry sites at and what the conditions will be like when the actual date finally rolls around.
You can plan all you want for the backcountry lottery, but usually you have to be pretty quick on the draw to get sites you want. You need to have a plan B ready to go as once your first pick if gone, you can't wait long for your second or third. Sometimes you go to your old reliables, places you have been many times but can never explore or photograph enough.
That was the case with my first pick this year of the Upper East Inlet backcountry site. I've camped at both Solitaire and Upper East Inlet multiple times in the past and can never get enough of the area east of Lake Verna. Ironically, no matter how hard I've tried, I've never been able to land a permit to camp at the Lake Verna backcountry site.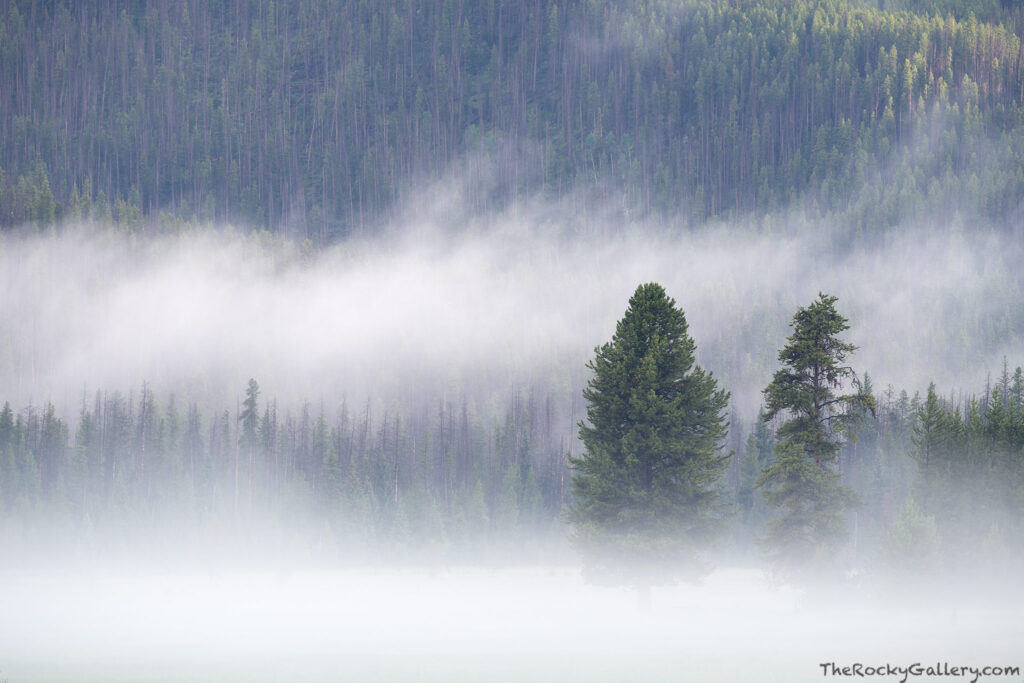 So finally on July 20th, the date arrived for my first backpacking trip of the year in Rocky. I arrived at the East Inlet trailhead a little before 8:00 AM. I had been in the park since 4:00 AM prepared to photograph sunrise. Large thunderstorms had been rolling across RMNP all night and a good amount of rain had fallen. The sun managed to spot light a few areas through the fog in the Kawuneeche Valley, but rain and clouds quickly moved back in so I photographed what I could and then headed over to the East Inlet TH to make the six plus mile trek up to the Upper East Inlet site.
It was fairly warm and wet when I headed through East Meadow on my way towards the climb up to Lake Verna via the Devils Staircase. The mosquitoes couldn't get enough of me as I walked through the grass meadow. With dozens of mosquitoes converging on my arms and legs at the same time I had to stop and break out the bug spray. Normally, I try not to use any repellant until I absolutely have to. This was one of those situations, and as I hastily dropped my pack and grabbed for the repellant, I said to myself 'if this does not work I'm turning around and bailing right now'. Happily, the Deep Woods Off did its job and the mosquitoes disappeared.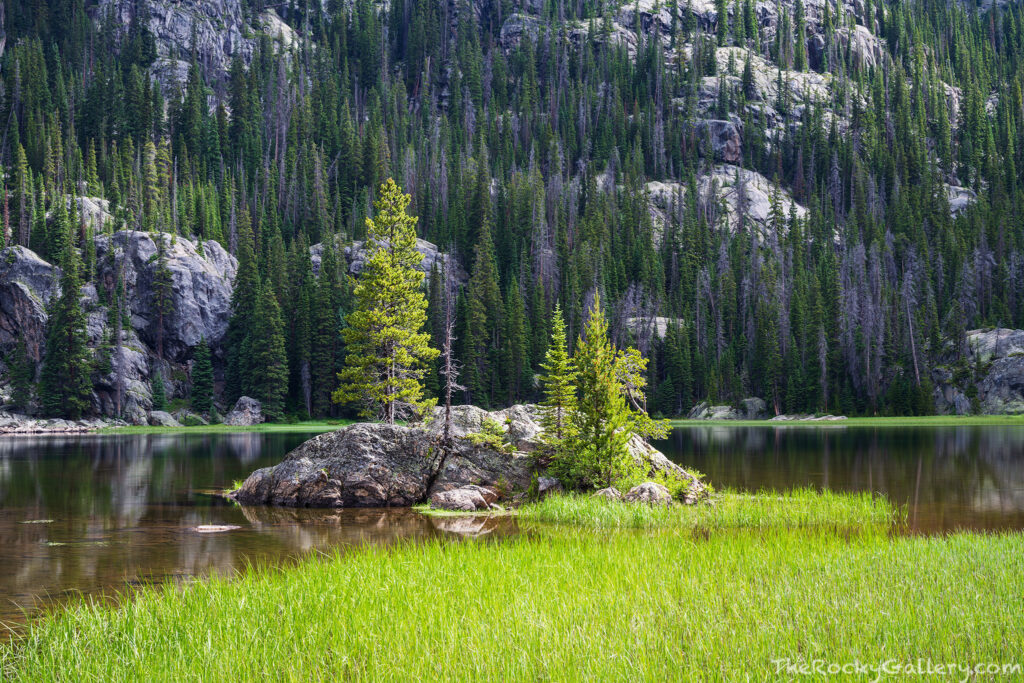 From the East Meadow up until Lone Pine Lake it was an enjoyable but tiresome hike with a heavy pack on. I stopped to photograph Lone Pine Lake as the sun spotlit the namesake island (which now has like 4 or 5 pines on it). After that short stop, and another mile or so I was heading up the trail to my campsite at Upper East Inlet. Eating lunch and setting up camp just before the rain and lighting really started to pickup again worked in my favor. With pretty heavy thunderstorms moving over the East Inlet, I spent a good 3 hours just waiting out the rain and storms in my small one person tent. Keeping an eye on the forecast, it looked like I'd have a decent chance for some good light around sunset when the storms where supposed to abate for a little while.
Finally around 5:00 PM it seemed like the rain had stopped. I grabbed dinner, threw on my pack and headed up the trail past Lake Verna to get in position for sunset. The goal was the area around Fifth Lake but clouds and thunder starting moving back in so I stopped at Fourth Lake to wait it out.
It remained pretty unsettled through the rest of the evening and I figured I'd stay down in the trees at Fourth Lake and shoot for Fifth Lake another time when exposure would not be an issue. Photographing for a short while at Fourth, I headed back down to Spirit Lake for the final hour or so before sunset. Fourth Lake is beautiful but Spirit Lake is in my opinion a better location to photograph landscapes as its a little more open and accessible along the shoreline than Fourth Lake is. Regardless, the sun managed to break through again in spots and I had pretty good sunset light on Fleur de Lis and some decent yet spotty light on the Cleaver to the east of the lake. After spending a bunch of hours hanging in a small tent, I was a happy camper as I hiked back in the dark to my site.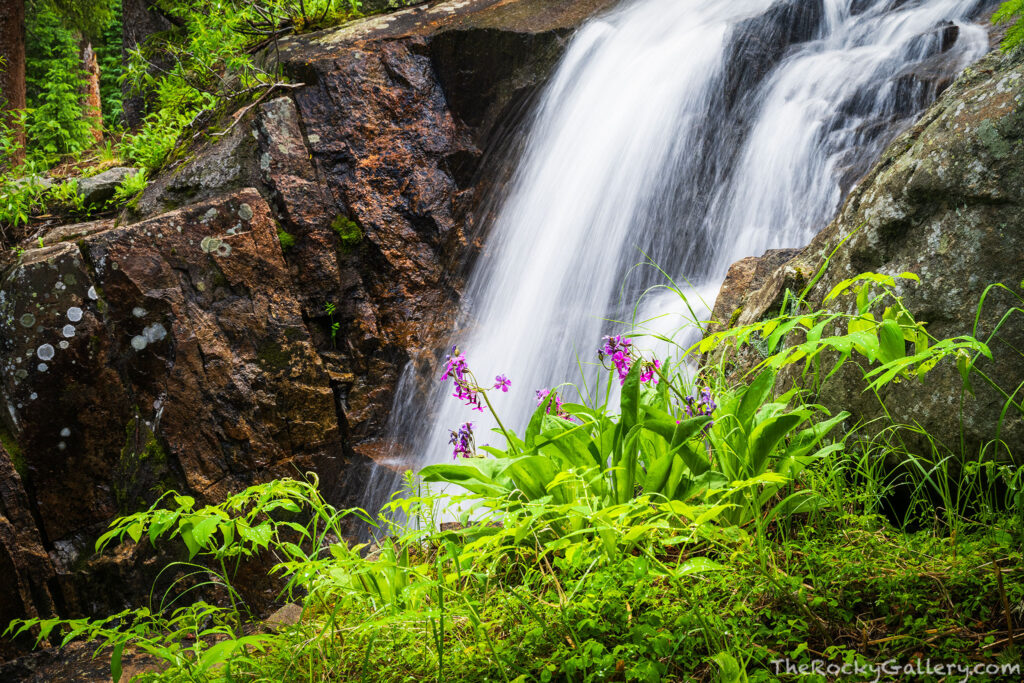 The next morning, the 21st of July dawned clear. I rolled out of my tent a little before 4:00 AM, fired up the JetBoil and made a nice hot cup of Anthonys Organic Instant coffee to wake myself up and figure if there was anything worth photographing that morning. After finishing my coffee, I made a quick run up to Lake Verna just to get a better look at the skies and see if there were any promising clouds. The sky was clear as a bell so while that was a bummer, there was lots of low hanging fog on the surface of Lake Verna as well as some fog hanging over the Inlet of Lake Verna near its beautiful but tiny beach. I made a quick run down to the trail to the overlook looking over Lone Pine Lake just west of the Solitaire site to see if Lone Pine was fogged in. Amazingly, it was not, only Lake Verna was.
Hustling back to Verna just as the sun was cresting the continental divide, I spent the morning keeping my fingers crossed that the low lying fog hanging over the surface of Lake Verna would remain long enough for me to make some images. Its common in Rocky Mountain National Park that both clouds and fog will dissipate just as the sun is starting to rise, so I've learned to temper my excitement as I've watched epic conditions turn into fair and boring conditions quickly and often.
The ground fog held and I was able to get some interesting and unique images of a backlit Lake Verna fogged in. Overall, another great morning and I headed back to camp to relax and reset.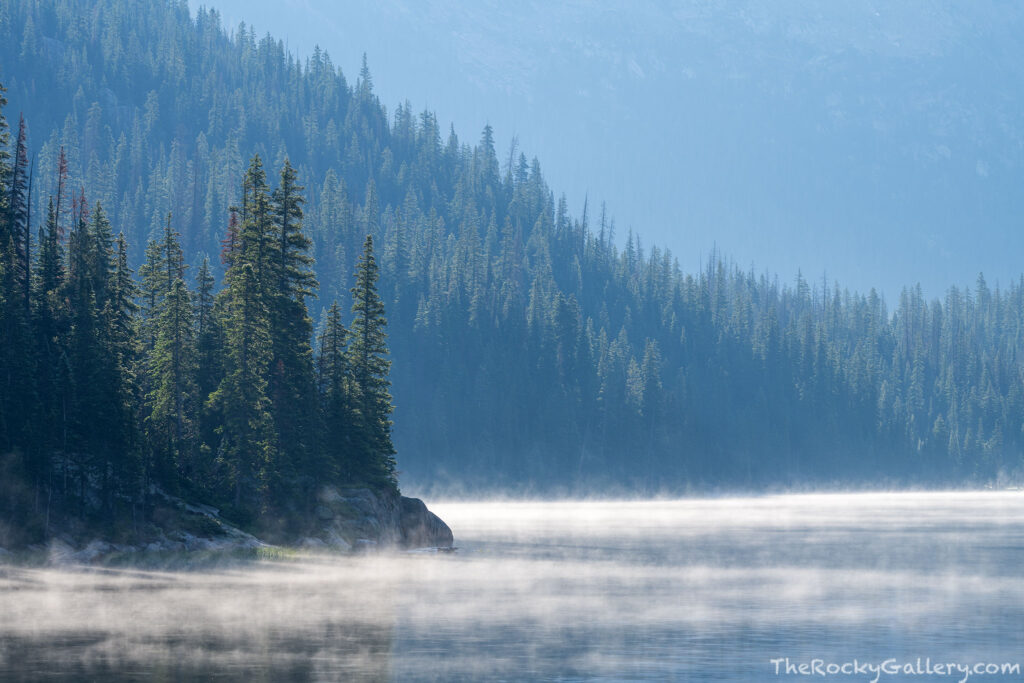 That afternoon the weather was much more settled than the previous day. There were still thunderstorms that started to form in the afternoon and it would sprinkle here and there but overall it was obvious there was not nearly the staying power in the clouds and storms as there was the previous day. Thunderstorms staged to the west of Grand Lake, but over the divide and the Cleaver it was basically clear. I could see thunderheads east of the divide but they were not high enough to be beneficial in anyway for photography that afternoon. All I could do would be to pick a spot and see what happened. Again, I chose Spirit Lake because thats where the clouds were. If they moved east I would have a shot and if they stayed south and west I would have s shot. Needless to say I did ok though the lighting was not nearly as dramatic as the afternoon before.

My final morning in the backcountry of RMNP again dawned clear. Regardless, I had wanted to go explore Fifth Lake and especially the area around it as its one of the best places in all of Rocky for wildflowers. I headed up the trail before 5:00 AM and made my way past Lake Verna, Spirit, Lake Verna and Fourth Lake in short order quickly ending up in the spectacular meadow just below Fifth Lake. With the mountains still casting a large shadow over the meadow, I used the diffused light to photograph the amazing blooms of Blue Columbines, Red and Pink Paintbrush all before the wind started to pick up and blow the flowers around.
I was able to photograph for about a 1/2 hour before the wind became to blustery and the conditions deteriorated. It was time to make my way back to camp, pack up and head back down to Grand Lake.
Overall another great trip in the backcountry of Rocky Mountain National Park and as is always the case from a landscape photographers perspective, being out in the backcountry leads to about a productive a time as one can spend in the field. I've still got a few more days left in the backcountry of Rocky Mountain National Park and I'm looking forward to spending as much time as I can enjoying it, stay tuned!.