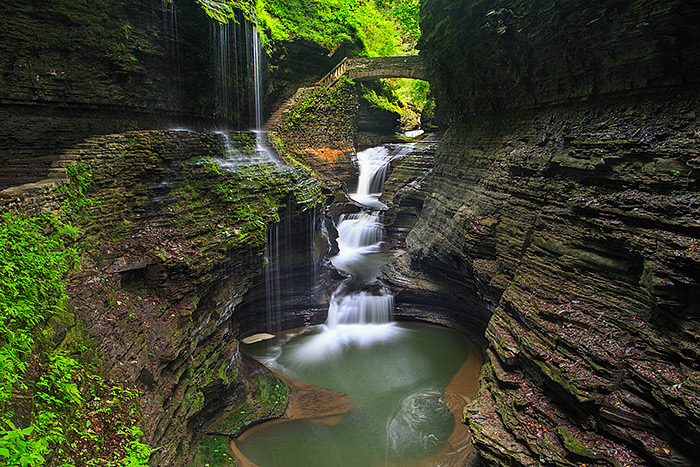 Before we get too far along with summer, I'm still working on a backlog of images. Some of these images are from as far back as June. While I don't find backlogs particularly fun to work through, it's a good problem to have.
I spent a week in early June visiting family in New York. One of my favorite places for landscape photography when I'm back in New York is Watkins Glen. Some may know of Watkins Glen because of the NASCAR race they hold there each year, but photographers and hikers go because of the spectacular gorge baring the name.
For those unfamiliar with Watkins Glen, Glen Creek drops 400 feet through a narrow rocky gorge. The gorge, which is now as deep as 200 ft in some locations has numerous waterfalls and features which carry on for almost 2 miles. Glen Creek starts just above Watkins Glen in Seneca Lake, one of New York's famous Finger Lakes.
For a photographers there's an image around every corner. Compared to the more arid locations I typically photograph out west, Watkins Glen is the exact opposite. Mist and spray from the falls and rocks are everywhere. Combine that with the above average rainfall that had fallen in June and the greens were lush and practically iridescent.
In some ways Watkins Glen is reminiscent of a slot canyon from the southwest only with lots of water and greenery. It can be a challenging place to keep your gear dry but I would certainly recommend it as a must see location for photographers and visitors to the Finger Lake region.