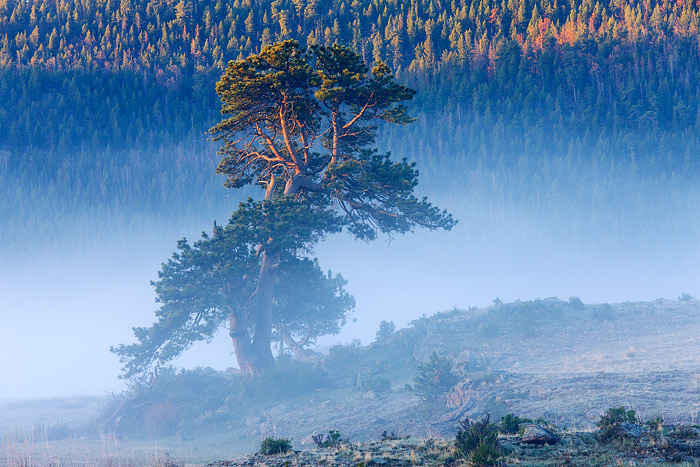 The Moraine Park area of Rocky Mountain National Park is a photographers hot spot. Moraine Park is easily accessible, host to beautiful scenery and trailheads, and sports a good diversity for photographers.
Landscape photographers love Moraine Park for it's impressive views of the snow covered Continental Divide. The Big Thompson river meanders through Moraine Park making for great subject matter. Moraine Park is also host to an abundance of wildflowers which will begin to bloom in early June.
Wildlife photographers flock to Moraine Park during the fall Elk rut. Hundreds of photographers line the roadway's and trails in and around Moraine Park to photograph the herds of Elk and this put on their mating display early in the morning, then late again in the evening. Mule Deer, Coyote, Fox and a large variety of Avian life keep Moraine Park popular with photographers all year.
Moraine Park has an interesting past as well. Moraine Park was homesteaded by some of the Estes Valley's earliest settlers. Abner Sprague's, one of Estes Park's earliest settlers, guide, and hotelier, had his original homesteading plot located in Moraine Park. During this period of time, Moraine Park was known as Willow Park.
Abner Sprague eventually sold his homesteading plot to a cousin and settled a new claim opening a lodge near present day Sprague Lake. Abner Sprague would eventually reclaim the property he had sold in Moraine Park to his cousin and there he would run Steads Ranch and Inn as well as Sprague's Lodge.
Spending a morning hiking through present day Moraine Park it's hard to imagine that not all that long ago Moraine Park was a vacationers paradise. Steads Ranch had it's fare share of modern world amenities and billed itself as a resort hotel. Steads had a large in ground pool, a golf course, stables, croquet, beautiful lobby and restaurant. Paradise at Steads could be had for a mere $8.75 a night or $58.20 for the week for a single room in 1953. The National Park Service eventually reclaimed this property in the early 1960's and began restoring the area to it's natural state.
It must have been an amazing experience to have visited Steads Ranch. While modern world amenities are nice, I have to say I much prefer Moraine Park restored to it's natural setting. For the most part, very little signs remain of Willow or Moraine Park's past history. Moraine Park's biggest threat today are from the overabundance of Elk which eat and damage much of the fauna in the Park.
One of the old vestiges that harkens back to the Steads Ranch days are some of the older Ponderosa Pine tree's that remain. There is one particular Ponderosa in Moraine Park that has always fascinated me. It's divides into two sections and has been twisted and twirled by winds and weather. Large branches have been remove by lighting but even still, this sentinel of Moraine Park stands tall and beautiful.
This tree has stood witness to many events in it's day. It stood watch when Steads hosted thousands of tourists at it's swimming pool, golfers played rounds near it's base, and fisherman walked the banks of the Big Thompson searching for trout. On this cool spring morning, with a fog and dew lifting over Moraine Park this tree now stands over a setting more becoming of it's beauty and dignity.