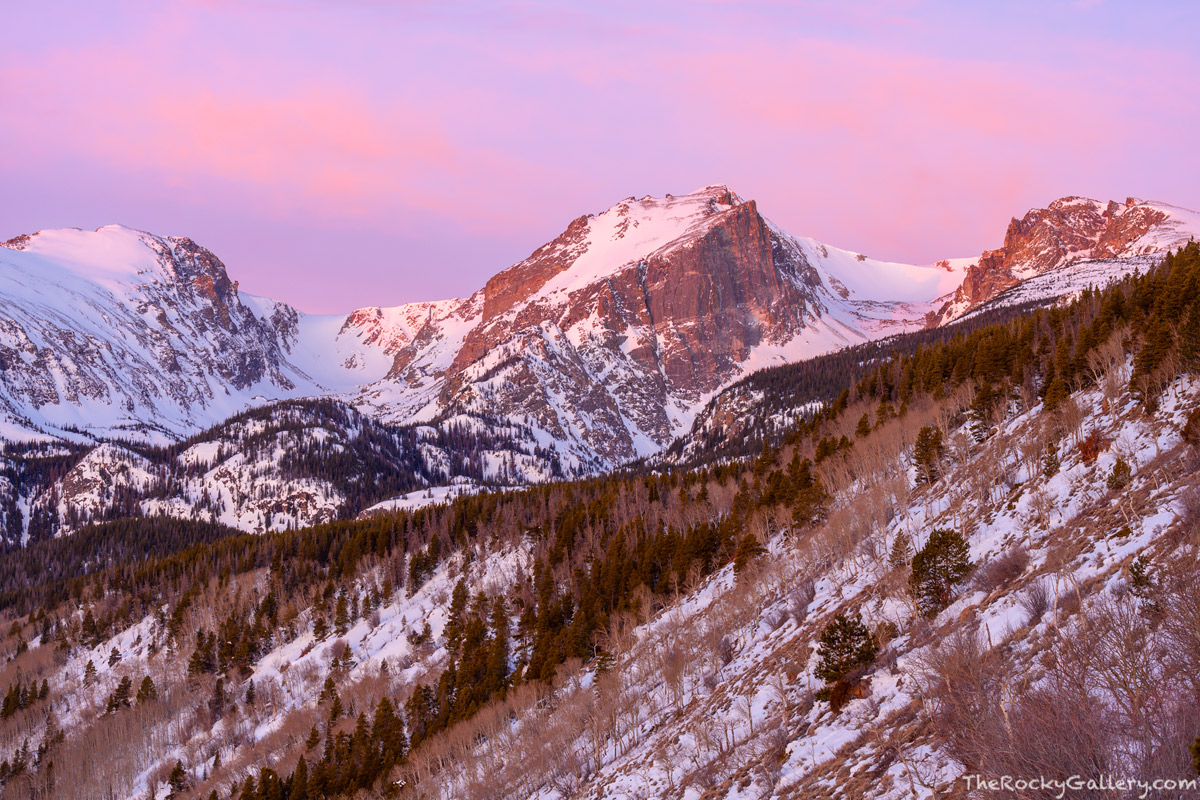 One of the most exciting parts of being a landscape photographer is the anticipation of what a new day holds in store. Checking out all the weather forecasts and models trying to take a stab at whether sunrise is going to be a stunner works out only part of the time.
More often than not, expectations are going to fall short. Clouds dissipate right at sunrise or clouds form just before sunrise blocking out first light. So many times the margin between capturing a portfolio worthy image and nothing is minute. Regardless, I always have a little more pep in my step when the possibility of capturing something worthwhile seems more likely.
Yesterday forecasts and models look like this morning may have a decent chance for some nice color at sunrise. High clouds streaming in from the south and west should have been hanging out over Rocky near sunrise.
I was out early this morning as I always am checking out the conditions. High clouds hung over the continental divide this morning and it was cloudless over the eastern plains of Colorado. In a nutshell this is one of my favorite setups for dramatic color over the mountains if all holds.
After walking my dog Jackson, it was into the truck and up to Rocky Mountain National Park. Arriving in the park and checking out the setup things still looked pretty good. Some of the cloud cover had thinned from when I left but there was a good amount of high clouds floating around and nothing to the east to obscure first light.
We are now into spring and the sun is marching northwards each day. Some of the best photographic locations in Rocky and Bear Lake Road in particular are best when the sun moves northward in the sky towards the summer solstice.
I settled on a hike up the Bierstadt Moraine for sunrise. Hallett Peak's blocky tomahawk shaped peak has always been one of my favorite peaks to photograph and the lights getting good on Hallett, Otis and Flattop now.
High up on the Bierstadt Moraine I settles on this composition. I prefer the upper portion of the Bierstadt Moraine to the lower part as more of Hallett Peak is visible above the top of ridgeline the moraine forms.
Watching and waiting for sunrise on a beautiful March morning in RMNP, the pastels and pinks started popping 15 minutes before sunrise with a little more color as the sun illuminated the mountains. Everything worked out like I had hoped it would. Many times this is not the case but this March morning the madness was perfect.