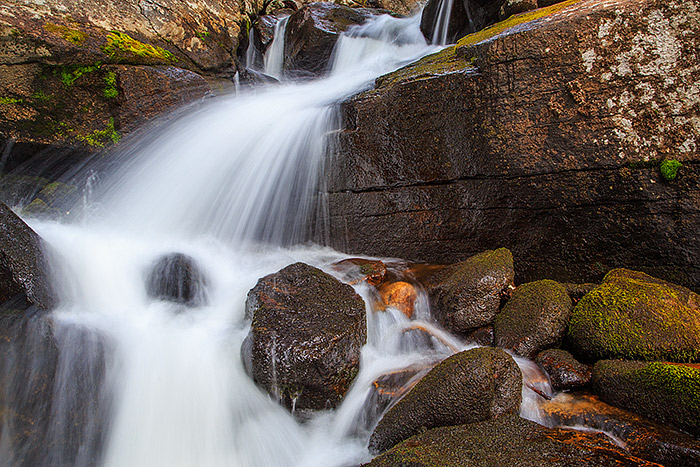 Rocky Mountain National Park is filled with hundreds of named waterfalls as well as unnamed bubbling cascades. You can find these waterfalls all over Rocky from just above the meadows to high above treeline.
It's fun to look at a topo map and try to guess what a location or waterfall is going to look like when you finally get to the location. I find these places often appear nothing like I think they will when just trying to imagine them on a map. It makes the adventure to the falls more fun and as a photographer keeps you on your toes.
One of these particular locations I've been eyeing on my map for quite sometime was Lyric Falls. Lyric Falls is formed by Hunters Creek just below Sandbeach Lake in the Wild Basin region of Rocky Mountain National Park. A perfect sunrise at Sandbeach Lake followed by overcast conditions made for a great opportunity to explore Lyric Falls on my hike out from Sandbeach Lake a few weeks back.
There is only a social trail which follows more or less along the banks of Hunters Creek to reach Lyric Falls. It's certainly not difficult to locate, but as always you should be prepared when exploring off trail. Legendary Rocky Mountain National Park Ranger Jack Moomaw is responsible for naming Lyric Falls, passing it on his many adventures, rescues and climbs up and around Longs Peak.
Lyric Falls itself is a tiered waterfall that is not so much impressive in its size which is modest, but in the beauty of the cascade itself. Lyric Falls tumbles and cascades over boulders and chutes making for a beautiful symmetrical cascade. The detour from the main trail along with the exploration of Hunters Creek is well worth the effort.