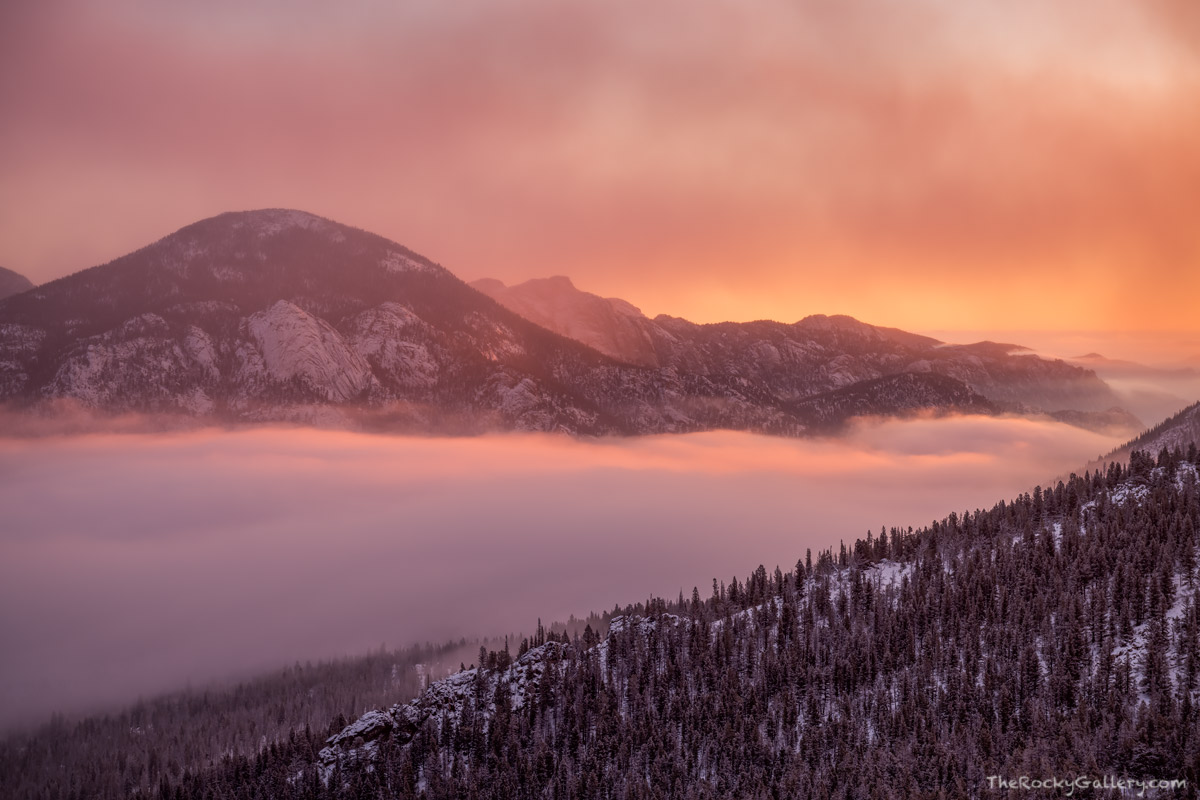 Today was one of those mornings that when I wake up I'm not sure where I'm going to photograph or what the conditions are going to be like. I have a pretty standard routine each morning before I head out the door and into the field. I spend about an hour working out and then it's time to walk my dog.
Not only are both of these activities beneficial for photography, but walking Jackson long before sunrise gives me time to survey the conditions before heading out. Sleeping in sounds great and all but honestly I don't enjoy waking up and just heading out in the dark thinking I know what the conditions will be like. Getting a little time outside to survey the clouds and the conditions has saved my bacon a few times. Sometimes I think I know where the best light is going to be in the morning only to head out with the dog and then change my plans based on what I'm seeing.
I wont be able to get up to Rocky Mountain National Park tomorrow morning so I was pretty intent on heading back up to the park this morning regardless of the conditions. That being said while out with the dog I could see that the skies down here near Boulder were pretty clear. There were signs of some clouds or fog north of me towards Longmont. This intrigued me a bit because with the cold temperatures and fog to the north it appeared and inversion or fog layer was going to setup somewhere.
The trick with these inversion or fog layers is guessing at what elevation they are going to stop at. Photographing in the fog is great, but getting above the inversion layer is even better. Problem is thats not always easy, especially in the winter with most of the high roads like Trail Ridge Road closed for the season.
Back to my office before heading out for one last look at the various web cams I check out as well as my favorite weather site. The Estes Park web cams revealed that it was snowing in both Estes Park and Rocky Mountain National Park. This sealed it for me. Clear skies or snowy landscapes?. I figured I take the snow landscapes and maybe get lucky if the clouds and fog layer I saw to the north somehow made it up to the park.
When I arrived in Rocky Mountain National Park I headed to my spot just inside the entrance that I like to stop out to check out the situation for the morning. I could see the fog layer had now built considerably but was still east of Estes Park and likely halted somewhere in the 6000 ft elevation range. In my head I was thinking sticking lower down in the foothills outside of Boulder might be the best. Still I had a nagging feeling that I should stick around Rocky and see if the inversion kept moving up the hill. It's easy to want to go for what you think is the safe bet, but it also pays sometimes to just pick a spot and stick with it.
This morning sticking with Rocky paid off in spades. About 45 minutes before sunrise I could see the inversion layers had started to make its way into Rocky Mountain National Park and into Moraine Park. At this point I decided to head up to Many Parks Curve to see if I could stay ahead and above the inversion. Thankfully, the inversion layer made it to a level just below Many Parks Curve. With the high peaks covered in clouds and snow, Many Parks Curve was the place to be at this morning in Rocky.