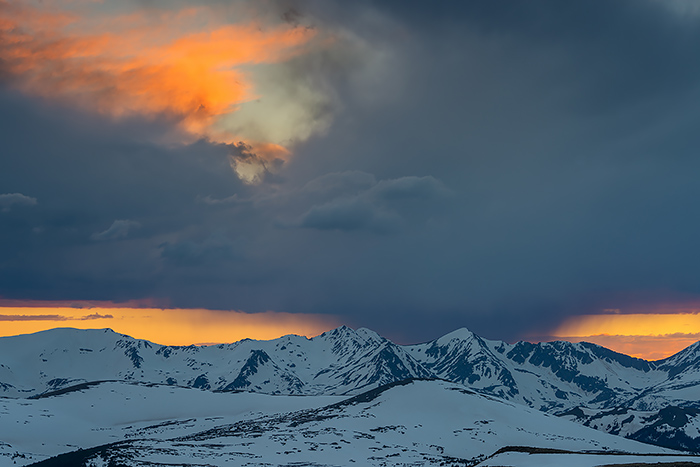 Last week I was able to spend a few evening on Trail Ridge Road for the first time this season since it opened on June 2nd. Normally the National Park Service tries to have Trail Ridge Road open the Friday of the Memorial Day holiday but because of all the snow and inclement weather, the opening was delayed by almost two weeks.
Even with the delayed opening it was a few more days before the National Park Service allowed Trail Ridge Road to stay open through the night. With all the snow melting along the road and with nighttime temperatures still hovering around the freezing mark, Trail Ridge was closed each night for through travel by 8:00 PM due to the potential for ice on the roadway. With sunset occurring after 8:30 PM this made shooting last light on Trail Ridge Road pretty much impossible. Finally, after a few days of night closings, temperatures moderated enough that Trail Ridge Road was deemed safe to remain open through the night.

So finally after nearly a two week delay waiting for Trail Ridge Road to remain open for the night as well as a few nights open without clients to guide I was able to get up above treeline for a few sunsets.
While the weather had indeed moderated here over the first two weeks June, the weather pattern regarding moisture and storms remained very active. Of course as landscape photographers we want unsettled weather patterns. Clouds, rain, lighting all can add drama to the landscape. Furthermore, a lot of snow remained above 11,000 ft for the second week of June. While not a rarity per se, there was more snow on the peaks and above 11,000 ft this late in the season than I can remember in sometime. This was welcome because it offered the opportunity to cruise Trail Ridge Road while photographing the still snow covered peaks and mountains of Rocky Mountain National Park.
A good deal of snow remaining along Trail Ridge Road, it was just as impressive to watch how much snow actually melted in a few short days. Literally entire hillsides covered with snow the day prior, had nearly melted out the following evening. The window to photograph these snow covered landscapes is short. Nearly fifteen hours of daylight combined with the high sun angle leaves only the shadiest of spots free from a furious melt off. Frankly, it's astonishing to see just how much snow melts and pace at which it occurs this time of year.
For a few days the peaks towering over Forest Canyon as well as the Never Summer Range looked glorious. Clouds dotted the landscape along Trail Ridge Road and conditions where ideal for shooting. There was nearly any wind above treeline, the temperatures were pleasant and the combination of snow, clouds and beautiful late evening light made it a total joy to be out photographing some of Rocky Mountain National Park's most beautiful locations. With the snow melting quickly Trail Ridge Road will remain just as beautiful. Next up will be green rolling hills and alpine wildflowers blooming on the Tundra. The season on Trail Ridge is too short, but there is never a dull moment for photographers and visitors alike who venture up on Trail Ridge Road.