This time of year photographers are always anticipating the upcoming autumn season. For many photographers this is their favorite time of year. Trips are planned, notes on locations are exchanged with other photographers and topographic maps are scoured in an attempt to find new vistas and locations to photograph. Typically by mid August there is a detectible change in the air in Colorado. While it's still quite warm during the day, the nights begin to cool quite a bit. The sun rises and set's a little earlier each day, grasses begin to turn from vibrant greens to browns and golds. The Elk begin to migrate back towards the lower elevations in anticipation of the 'Autumn Rut' and the sounds of bugling in the meadows increases in frequency. Even the quality of light begins to noticeably change. The shadows grow longer in the valleys and canyons while the sunlight burns a little warmer lower in the sky. If your paying attention this slow turnover of seasons becomes readily apparent.
I've been watching this change play out in Rocky Mountain National Park over the course of the last few weeks. An aspen branch here turning yellow, and Elk Bugle off in the distance there followed by a hard frost here or there. I did not expect however, to be greeted by a nice dusting of snow in Rocky Mountain National Park on the morning of August 19th!. Sure it's possible to get snow in Rocky Mountain National Park pretty much any month of the year. I've seen a light dusting of snow before near the summit of 14,259 ft Longs Peak in both July and August but typically it's hardly noticeable and it melts off well before the sun even reaches the mountainsides.
So imagine my surprise when in the predawn hours of August 19th, I rounded the sharp curve near the Forest Canyon Overlook on Trail Ridge Road to see the hillsides coated in what looked like snow. My first reaction was to do a double take. I thought to myself, 'that cant be snow, its mid August?'. It had rained hard during the night and the temperature in Estes Park was thirty-seven degrees fahrenheit when I made my way through town but it was after all still August. I then thought to myself that must just be dew on the grasses and small pines at this elevation. After a night of rain, pines take on a silvery like sheen when wet, surely thats what this had to be. Confirmation that it was snow quickly arrived as my tires began making the unmistakable crunching noise tires make when driving on granular frozen snow and ice.
After thinking to myself thats its just to darn early for snow, I next had to decide where to shoot. Trail Ridge Road was slick and dicey as it was covered with snow and ice above Forest Canyon. Typically the National Park Service would have closed Trail Ridge Road at either Rainbow Curve or Many Parks Curve when they expected snow or icy conditions early in the morning from a previous nights storm. I have to believe much like myself, The National Park Service was not expecting snow this early in the seasons either and Trail Ridge Road remained open.
This created what I'd consider a rare circumstance. While Trail Ridge Road was icy and slick, it remained open which would allow for images that typically would be nearly impossible to capture. When the NPS was anticipating dangerous road conditions on Trail Ridge Road because of incoming weather. The road was open and I should with some careful driving by able to get to whichever overlook was yielding the most dynamic conditions.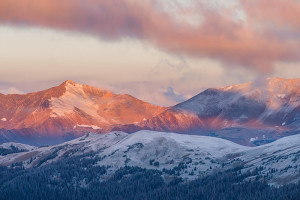 The overlook that appeared to be yielding the most favorable conditions was Medicine Bow Curve. Specimen Mountain as well as The Never Summer Range had a good coating of snow combined with some residual clouds that still remained. Furthermore the pines in this area had nice dusting of snow and there was some fog still hanging above the Poudre River valley below. So after diligently navigating Trail Ridge Road I setup my tripod and camera and worked the compositions as the light and clouds rapidly changed with the approaching sunrise.
It was a cold morning standing at the Medicine Bow Overlook. Certainly much colder than one would typically expect during the month of August in Rocky Mountain National Park. The cold fingers were certainly worth it and it will be a morning in Rocky I wont soon forget. Hopefully were now back to Summer and I cant start dreaming about what I want to photograph in Rocky when Autumn arrives much sooner than later.