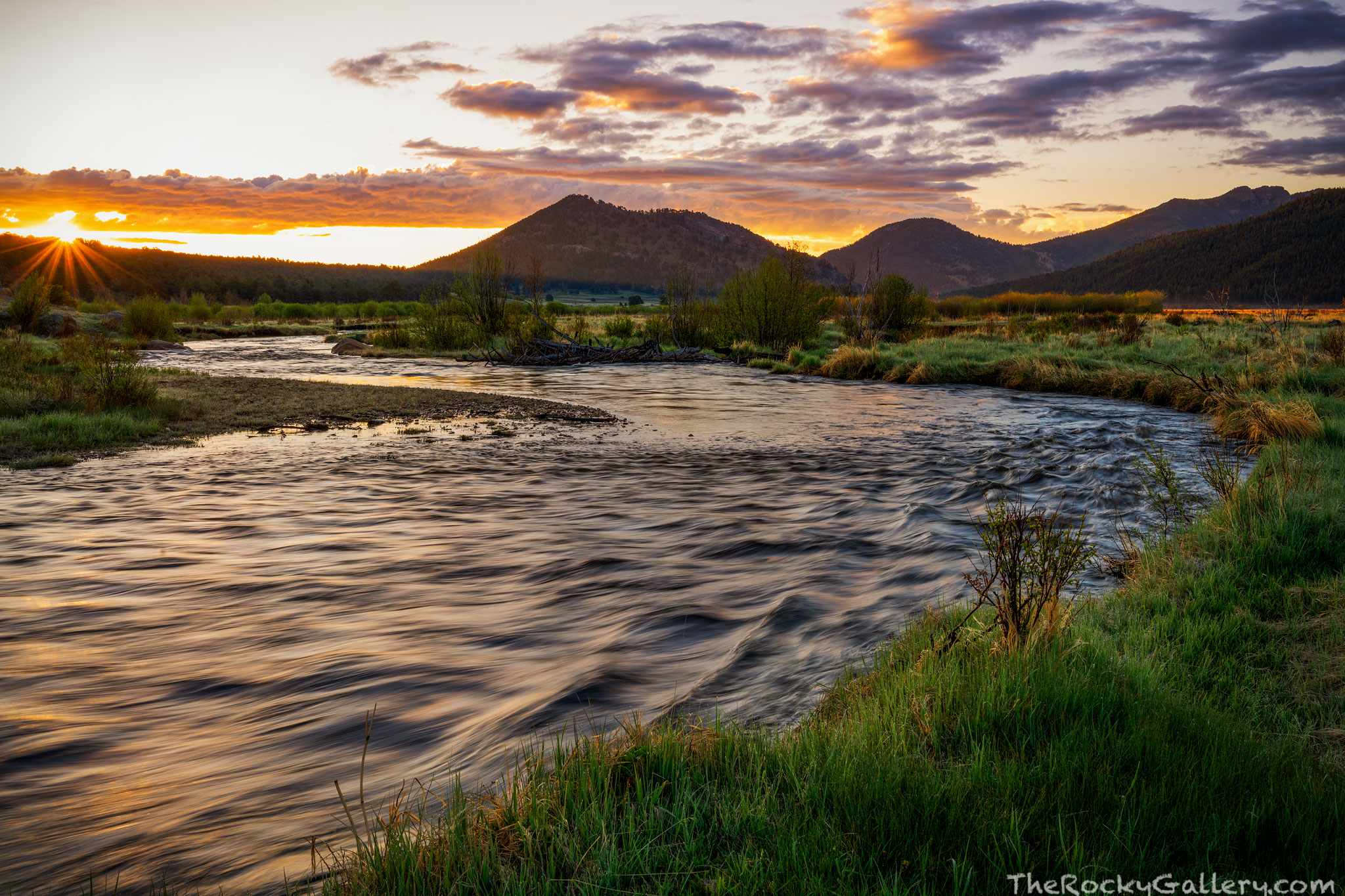 Just like seeing and old friend, heading back up into Rocky Mountain National Park after a nearly 70 day hiatus felt great. In one sense it felt surreal heading back into the park after all the craziness of the past two plus months of closures and lockdown. In another sense it felt just like riding a bicycle again.
While the park reopened on Wednesday May 27th, I did not head up until the morning of Thursday May 28th for my first visit since the lockdowns occurred from the pandemic. NPS did not remove the barriers and get the roads opened until after 6:00 AM on 5/27 so it was not possible to be inside the park for sunrise which occurred at 5:38 AM.
Much of Rocky is still closed and there is limited access to other locations. I expect more things to open in the near future but the park service is dealing with limited staff and housing for its seasonal workers as they filter back. Currently Trail Ridge Road is not open (Rainbow Curve on the east side on the Colorado River Trailhead on the west side). Wild Basin remains closed and its unsure if Old Fall River road will open to automobile traffic this year.
Starting next week, June 4th to be exact, Rocky Mountain National Park will have a timed entry permit system enacted between the hours of 6:00 AM and 5:00 PM. If you are planning on visiting the park between those hours you will need to go online, pay a $2 fee and reserve a time slot to enter Rocky Mountain National Park. The park is allowing about 13,000 visitors a day to enter. 90% of the reservations need to be made 48 hrs in advance although the park will allow a small amount of passes to be released 24 hrs before entry.
I'm still trying to figure out my photography tour service into Rocky Mountain National Park and how I will be conducting photography tours moving forward. My commercial use permit to operate in RMNP will allow me access to the park anytime so this will benefit clients of mine who would like access to the park and possibly were unable to secure a permit in time.
Figuring out how to maintain social distancing both in a vehicle and on the trails where I often have to assist clients hiking and climbing over obstacles is more difficult. Much of this will come down to prospective clients comfort level, photographing, hiking and traveling through the park with me. I'm telling all prospective clients to contact me and we can discuss the difficulties and realities of scheduling a photography tour in Rocky Mountain National Park during the current pandemic.
With that said, my tour business has taken a big hit already due to the closure and pandemic. I plan on being out in Rocky Mountain National Park as much as I can be this summer and will use the free time I now have to explore and photograph areas of the park I have not visited recently or have wanted to revisit. I'll do my best making lemonade out of lemons and hope we will see some return to normalcy by the end of the season and hopefully into next year. In the meantime I'll be photographing and enjoying getting back out into Rocky more than you can imagine. Stay tuned here and I'll update conditions and status often. If you would like to schedule a photograph tour feel free to drop me an email with your questions and I'll be happy to answer any and all questions.