One of the things I love most about spending so much time in Rocky Mountain National Park is that no matter how many times I visit, I always see, find or experience something completely new. It's why my mantra has always been you just have to be out in the park as much as you can be as a photographer. No matter what you think you may see, or how you believe the conditions or atmospherics will unfold, you will likely be off the mark.
Being wrong can lead to being pleasantly surprised as long as you just remember to keep pushing, keep heading out even when it looks like things wont break like you want. Earlier in the week I had another experience that just reinforces the need to 'get out there'.
Winter just wont give up the ghost this season, and earlier in the week the park had snow dumped on it from another late spring barnstormer. While I'm looking forward to warmer days and summertime conditions in RMNP, I cant ever pass up the opportunity to photography Rocky when its covered in the white stuff.
With this latest storm clearing, I headed up to the park hoping to catch something good. I had another photographer friend in town who wanted to get out to shoot, and to be honest if he had not been in town I may have passed on heading out this particular morning as it looked like the clouds and storm would have cleared out.
When I got into to Rocky and performed my usual due diligence, things did indeed look less than promising. While the trees and landscape were covered with beautiful, paste like spring snow, the skies were pretty much clear. There was some fog around Lake Estes and Lumpy Ridge and I thought that might make for an interesting opportunity, I noticed Moraine Park appeared to have a low hanging layer of ground fog over the Big Thompson River.
My buddy Robert and I decided we would hang in Moraine Park and hopefully the ground fog would stick around and give us some decent atmospherics to photograph with all the fresh snow. As luck would have it, the ground fog did stick around long enough to make for some nice landscapes. Even better, Longs Peak had a string of clouds trailing over the top of it adding a little excitement.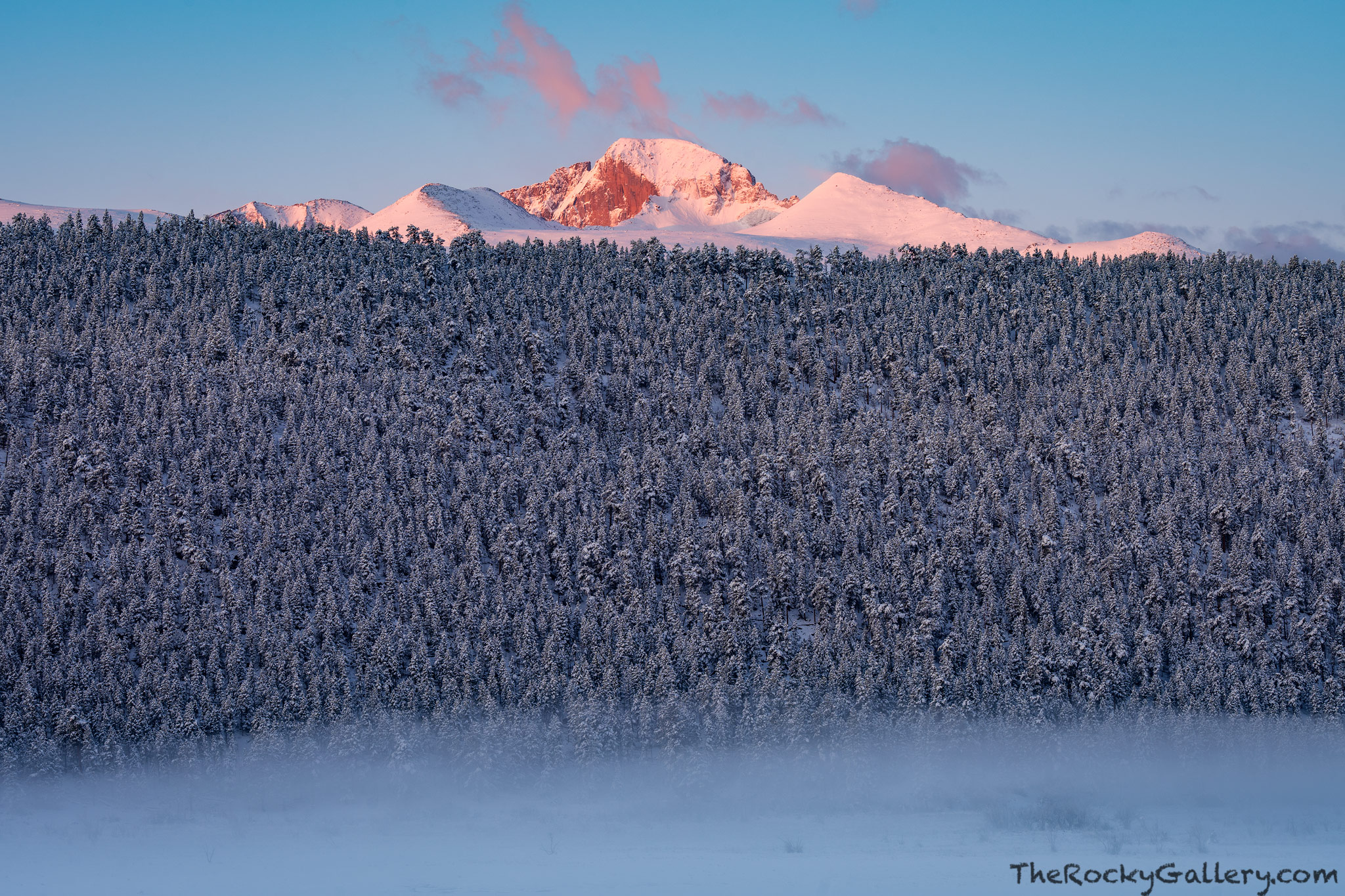 After capturing a nice image of Longs Peak covered in fresh snow with ground fog settling just below the south lateral moraine in Moraine Park, I was feeling pretty good when out of the corner of my eye I thought I saw the snow moving along the banks of the Big Thompson down below me.
Doing a quick double take, I realized that the snow was not indeed moving but that a pod of American White Pelicans had hunkered down along the banks of the Big Thompson to wait out this latest storm before heading east, down towards the plains. While I've seen pelicans on Lake Estes and Grand Lake, I cant recall ever seeing them in Rocky proper before.
Getting over the initial excitement of seeing this pod of pelicans in Moraine Park, I was able to get some nice shots of the birds as they started moving around and coming to life. On top of finding the birds, the snow covered landscape and ground fog clearing only made for an even more amazing experience this morning in Rocky Mountain National Park.
Once again, my well worn mantra of 'just go' let me experience something new and exciting I had not expected to see and photograph. Who knows if photographing White Pelicans along the banks of the Big Thompson will be the highlight of this spring, but I'll certainly be spending as much time as I can hoping to have more of just these kind of mornings in RMNP.