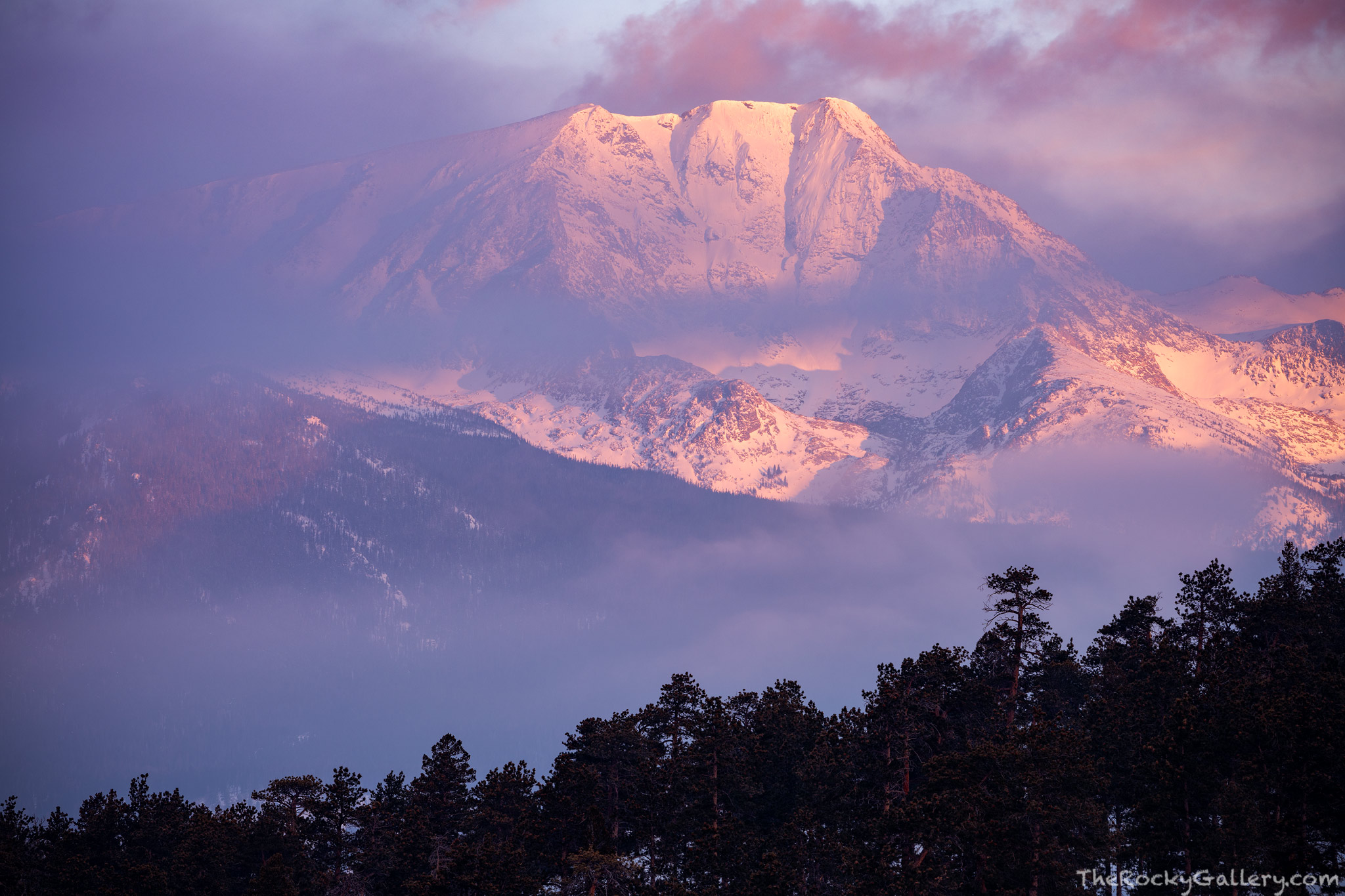 With it being a leap year, February gets one extra day this year. Even with an extra day this month, February is nearly over and March is almost here in Rocky Mountain National Park. With a very mild January preceding February, the weather pattern in Colorado changed quickly and we had a much more active month.
Even with February being a very active month weather wise, as is always the case with RMNP, capturing winter images is always more difficult than it appears it should be. We had plenty of snow this month, but as is the case more often than not on the east side of Rocky, snow was often followed with clear bluebird skies the following morning and or gale force winds. Timing of the storms also made it tricky and photographing upslope systems above the clouds or being in Rocky as a storm cleared proved illusive in February.
There were still some interesting mornings, and although photographing the iconic peaks of Rocky Mountain National Park covered in fresh snow proved difficult in February, last Wednesday the 19th was a spectacular morning to be out.
Last Wednesday morning, a new system was moving onto the Front Range of Colorado. Snow would begin to fall just after sunrise, but would wrap up and clear out before Thursdays sunrise. While the landscape itself was free of snow, the unsettled weather created some great atmospherics just as the sun was rising over the eastern plains.
Fog is a rarity in Rocky Mountain National Park, so anytime I get a chance to be out in the field photographing it, I get excited. As the upslope system moved into Rocky, fog began to fill Horseshoe Park and Moraine Park. Longs Peak, Hallett Peak, and the Mummy Range all played peak-a-boo with color and light.
From a ridgeline along Deer Mountain, with a commanding view of most of the east side of Rocky Mountain National Park, I was able to take in the show. Sure it would have been epic if snow had covered all the landscape, but I'll take the fog and beautiful atmospherics any day.
The great news as we move into March, is we are entering the best time of year to capture winter images in RMNP. The lighting in the park is at it's most favorable and the months of March, April and May will all yield great opportunities to capture spring storms moving through the park. Even better, we are moving closer to the summer season and sooner than later we will be photographing the peaks of Rocky reflecting in placid mountain lakes or cruising over Trail Ridge Road again. Regardless, it's we are entering prime season for winter photography in Rocky and I'm looking forward to see whats in store this year.