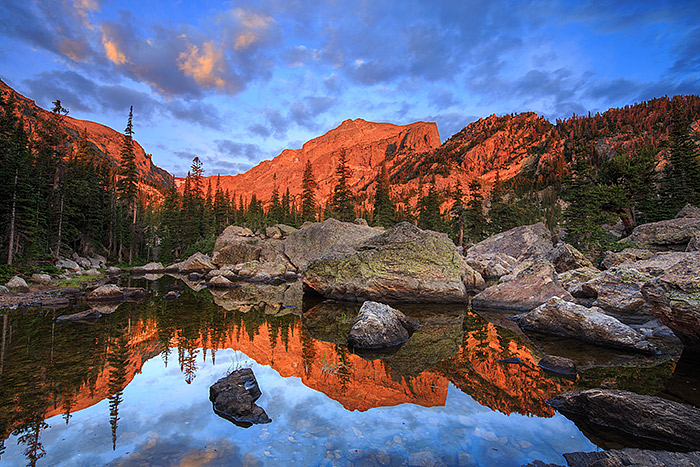 Estes Park and Rocky Mountain National Park are back open for business. Repairs will be ongoing for quite sometime and were all going to have to get acquainted with flashing signs and orange cones great progress has been made in getting things up and running.
Nearly all of Estes Park is open for business again. Most likely you will need to take a less direct routes to get to Estes Park, but nonetheless the stores and restaurants and hotels welcome your visit.
As far as the roads go, timelines have now been set and repairs have started to the major routes in and out of Estes Park. While it looks like US 34 through the Big Thompson will be out of service for the foreseeable future, road contractors along with Colorado Governor John Hickenlooper have set a December 1st deadline for US 36 to reopen to traffic albeit in a state that makes it passable. Colorado 119 through Boulder Canyon is also slated to reopen by mid October making for another alternative route to the Peak to Peak highway and Estes Park.
Rocky Mountain National Park has now reopened much of the east side of the park for travel and hiking. There are still numerous closures in effect but a large area of the park was reopened on Thursday including Bear Lake Road. Many area of the park including Old Fall River Road are closed and will remain so for the considerable future as damage is severe in areas.
Snow also fell above 8000 ft twice in the last week. Trail Ridge Road was closed mid week, then reopened and now closed again. Warmer weather allowed the National Park Service to reopen Trail Ridge again, but its seasonal closure is rapidly approaching with each new storm that enters the state.
The folks in the foothills communities as well as the northern Front Range have endured a lot of hardship over the last few weeks. Residents of Estes Park are now living by the credo of 'Mountain Strong'. I'll be heading up there over the next week to photograph the autumn colors and elk rut and I would suggest it's as good as time as ever for to reconnect with Rocky Mountain National Park and Estes Park and help the business and services of the community dig out and get back on the path to recovery. Now lets keep our fingers crossed that Congress can come to an eleventh hour resolution that avoids shutting the government and National Parks down by as early as tonight.