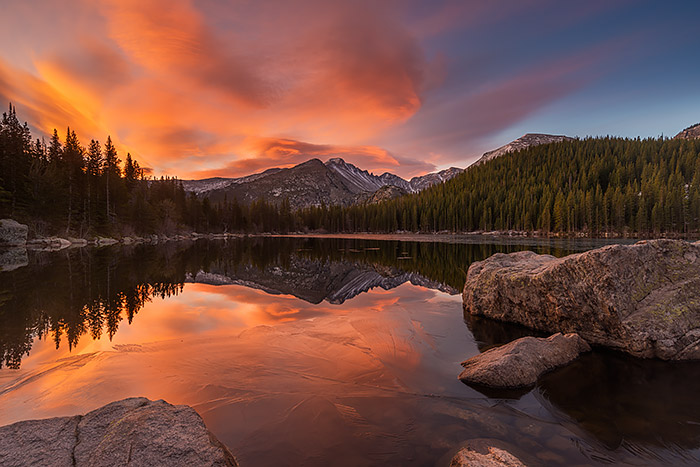 Happy Halloween to everyone out there. With the autumn season in Rocky Mountain National Park now past us we are now transitioning towards winter. We've had a very mild autumn with little early season snow with mostly mild to warm days. The leaves are now down and the grasses have turned a golden brown in most areas. The lakes in the higher elevations have just started to freeze over along the edges but it wont be long until the lake surfaces are completely covered over with ice.
Everything starts to slow down in the park. While tourists still visit the park, the numbers decline considerably compared to the large number of summer and fall visitors. It's a great time to catch up on images in the backlog and enjoy the quietness of the season. It's a little more difficult to find subjects to photograph, but even so, photography this time of year is just as rewarding as the summer and fall months.
I'll be out in the field photographing as often as I can. As you can see from the image posted above I am currently taking a Nikon D810 for a test drive. While I shot with Nikon during my film days in the 1990's, I switched over to Canon in 1999 and have been using their equipment ever since. While my Canon gear is more than adequate, I felt it was time to give Nikon and the D810 a test run as the camera's higher resolution and more importantly to me at least, higher dynamic range sensor. At this point in time, while Canon continues to make amazing camera equipment, they appear less interested in improving the dynamic range of their sensors which is very important to landscape photographers.
Often when photographing in Rocky Mountain National Park, one is photographing a subject with a very dramatic range of light. Mountain peaks are illuminated, while lakes and scenery below the peaks are in deep, dark shadows. So I'll be giving the Nikon a full run down and will eventually share my thoughts and experiences on the Nikon D810 compared to the 5D Mark III and Canon EOS 1ds III that I typically photograph with. In the meantime, my first morning in the field with the D810 was a very positive one. Of course the amazing sunrise this morning would have made any camera look good.