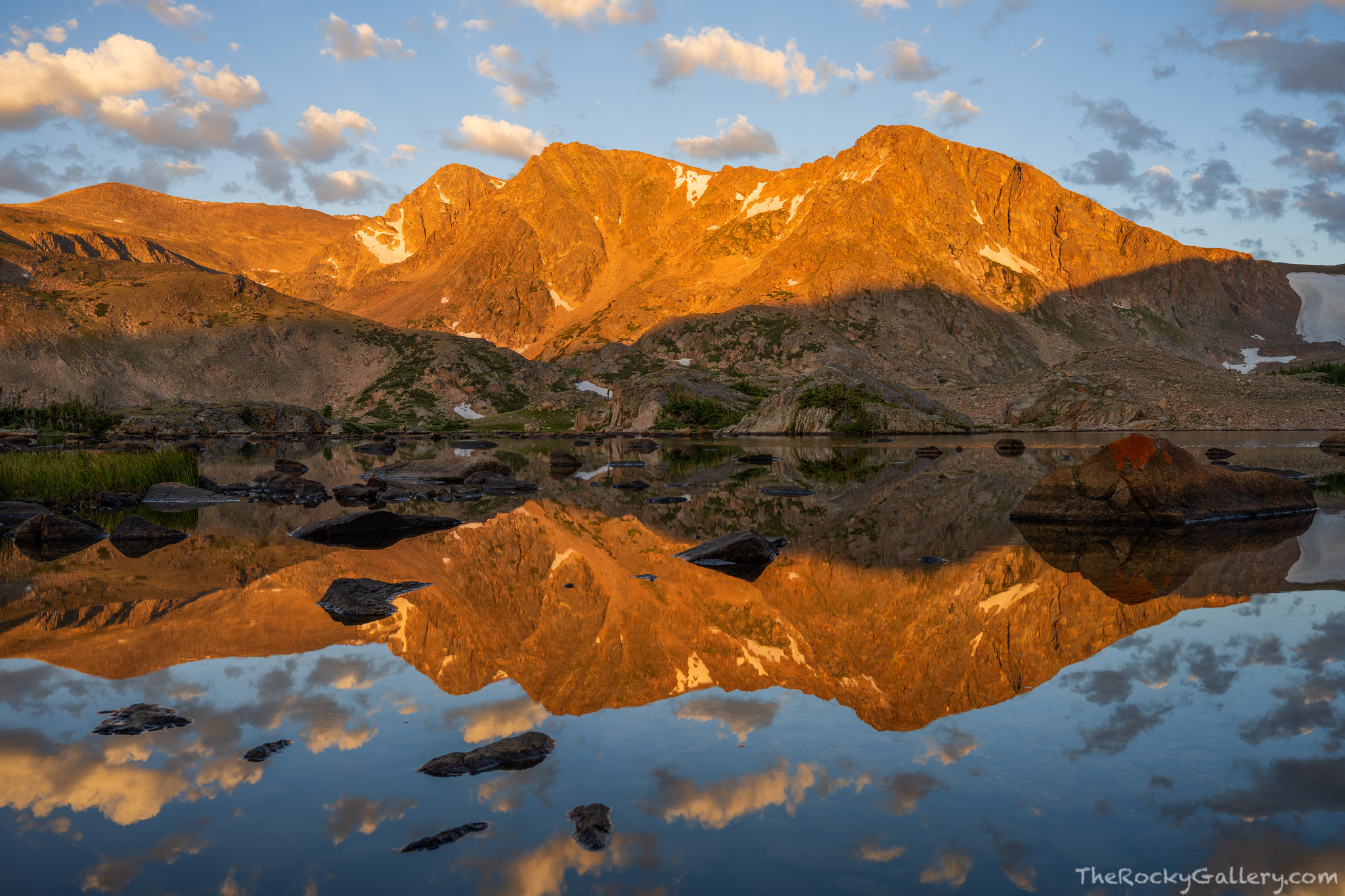 How many of spend countless hours eyeing a topo map of a given location thinking about all the scenic wonders and photographic possibilities?. So as not to date myself, perhaps many now use Google Earth and simply scroll around trying to imagine the possibilities. Regardless of if you are old school or new school, its always fun to seek out new locations and enjoy the anticipation and excitement new exploration is going to bring.
For me, the Lost Lake area of Rocky Mountain National Park was one of those places. While I've been lucky enough to get around to many areas of Rocky over the years, the truth is to get to all 415 square miles of the park not only requires years, but requires planning as well as physical endurance. But back in March I was able to secure two nights at the Lost Lake backcountry site so I've had a few months to plan my couple of days to photograph the area for my first time.
Nestled deep in the Mummy Range, Lost Lake is just shy of ten miles from the Dunraven Trailhead in Glen Haven. While you could certainly do and out and back to Lost Lake in a day if you were really motivated, doing so with photography in mind would be nearly impossible. Ten Miles and about 2800 ft of elevation gain get you to Lost Lake, but the real beauty of the area lies in the basin above Lost Lake itself.
After picking up my permits at the Backcountry Office, I arrived at the Dunraven Trailhead shortly before 11:00 AM. The trailhead was nearly full already as this location is popular with day hikers who are typically hiking shorter milage along the North Fork of the Big Thompson River and into the Comanche Wilderness area. It takes nearly 5 miles of hiking before you get to the eastern boundary of Rocky Mountain National Park. One maintains a steady grade as you head west following the North Fork of The Big Thompson River.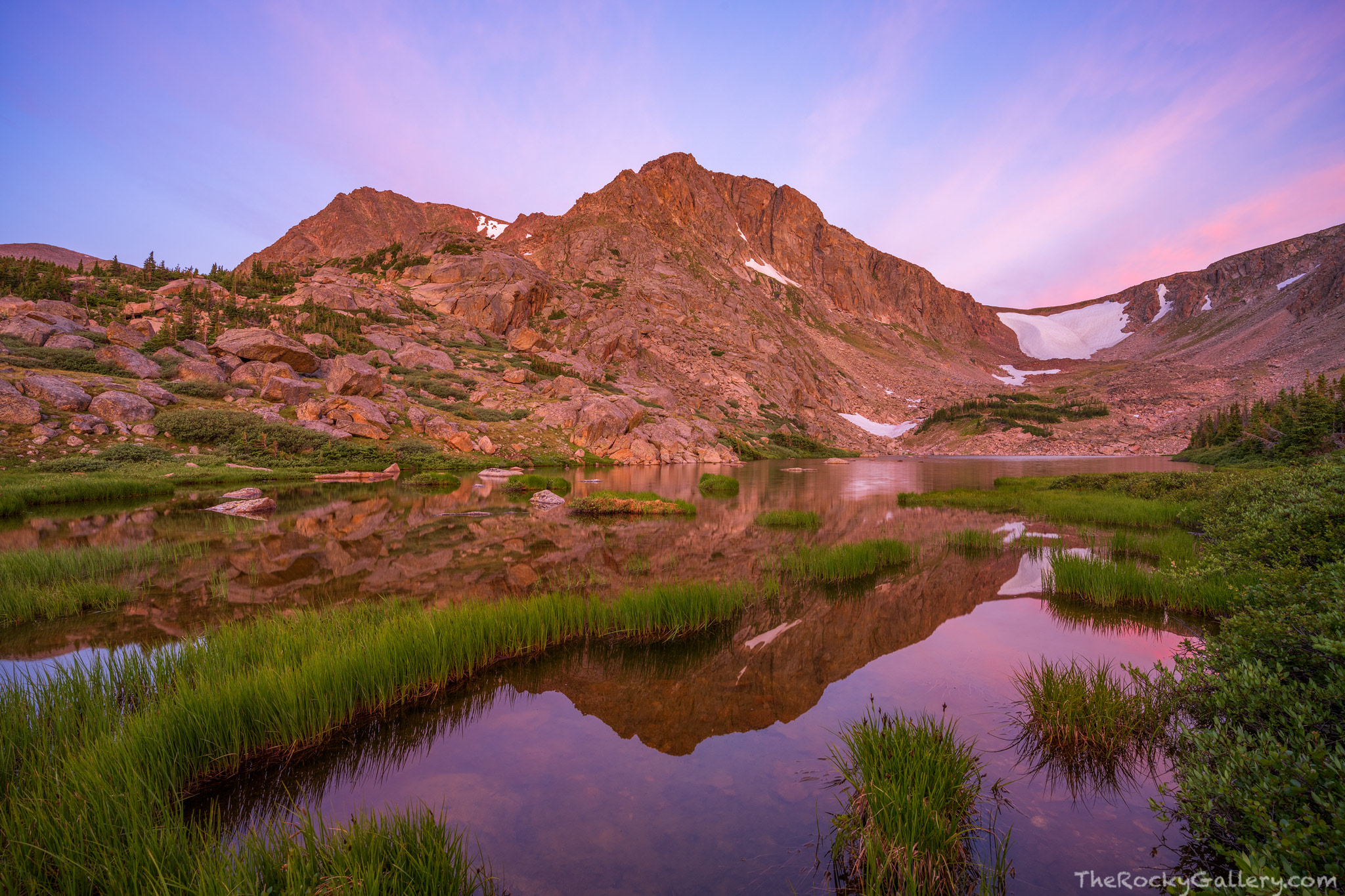 Once one crosses back in Rocky Mountain National Park, encounters with other hikers becomes less and less. Most day hikers or people with their dogs who are hiking in the National Forest area east of the boundary of Rocky Mountain National Park have turned around leaving the trail mostly empty with the exception of other backpackers heading to their respective backcountry site.
After stopping for a quick 20 minute lunch break just past 'Halfway'(half the elevation gain to Lost Lake has been climbed at this point), I made it up to Upper Lost Lake campsite # 1 in 3 hrs and 45 minutes. I setup camp, ate dinner and then headed up into the basin above Lost Lake to explore Lake Husted and Lake Louise.
The monsoonal weather pattern had yet to really kick in so sunset this evening was for the most part subtle. The following morning I was up long before sunrise setup in the basin at Lake Husted. It was clear when I hiked into the basin but the wind was calm so at a minimum I should be able to capture a reflection of Little No Name, Middle No Name and Rowe Peak reflecting in the waters of Lake Husted. Just before the sun was set to rise on the aforementioned peaks, some nice clouds began to stream in. I watched the sunrise and was able to capture near perfect conditions at Lake Husted, a lake nearly 11 miles from the trailhead, and one I'm told is often blanketed with wind.
Sunrise my first morning at Lake Husted alone already made this long trek into the backcountry of Rocky Mountain National Park well worth it. After the feeling of euphoria began to wane, I decided to do some more exploring and headed up further into the basin to explore Lake Dunraven, Whisky Lake and Scotch Lake. Hiking up into this basin required a good deal of bushwhacking and careful navigation, but the upper part of the basin was spectacular. Getting back here for sunrise is a goal of mine the next time I get a chance but it's takes a fair amount of cross country navigation and bushwacking to do so it's going to be a challenge.
Sunset my second night at Lost Lake was again placid and calm. The thunderstorms that began to build over the plains of Colorado quickly dissipated and moved east away from RMNP. My last morning at Lost Lake began much as my first one did. After a quick cup of coffee at camp, I headed out on the unmaintained trail towards Lake Husted. This morning had a little more excitement from the get go as I ran into a large animal in the woods shortly after leaving camp and heading up the hill towards Husted. While I'm pretty sure It was a large Moose I ran into on the trail based on the eyeshine coming from my headlamp, its possible it was a bear as well. It was too dark for me to get good look at the silhouette of the animal and as I stood there staring at two eyes spaced well apart, the animal urinated and moved off into the woods. I've run into plenty of animals in the middle of the night hiking in Rocky Mountain National Park and this was the first time I was unable to really confirm what I was looking at.
With the caffeine from the coffee hitting me, along with the adrenaline of running into something large on the trail, I quickly made it up the hill to the basin and surveyed the landscape trying to decide where I should setup for sunrise.

When I had awoken at camp, it appeared the skies were clear but as it began to lighten towards sunrise I could see that we had some nice high clouds in the sky that should really pop with color at sunrise. I was tempted to photograph Lake Husted again knowing that there was a good chance I would come away with another great image of what now had become my favorite lake in RMNP. I was not going to have the time to bushwhack it up to Lake Dunraven in the dark and while Lake Louise is spectacular, it does not have the commanding view of the 3 peaks that make up Rowe Mountain. That being said, variety is the spice of life and I figured I best photograph Lake Louise to keep things fresh.
Sunrise from Lake Louise was a beautiful as I could have imagined. Subtle pastels graced the skies and peak just before sunrise. The shoreline of Lake Louise is lined with both willows and stunted pines bordered by marshy grasses. There's not a lot of places one can photograph from unless you want to be in the lake. I had found a nice spot near the eastern inlet the day before and setup in this location. Even with a slight breeze blowing this morning, the east end of Lake Louise stayed calm enough to allow me to still capture a reflection.
After photographing Lake Louise at sunrise I was know for 2 for 2 on this trip as far as morning photography goes. At this point the trip had far exceeded my expectations and I could probably make 10 more trips to Lost Lake and not have the conditions I did on these two mornings. Before I would call it a morning and begin my hike back out, I wanted to take advantage of the beautiful clouds and still nice light I had. I hustled east to some small unnamed tarns and continued to photograph Rowe Mountain from this area. With the sun now high enough to warm my back I just took it all in and felt grateful for not only being able to enjoy the beauty of this location, but also the opportunity to photograph this area in near perfect conditions.
With a big smile on my face I headed back to camp to pack up. By 7:45 AM I had my camp packed up and cleaned and my now heavy backpack hanging on my shoulders. At least the 10 miles back to the car would be almost all downhill so that was good.
With a spring in my step I headed out of camp and down the hill back towards my car at the Dunraven Trailhead. Hiking downhill was indeed easy and being mostly in the shaded forest in the early morning made it very comfortable for hiking. 2:45 minutes after leaving Lost Lake I was back at my car. Two days had passed in what seemed like a blink of an eye but I was more than ecstatic about not only my exploration of a new area of Rocky and all the potential it holds, but some of the new images I was able to capture in those short two days and nights at Lost Lake.