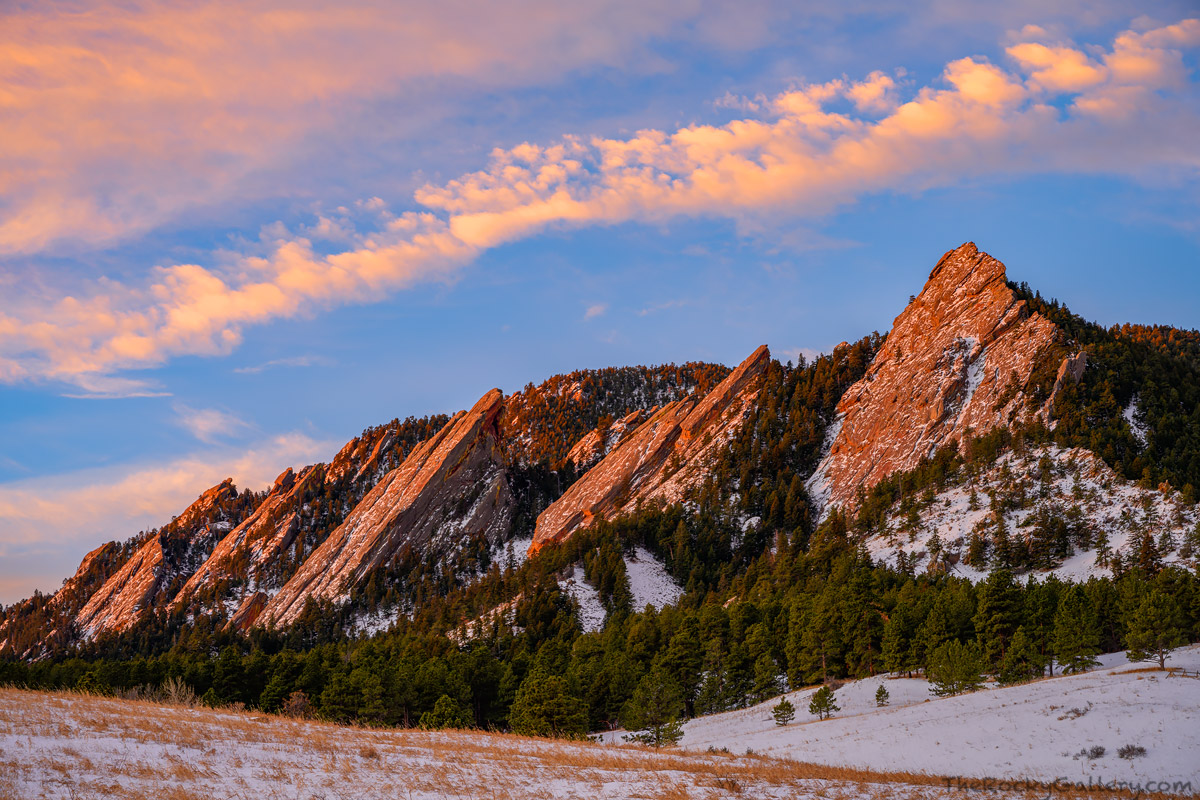 I'm going to post another image here of the Boulder Flatirons from Chautauqua Park that I shot yesterday (Sunday). Since the government shut down occurred I've been spending most of my time photographing around Boulder and have only made a few trips up to Rocky Mountain National Park. None of those visits to Rocky have produced any images worth posting and really were just ways for me to keep up to date on the conditions.
To be honest, even with the park open and a skeleton crew of employees along with dedicated volunteers helping to maintain the park, visiting and posting images during the shut down left me with mixed feelings. As much as I love Rocky and depend on it to make up for about 80% of my photography portfolio, working and photographing in the park while others were in limbo did not seem very conducive to creating photographs or art. Luckily, the Rocky Mountain National Park is back open, at least for the time being and I am motivated and ready to get back out there and start photographing and exploring my favorite location not just in Colorado to photograph, but favorite subject period.
With that said, I'm equally as blessed to be able to photograph some iconic locations really close to home that were not affected by the government shut down. Many of you who follow my photography know that when I'm not photographing Rocky Mountain National Park, I'm out somewhere around Boulder or Boulder County photographing it's scenic wonders and beauty.
Boulder and Boulder County could be a National Park onto themselves. In fact a good portion of Rocky Mountain National Park resides in Boulder County. One of the jewels of Boulder and Boulder County is Chautauqua Park and Chautauqua Meadow. Its from here that one can photograph the iconic view of the famous Flatiron formation.
It's difficult to think of too many better ways to start off a Sunday morning then right here in the meadow at sunrise. I found myself and a few other photographers doing exactly that yesterday enjoying the beautiful sunrise and January conditions. I'll spend quite a few more mornings over the next few months in Chautauqua Meadow photographing the Flatirons, but I'm happy as heck that I also will get the chance to spend some quality time in Rocky Mountain National Park soon enough.