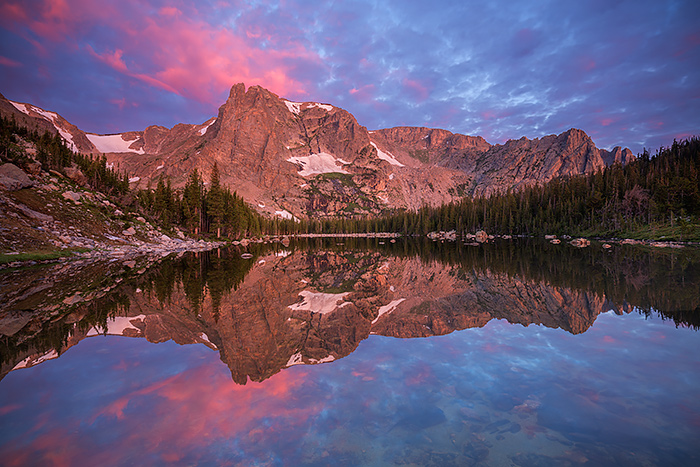 One of the questions I get asked most frequently is if I give tours or workshops within Rocky Mountain National Park. In the past I had hesitated to offer photography tour or workshop services in the park mainly because of the time commitment required to offer tour services. As many of you know I greatly value my time in the field being able to create and find new opportunities for my photography.
As of late, the drum beat to offer photo tour services in Rocky Mountain National Park had only been growing louder. With there only being one other photographer who offers these services working out of Rocky Mountain National Park at this time, and a few fellow Estes Park photographers whom I greatly respect suggesting strongly that it was time for me to offer photography tours, I'm pleased to announce that I am now offering photography tour services in Rocky Mountain National Park. I've met all the requirements of the National Park Service and have been issued a Special Use Guide Pass to conduct photography tours in Rocky Mountain National Park.
I'm excited to be offering photo tour service in RMNP now and I'm looking forward to getting out in the field with my clients and helping them capture the magnificent beauty of Rocky Mountain National Park. Rocky is my absolute favorite place to spend time. While Rocky Mountain National Park is close to the Denver metro area, it offers pristine wilderness and some of Colorado's most iconic locations to photograph. Rocky is an amazing location and I look forward to helping clients of all skill levels capture the beauty of the park.
I've spent the last sixteen years photographing Rocky Mountain National Park in all seasons, all kinds of weather and all kinds of lighting. It will be a rewarding experience for me to take fellow photographers out and share my knowledge of a location I've spent years getting to know.
For those of you who may be interested in booking a photography tour in Rocky with me, please feel free to contact me for available dates, times and suggestions on what would be a good itinerary to fit your skill levels and expectations. My goal is for you to have fun, learn a few things and come away with some great images.
For more information on photography tours in Rocky Mountain National Park you can click on this link Rocky Mountain National Park Photo Tours. Also feel free to follow my blog to see the latest conditions in Rocky Mountain National Park as well as my Twitter and Facebook accounts. I post near daily images on both Twitter and Facebook, often with current conditions in Rocky Mountain National Park.