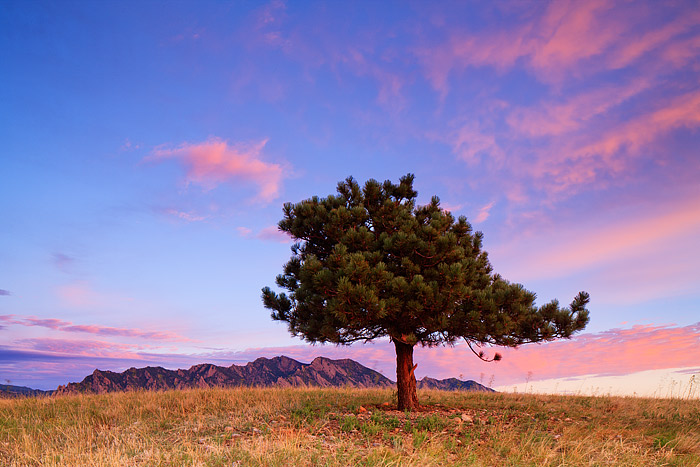 Unfortunately for me I've got some personal commitments over the course of the next few weeks that will keep me from being able to get up to Rocky Mountain National Park. Luckily for me, there lot's of good stuff to photograph closer to home in and around Boulder. On top of that I'll be heading back to New York for some time at the beach with family. While I wont be trouncing around Rocky in the middle of the night waiting for sunrise, I should be able to break out the cameras and get some photography done.
I've been eyeing this particular location and tree from sometime. You can see this tree from Highway 93 just south of Boulder on Boulder County Open Space property. This tree has a commanding view of the Flatirons and I've driven by it on countless occasions making a mental note that I have to hike in and check it out one day.
Sunday's sunrise looked very promising so I decided it would be a good time to hike in and photograph this tree. This Ponderosa sits on a hilltop all alone. This tree leads a difficult existence on the top of this hillside. This may be the windiest spot in all of Boulder, and the shape and form the tree has taken is a testament to that.
During the winter months in particular, downsloping winds off the continental divide are funneled out of Eldorado Canyon, roaring out onto the high plains. It's not uncommon for winds to reach 80-85mph in this location and speeds have been recorded in excess of 100 mph.
All the while this lone Ponderosa persists. It persists through the hot and dry summer months, just as it does through the hurricane force winds common in the winter months. It's certainly not the biggest specimen, but the fact that it's endured the harsh conditions from seedling to its present state is impressive.
This tree's story and it's ability to endure tough conditions draw me in to photograph it. Getting such a beautiful sunrise is just icing on the cake. I'll be back to photograph this tree again, I'll just have to pass on those winter days when it's a bit 'breezy' on this side of town.