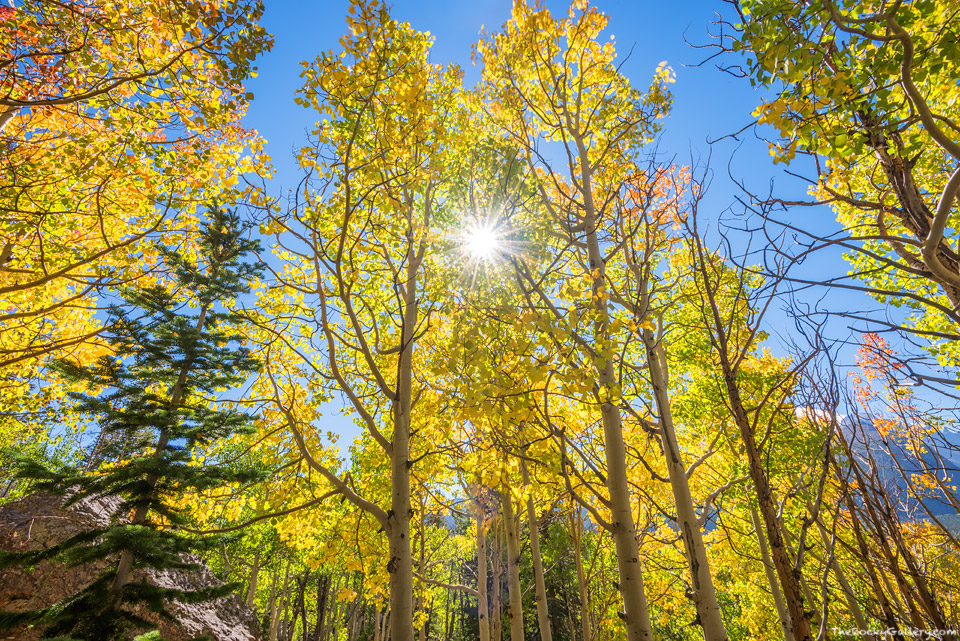 A quick update on fall color change in Rocky Mountain National Park as we head into the weekend. During a typical season one can find fall color in different locations of Rocky Mountain National Park from late August through late October depending on weather and wind. The changes typically start at the higher elevations of the park with the tundra grasses changing over from green to brown and red, followed by some of the small ground cover in different locations of the park.
Aspen tree's which is what most people and photographers are interested in when it comes to fall color in Rocky Mountain National Park will have a few outliers here in there which begin to change in August but the first real significant signs of fall color amongst the aspens of Rocky typically happens as we move into the second week of September.
During this second week of September, aspen trees will start turning in ernest in locations around Bear Lake, Glacier Gorge as well as some of the groves on the west side of Rocky Mountain National Park near Grand Lake. As the weeks progress, locations such as the Bierstadt Moraine will peak concluding with lower elevations like Moraine Park, Beaver Meadows and portions of Horseshoe Park.
As of today, there is noticeable change occurring in and around Bear Lake. The aspens on the hillside above Bear Lake are still probably a week or so out from peak. That being said, some of the aspens above Bear Lake along the Flattop Mountain TH/Fern Lake TH have turned. Some areas near the Glacier Knob's are at peak but overall there is still a lot of green trees.
I also visited the Lake Helene area yesterday with a photography tour client and only small portions of the smaller brush surrounding the lake shore had turned. It's probably another 5 days or so before the brush around Lake Helene peaks.
Overall there is now perceptible color changes occurring in Rocky Mountain National Park. As a rough estimate I would guess we have about 15-20% color change occurring with the majority of it occurring at elevations over 9000 ft. Photographers can certainly find color to photograph now in Rocky but for the most part it will be more intimate scenes as the large landscape type views are still lacking when it comes to large amounts of color change.