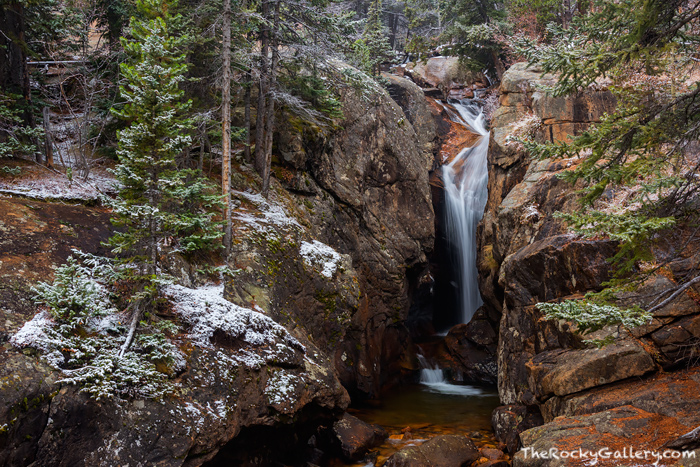 It's brown season here again in Rocky. While it's been a very mild autumn it apparent that winter is about to make its appearance in the park. After nearly a month and a half of chasing the colors through different part of the park it can be difficult to make a transition towards photographing the oncoming winter season. Photographing Rocky during the fall season gives one a bonanza of choices. While Autumn is short lived you still have the choice of photographing unfrozen lakes, tarns and streams while simultaneously being able to photograph the fall colors. So in essence autumn season in Rocky Mountain National Park means you can still opt to pursue summer like images while still being able to chase the colors of fall. Throw in the occasional early season snowstorm and you might actually be able to photograph three of the four seasons all in the span of a few days.
So when the fall winds down and the foliage in the park is no more motivation to get out in the field may drop like an aspen leave on a windy day. Making things more difficult is the fact that once the snows start to fall in the higher elevations in late October or early November access to many locations becomes difficult to impossible. With that being said its time to adjust your mindset and remember there are still plenty of great opportunities to be found even if they require a little more work. Here are some suggestions on why photographing during the brown season in Rocky Mountain National Park can be both productive and fun.
1. Clouds. Photographing landscapes with clouds in Rocky is a lot more difficult than it looks. We have lots of bluebird blue sky mornings in Rocky, especially during the summer months. As the season shifts towards winter, Rocky sees some of its most dramatic sunrises. While winds may increase, lenticular clouds hanging over the eastern slope of the Front Range of Colorado become much more common. These lenticular clouds at sunrise with set the skies ablaze with color. This of course will add lots of color and spice to the otherwise brown landscape.
2. Water. Much of the water found in streams and mid level lakes is still unfrozen or only partially frozen. By mid winter pretty much all the lake surfaces will be covered in ice and snow. Streams with moving water will typically freeze later than lakes and ponds but they to will also freeze at some point during the winter. Once the bodies of water freeze over catching reflections becomes impossible. Combine colorful skies, lenticular clouds and water that is yet unfrozen or only partially frozen and you still have some pretty good foreground subjects to work with.
3. Snow. The lower elevations may be covered with brown grasses but the high peaks will have a nice covering of snow. By late summer most of Rocky's peaks have little to no snow on them with only granite showing. With snow once again falling the high peaks will have more character covered in the white stuff.
4. Wildlife. Unlike the trees and foliage, wildlife is actually at its peak during the brown season. The larger ungulates such as elk, moose, mule deer and big horn sheep are all in various stages of their annual mating rituals or rut. This means most of the animals look the healthiest and strongest they will all year. Furthermore they tend to congregate in open areas and are less distracted by human presence as hormones are calling the shots. Hang around the parks in the lower elevations and it's quite easy to capture beautiful images of a bull elk or mule deer buck in their prime.
So while most photographers I know tend to get a little depressed and down when when the brown season takes hold, there are still plenty of good opportunities to be had when it comes to photographing Rocky this time of year. Lastly one other great thing about getting out during the brown seasons is the lack of crowds. Most of the time you will easily be able to find peace and solitude easily while in one of the most beautiful places on earth.