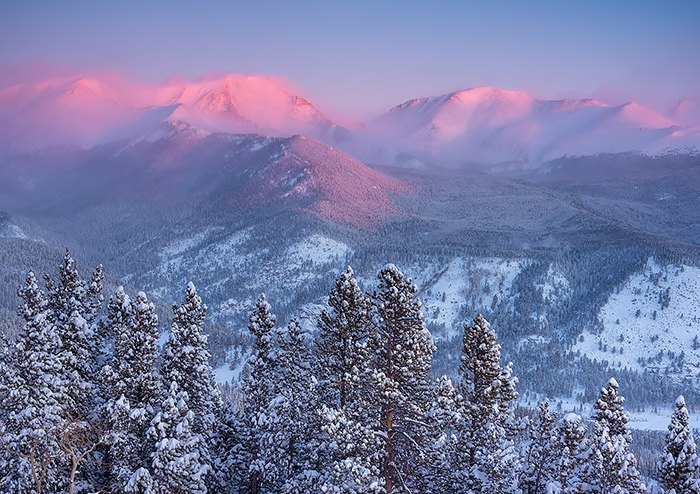 2014 is quickly coming to a close. It's truly unbelievable how quickly 2014 passed by, something each progressive year seems to do at a more expedited pace then the previous year. 2014 was a watershed year for me. I made numerous changes to both my photography and personal life that allowed me to spend more time in the field, specifically Rocky Mountain National Park as well as devote more time honing my craft and working on my portfolio of images.
It's been my goal for sometime now to be able to devote more time in the field photographing Rocky Mountain National Park and this year everything came into alignment and allowed me to dedicate myself to photographing Rocky on a near daily basis. It's been productive and enlightening to be able to spend so much time in a place that I feel a very deep connection to, one that feeds my soul and creative muse. I'm hoping to continue to build momentum and continue to grow and improve my portfolio of not only Rocky Mountain National Park as well as the area around Boulder and the Boulder foothills and mountains.
My to-do list of locations to photograph keeps growing and even with the ability to dedicate as much time as I have done in the past year, sometimes there just aren't enough days in the year or hours in a day to get to all the locations one dreams about when looking over a map. So I'll keep pushing ahead enjoying the time I able to get out into the field and make an attempt to avoiding fretting over missed sunrises and locations realizing one can only be so many places at a time.
As 2015 approaches I'm looking forward to moving my photography business forward while continuing to learn new skills and improve my craft. I'm also looking at providing a photography guide/tour service for photographers in Rocky Mountain National Park. I'm still in the process of working with the Park Service, but should by the start of spring by licensed, insured and registered with Rocky Mountain National Park to provide photography tours within the park. Look for more information and rates on my web site in the near future regarding photography tours in Rocky Mountain National Park.
So with a spate of snow and arctic cold weather bearing down on us here in Colorado I'm going to do my best to see if I can still manage to create a few more images before 2014 waves goodbye and we usher in 2015 and wrap a nice bow on what has been a banner year for me.