The fall color is moving very quickly along in Rocky Mountain National Park. I'm actually a bit surprised at how fast the color has progressed in the last week. It's been warm, dry and unfortunately very hazy from smoke from fires in the Pacific Northwest.
The good news is that it looks like rain and cooler temperatures will be moving in early this week and that should not only make for some nice diffused lighting to photograph the fall color, but also clear out the smoke and haze that has been making photography challenging for the last few months.
As for the fall color, it's looking very nice in Rocky Mountain National Park, but as I stated earlier, it seems to be peaking very quickly. Areas around Bear Lake are now past peak. Bierstadt Moraine is about 80% changed an looking nice. Even the Cottonwoods and Aspen tree's in the Moraine Park and Horseshoe Park area are nearing peak. While there is still some green around and I expect there to be remnants of fall color in the park for the next two weeks or so, My advice would be to hit up Rocky now if your looking for color in the park.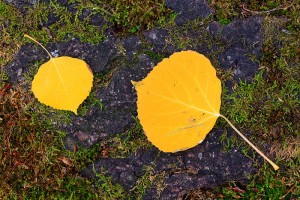 I took sometime the last 2 days to photograph around Boulder Brook. The aspens around Boulder Brook are also at peak right now and the stream, vibrant green moss, and leaves on the forest floor are all combining to make for some beautiful fall photography.
The Boulder Brook area is one of my favorite locations in all of Rocky Mountain National Park, and if your looking for fall color mixed in with a beautiful mountain stream, this is the spot. The entire Boulder Brook area has a very unique and lush feel to it. The stream flows between the aspen groves and boulders and there are endless compositions for photographers and artists.
Again, my advice is to get on up to Rocky now. The fall colors are pretty much at peak in most of the park, and the cloudy, overcast and rainy weather should make for very nice conditions the next few days.