It's hard to believe it but we are now well into fall in Rocky Mountain National Park. It seems like just weeks ago the lakes were thawing and the snow was melting. The Elk rut is well on it's way and as of this writing, we are for the most part at peak, or just past peak for fall color in most of the higher elevations of Rocky. As always, fall is fleeting and much to short.
This years colors were spectacular. We survived an early season snowstorm on September 11th through the 12th which did little damage to the trees or the vibrance of the colors. I'm not exactly sure why, but many of the aspen groves in Rocky Mountain National Park had vibrant reds and oranges along with your more typical yellow coloration. So here are the latest observations and recommendations regarding the current status of fall colors in Rocky Mountain National Park.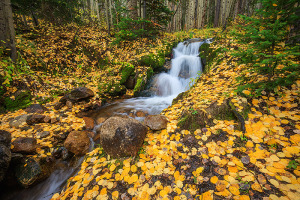 Overall, fall color in Rocky appears to be peaking three to five days earlier than an average year. In my opinion the higher elevations of the park, specifically the Bear Lake, Glacier Gorge and Bierstadt Moraine peaked somewhere around Sunday 9/21 to Monday 9/22. Starting on Sunday 9/21, the weather became a bit more unsettled in the park. Rain and gusty winds on Sunday, Monday and Tuesday have stripped many of the aspen tree's around Bear Lake of their leaves. Bierstadt Moraine, while just past peak still was holding on fairly well as of Tuesday.
Lower elevations of Rocky Mountain National Park such as Moraine Park and Horseshoe Park are certainly showing their colors as well with much of the scrub and underbrush having already turned. The aspens in the lower elevations are starting to turn as well, and barring that the wind does not wreak to much havoc on the leaves, should be looking good into next week.
So what would I recommend as far as photographing the fall colors in Rocky Mountain National Park over the next week?. There are still plenty of opportunities but I would emphasize looking past grand landscape type views and instead concentrate on photographing the remaining autumn color on a smaller scale. Locations such as Boulder Brook look great right now. This is one of those locations that looks better when the aspens have dropped from the tree's and line the forest floor and banks of Boulder Brook with gold. I could spend hours and hours right now photographing along Boulder Brook.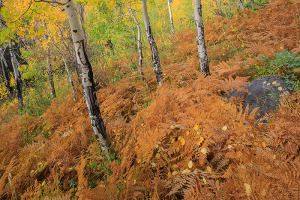 Bierstadt Moraine still has quite a few stands of large aspens that are still looking good. Instead of looking to photograph the entire moraine, concentrate on finding batches of golden aspen trees and work those areas. The ferns along the moraine are looking very good right now so look low for compositions of colorful ferns and fallen aspen leaves. Beaver Meadows, Moraine Park and Horseshoe Park will also be providing ample fall color over the next week. Instead of looking to spend time around Bear Lake and Glacier Gorge, look for locations in the lower elevations to provide a colorful backdrop.
So while the fall colors may be just past peak now in most of the areas of Rocky Mountain National Park, there still should be plenty of opportunities to photograph fall color for the next few weeks. Stay open and flexible and if the grand landscapes are past peak, look to smaller scenes to find unique compositions.