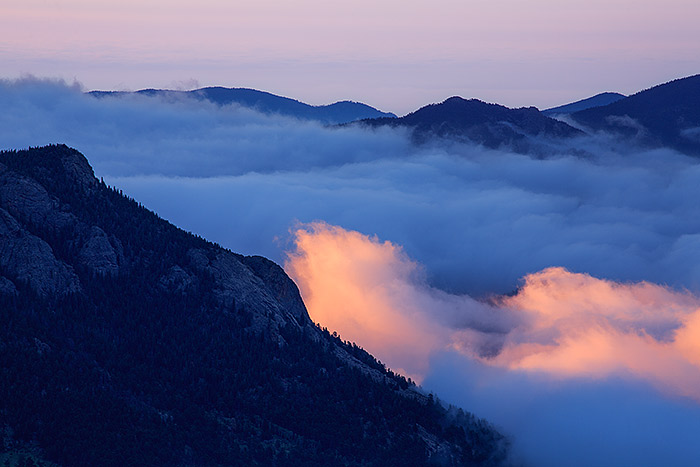 It doesn't happen often in Rocky Mountain National Park, but when it does occur you can bet I'm going to be somewhere in the park trying to capture it. What exactly am I talking about that will have me scrambling or driving to the highest points in Rocky?. That would be what's known as an inversion.
Weather inversions are typically caused when colder air is trapped at lower elevations where in turn warmer air resides above the colder air below. Inversions are pretty much the opposite of how temperatures are typically encountered in Rocky Mountain National Park where normally climbing in altitude will result in cooler temperatures than at lower elevations.
Glassy eyed, some of you are probably what the heck I'm talking about and what relevance does this have to photography in Rocky Mountain National Park. My reason for babbling on is quite simple, inversions open up and create lots of opportunities for rare and dramatic photography in the park.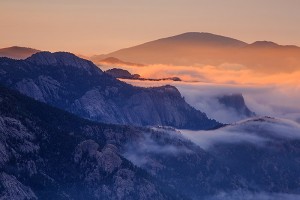 In Rocky its common for it to be both windy and dry. Monsoonal moisture flows from the southwest can create opportunities for moisture in the summer. These flows typically cause late afternoon thunderstorms and rain which are triggered by daytime heating. Come sunrise, one will usually find all the clouds and rain from the monsoonal flow will have dissipated once the atmosphere has cooled overnight leaving you with our more typical clear, Colorado blue bird morning skies.
Lower pressure to the south and east of Denver is what will allow for conditions that will produce a weather inversion. Counterclockwise or as we call them here on the Front Range, 'upsloping' winds out of the east/northeast will often trap cooler air at the surface and suspend warmer air aloft. When this occurs, Viola!, you have nature's cloud machine working in your favor.
During a temperature inversion, it can be easy to be fooled into thinking its just a cloudy morning. In these conditions, the best thing to do is to get as high(in altitude!) as is possible. Every inversion is a little different but I would recommend trying to climb around or above 11,000 ft, or simply drive Trail Ridge Road until you get above the inversion and cloud line. Once you get above the inversion, the possibilities for photography are endless.