One of the natural evolutions of photographing in a place like Rocky Mountain National Park for so long is the need to continually explore and search for new locations, images and compositions. The natural evolution here is that the more one spends time photographing in Rocky, the farther and longer one will head in from the trailheads to explore new locations.
One location that I've been eyeing for years on the map but had yet to visit was the Mirror Lake area in the remote northern section of Rocky Mountain National Park. Mirror Lake is one of those areas that I've always wanted to visit but to be honest it quite difficult to get in and out of, especially if you are not spending a few nights in the backcountry.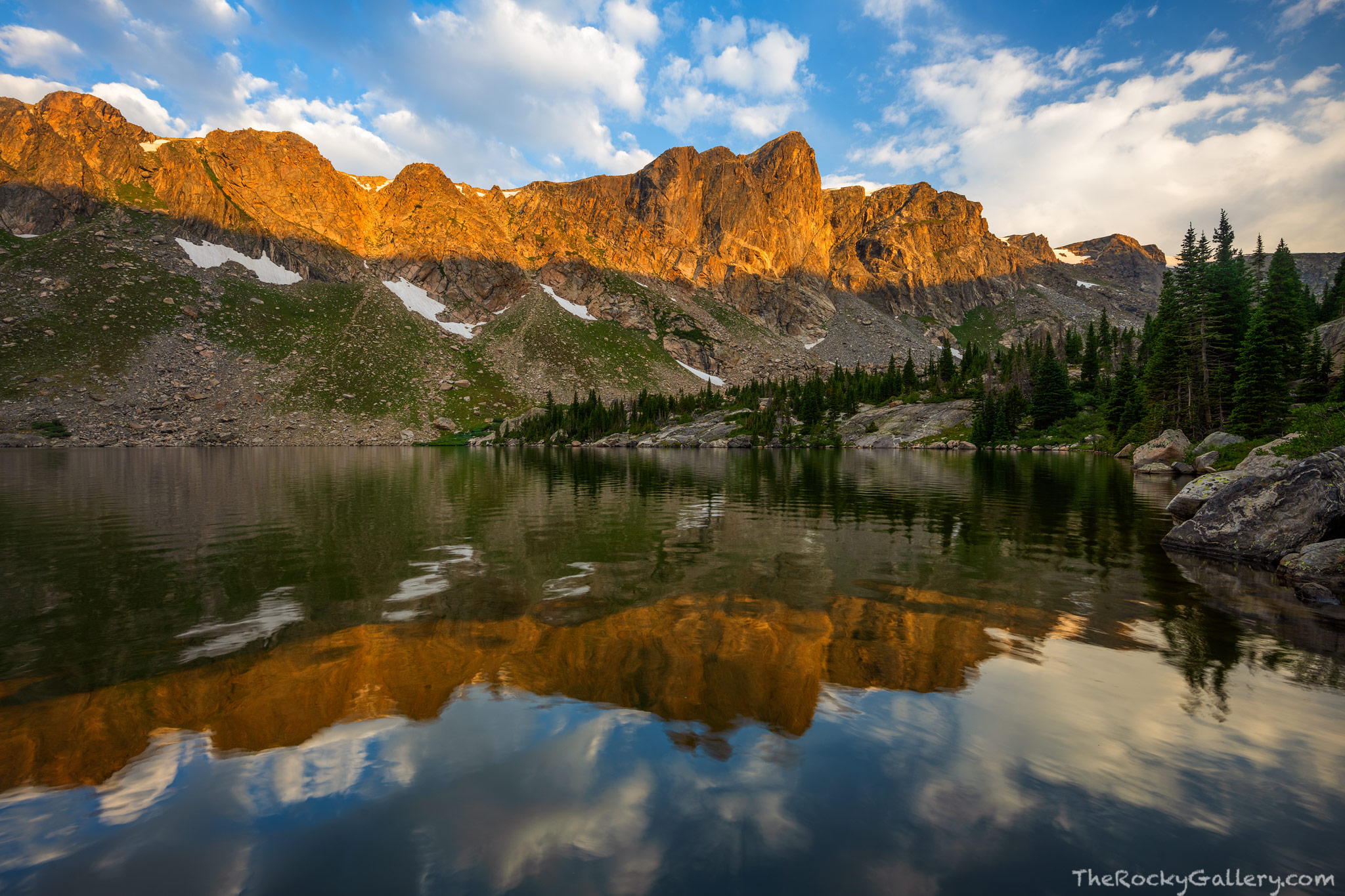 When the backcountry office of RMNP opened the lottery up this March for backcountry sites, Mirror Lake was on the top of my list. I was lucky enough to secure two nights in early August at the Mirror Lake backcountry sites and had been eagerly awaiting for the day to come to travel back to Mirror Lake to explore and photograph this beautiful area nestled deep in the Mummy Range.
To reach Mirror Lake, the most common entry point is through the Corral Creek Trailhead. The Corral Creek Trailhead is located about 9 miles in on Long Draw Road off of Colorado Highway 14. Its a rough dirt road that heads between Highway 14 at the top end of Poudre Canyon, and Long Draw Reservoir which helps to feed the Front Range and Denver Metro area with its water supply through the Grand Ditch diversion which brings water from the Colorado River through the Continental Divide over to the east side or Atlantic Side of the Rocky Mountains.
From my home here in Erie its a slow 3 hrs and 111 mile drive up to Ft. Collins, than through the beautiful Poudre River Canyon to Long Draw Road and eventually the Corral Creek Trailhead. Once at the Corral Creek Trailhead, I met my friend and fellow Rocky Mountain National Park photographer extraordinaire Erik Stensland who would join me on this two day trip. Erik had been back along Thunder Pass the previous night and after eating a quick lunch at the trailhead, we started the 6.3 mile hike up to Mirror Lake.
After a few hours of hiking with our heavy packs loaded with camping gear, bear canisters and of course tripods and photography gear we arrived at Mirror Lake. There are 3 backcountry sites at Mirror Lake and sites 1 and 2 were already occupied so we took up in site #3 which is the southernmost and farthest site from the lake itself. We setup camp, ate dinner and we each headed off in different directions to photograph what would be a beautiful sunset that evening.
The following morning looked promising once again. Clouds hovered over Mirror Lake and Mount Ikoko with a nice break to the east. As is typical during the morning hours, the clouds dissipated then reappeared shortly after sunrise. This worked out well as the valley that Mirror Lake sits in does not get sun on Mount Ikoko this time of year until a little after 6:30 AM anyway.
With a great sunset and sunrise already in the book it was time for some exploring and climbing. Erik who is one never to squander time or opportunities was looking to climb Mount Ikoko, Revision Peak and Comanche Peak which all rest in the basin above Mirror Lake. We climbed up the scree slope on the north west side of Ikoko and reached the alpine tundra which would allow us to loop around the basin and climb the 3 12,000 ft peaks. With the threat of summer thunderstorms a good possibility we made good time to the summits of Ikoko, Revision and Comanche Peak. As we headed down Comanche Peak and back to the faint trail that is the Comanche Peak trail back towards camp we got down into the forest canopy just as the rain and thunderstorms moved in.
After resting up and grabbing something to eat it was time to head back out again for sunset in the basin. This particular sunset was not quite as dramatic as the one the day prior. There were lots of nice clouds and action going on over the backside of Ypsilon and Fairchild Mountain but sunset was blocked by some clouds and was more on the modest side. Tired from the hiking and climbing it was time to head to bed and get ready for one last sunrise at Mirror Lake.
I was up long before sunrise checking out the skies and making a cup of coffee. When you are out in the backcountry for a few days you only have a 48 hr old forecast to guess on what conditions would be like. I suspected we may have some clouds on this last morning based on the previous forecast before I left, but the last forecast I read showed mostly clear skies and a stiff 8 to 9 mph breeze. Thats not what happened in actuality at all. Instead, there were even more clouds than the day prior and what appeared to be a break in the cloud cover to the east again. There was no wind and conditions were looking close to perfect. I headed up to the tarn above Mirror Lake and waited to see where the sunrise would be most dramatic, either over Mount Ikoko or farther south over Ypsilon and Fairchild.
With great conditions for a second great sunrise in a row, a real rarity in Rocky Mountain National Park, I was able to capture Ikoko reflecting in the placid waters of the tarn above Mirror Lake. Once the sun had risen high enough in the sky it was a quick hustle back down to Mirror Lake for a few more images and then back to break down camp and hike the 6.3 miles back out to the vehicles.
Its always a little easier to hike out with heavy packs and sore legs after a successful few days in the field. We made good time and were back at the vehicles by 10:30, a little over 2 hrs after we left campsite #3 at Mirror Lake. With raindrops starting to fall I said goodbye to Erik and started the slow journey back out on Long Draw Road and then into Poudre River Canyon.
Arriving back in Erie in the early afternoon there is always excitement as one downloads images from the journey. Mirror Lake did not disappoint and we were blessed with both amazing conditions, great weather and a little bit of luck. Mirror Lake may take a little bit of effort to get into than many other locations in Rocky Mountain National Park but I can guarantee I'll be back as soon as I can.