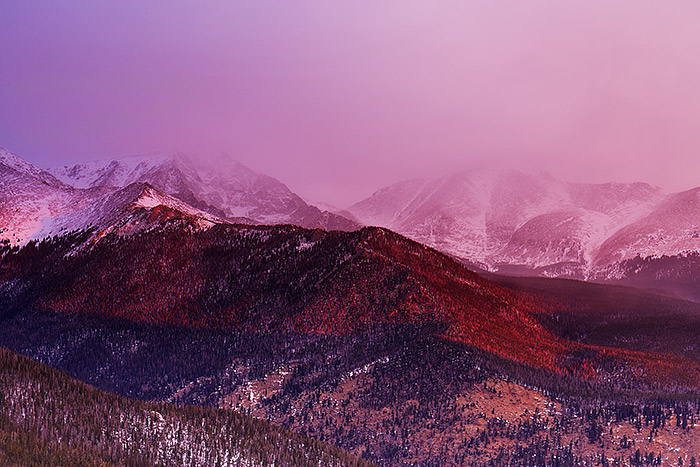 Yes, we're finally over the hump. The hump of darkness that is. While something about that last statement doesn't really sound right, I'll still take the time to celebrate. Of course what I'm actually celebrating is the winter solstice. We've finally passed that point on the calendar were it's all downhill from here. The days are no longer getting shorter, but from now until June 20th, daylight will increase and the sun will begin it's slow march north in the sky.
I took time out on the winter solstice to photograph sunrise in Rocky. The Mummy Range makes for a perfect subject during these short days. The peaks of the Mummy range are oriented in a southeasterly direction which allows first light to cover the peaks with an array of intense color. After a short hike up Trail Ridge Road from Many Parks Curve I arrived at my location and setup my camera.
Winds blew waves of snow over the summit of Ypsilon Mountain and the clouds thickened over the peaks periodically shrouding the summits in white. There was only a small break on the eastern horizon to let the rising suns rays through the clouds and that small break in the clouds was getting smaller as sunrise approached.
A magenta hue started to cover the sky and move down onto the snow capped peaks of the Mummy Range. The clouds and snow squalls swirling over the peaks obstructed much of the early light, but even so, enough of the sun worked it's way through to illuminate the flanks of the mountainsides with beautiful warm light. Much like the shortened day light hours of winter, the light show was short lived but very much appreciated.