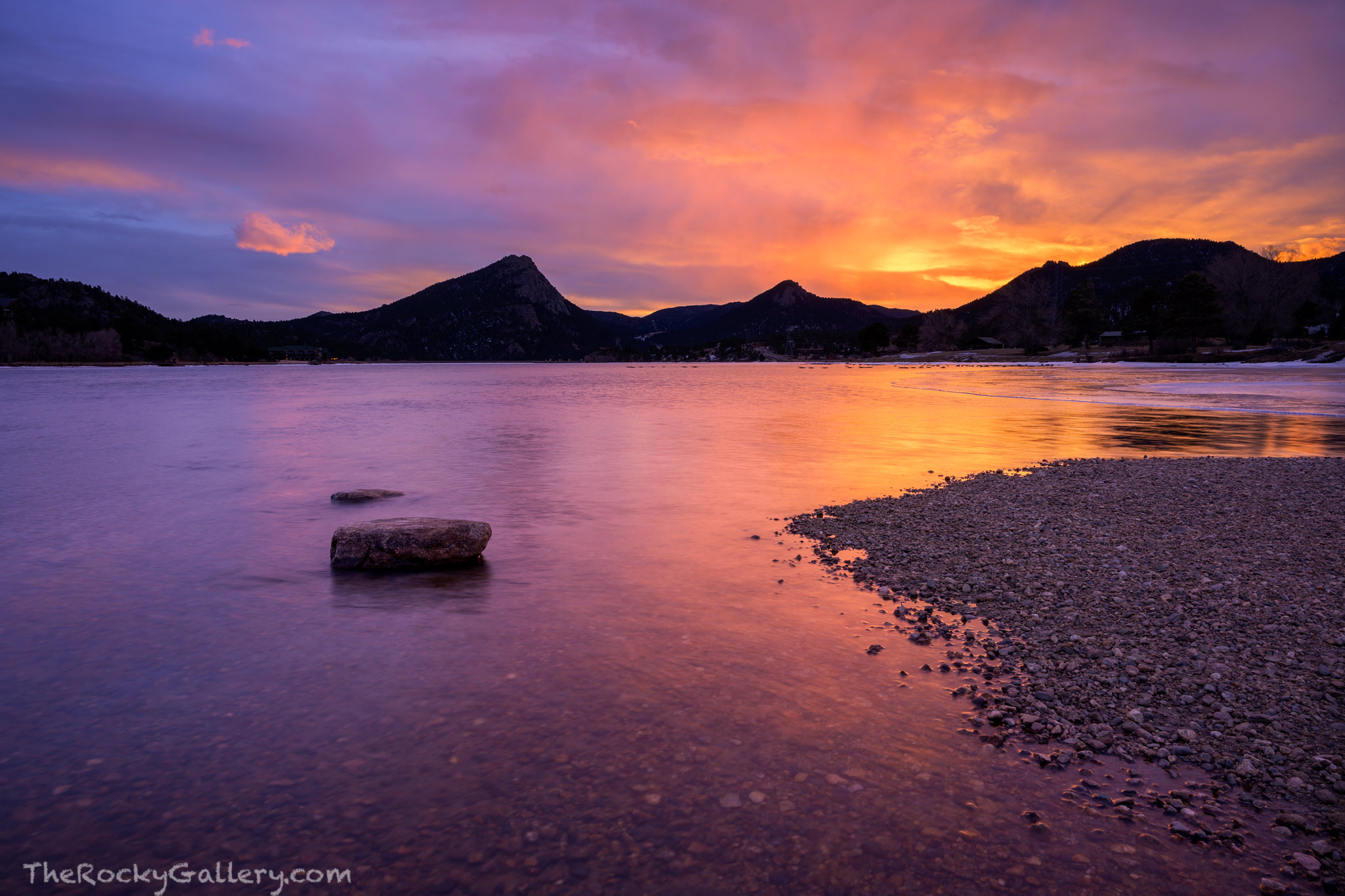 In what seems like has been few and far between, we finally had a really nice sunrise this morning in Estes Park. The weather so far this January has been mostly mild and tame. While up on the Continental Divide in Rocky Mountain National Park there has been some snow this month, its mostly been wind or clear blue skies. For January, the weather has been awesome. Mild, sunny and we've been absent the arctic cold snaps that typically make an appearance or two this month.
I've been watching the weather intently these past few weeks looking for something interesting to happen. A nice dumping of snow, a dramatic sunrise, any of that would work. For whatever reason things just have not come to fruition.
Like a baseball player mired in a slump, you always know if you just keep heading out eventually your luck will change. So while I've been getting skunked at sunrise of late, I've used the time to work on other projects in the park that are more conducive to flat, diffused lighting. In particular I've been documenting the remaining man made structures still remaining in Rocky. While I've recently added a gallery depicting some of this work, this is a project I continue to enjoy when conditions are not optimal for landscape photography. You can find this new gallery and project at this link. Man, Nature and Rocky Mountain National Park
The prospects for sunrise this morning looked pretty good in RMNP. As I headed into the park long before sunrise, things did not look as good as I though they might. The mountains were shrouded in snow and the wind was howling. Snow was falling, but not enough to cover anything. If we had a sunrise it certainly looked like the clouds and squalls floating over Rocky Mountain National Park would likely obscure any light and color. Besides, even if I wanted to photograph the mountains, they were covered in clouds.
I headed down to Lake Estes east of Rocky and downtown Estes Park to see what would happen. It looked pretty dicey, but about 15 minutes before sunrise the skies to the east of Estes Park exploded in color. Lake Estes is only about half frozen right now so the open water helped to exacerbate the beautiful sunrise.
So while I was looking forward to photographing inside of Rocky Mountain National Park, the consolation prize along the shores of Lake Estes wasn't bad either. More importantly, here's to hoping the weather pattern is about to change and start to make things a lot more interesting.