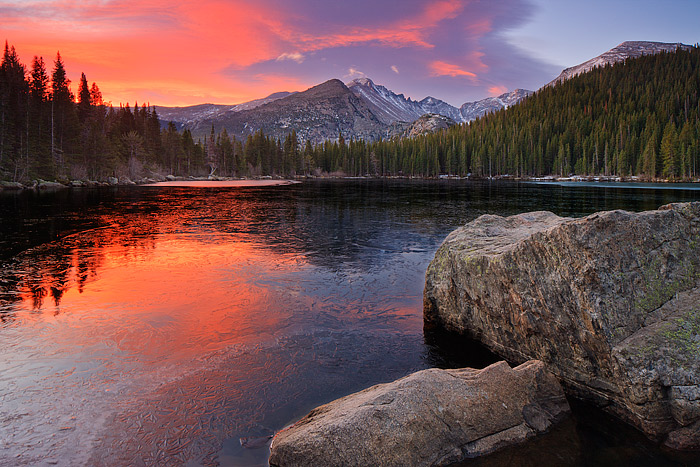 It was thirteen years ago today that my father, Thomas passed away at the age of sixty. Dad had turned sixty only two weeks prior, and his passing made for one of the most difficult days for my family and I. Thirteen years later, it's still difficult to believe sometimes that my father is no longer here.
Time has healed much of the hurt and pain that losing my father has caused but at times such as today, some of it returns. On days like today, I find it's best to remember all the great times and life lessons I learned from my father. It's because of my father that I am able to spend mornings, like today in places like Rocky Mountain National Park.
Unfortunately, I was never able to spend anytime with my dad in Rocky Mountain National Park. It was with my dad however, that I first visited the state of Colorado. I had spent the summer of 1996 living in San Francisco with my cousin having just graduated from college. I was looking to land a job and fulfill my dream at the time of living in the city by the bay.
In actuality, I spent more time exploring and photographing around the bay area then I did looking for a job. Needless to say, I quickly depleted my funds and needed to return to New York to again work the job I had held through college. I had driven my Jeep Wrangler cross country by myself on the way out, but my dad agreed to fly out to San Francisco and keep me company on the ride back. I gladly accepted his offer because I did not have enough money at the time to pay for the gas to get back across the country.
My drive back east across the country is one of my most memorable times spent with my dad. Driving hours at a time across California, Nevada, and Utah in the summer heat and without any air conditioning in my Jeep made for some testy moments between father and son. Even so, we pushed on and entered the state of Colorado from the west.
Colorado was like and oasis in comparison to the brutally hot and dry climate of the Great Basin we had just travelled through. The evergreens and the cool high mountain passes were a welcome change from the rocks and heat. We spent three days in Colorado exploring and enjoying the mountains. Those three days in Colorado with my father sealed the deal for me. I was going back to New York, saving up so money and moving out to Boulder as soon as I could.
So even on somber days like today, I can look back and be thankful for the many things my father bestowed in me. My love of travel, photography, and Colorado are all rooted deeply with my dad and his desire to make sure we had every opportunity to do what we loved to do. I was never able to formally thank my father for the opportunities he gave me, but on mornings like today, I try my best. Thank you Dad.