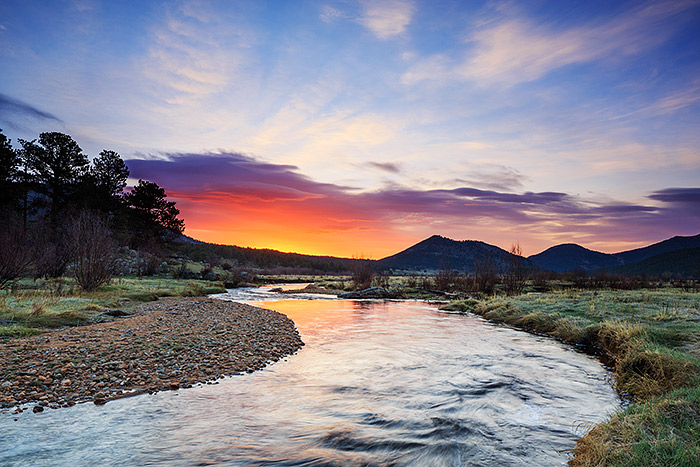 been another good week for photography. Our spate of interesting and unsettled weather has kept me on my toes adjusting to the conditions and working on some new compositions. With the Memorial Day holiday right around the corner, Trail Ridge Road should be opened no later than May 23rd according to the park service. Currently Trail Ridge Road is open to Rainbow Curve so even know some new opportunities are opening. It's going to feel great to a ride over Trail Ridge as the September flooding and park closures last year made it difficult to access before the winter weather finally closed the road for the season.
The cool wet spring in Rocky Mountain National Park looks as if its been delaying some of the harbingers of spring. While water is flowing and many of the lakes now have open water, many of the trails in the higher elevations are still covered in considerable snow cover. Grasses in Moraine and Horseshoe park are starting to turn green while many aspen trees have just started to bud out. I'm expecting that the combination of rain last fall, good snowpack over the winter and a wet spring will allow for a precipitous wildflower bloom in Rocky this year. Other than Pasque flowers and some cactus plants, there is yet to be any signs of wildflowers blooming at the lower elevations in the park as of yet.

Down in Boulder things are a little more green and the wildflower bloom has started in ernest throughout the open space properties in town. Golden Banner is currently blooming over many of the Open Space and Mountain Park's properties with Chautauqua Park being the best location to photograph dense clumps that mostly survived last weeks snowstorm. I also spied a few clumps of early blooming Silver Lupine in Chautauqua meadow below the Flatirons. It's a bit early for lupine but I would expect them to start peaking within a few weeks.
So while Rocky Mountain National Park still has a little ways to go before wildflowers begin to bloom in the lower lying areas and snow still needs to melt at the higher elevations, the open space properties around Boulder are well on their way to summer like conditions with good patches of wildflowers to be found with more on the way.