All of us who have spend considerable time in Rocky Mountain National Park have learned to love and appreciate the winds that are such a common companion on our outings. Actually, love and appreciate may be worded a little to strongly, but we at least learn to deal with the conditions at hand and pretend we love and appreciate the high winds.
It's nearly a given that winds will be present in Rocky Mountain National Park during the winter season. So as I see it, you basically have two things you can do to mitigate the potential of high winds when photographing Rocky in the winter. Your first option is to stay home. Add wood to the fireplace, grab a cup of coffee and review your images from the warm an pleasant summer months and countdown the days until summer returns to the peaks and meadows.
Your other option is to suck it up, head out and make a go of it. Photographing Rocky in the high winds can be uncomfortable. Furthermore, keeping your equipment still enough in the high winds can mean that even if the lighting and weather conditions are favorable, the chance of you actually capturing a sharp image may be difficult.
Over the years I've had my share of both options. Whenever I chose the first option and stay at home I feel I'm missing out. Wind is as much a part of Rocky as are it's herds of Elk and Bighorn sheep. Opting not to photograph in conditions that typify Rocky Mountain National Park in the winter season is generally not a viable one for me to undertake.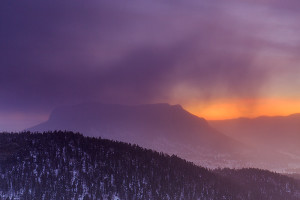 While photographing alongside the wind in Rocky Mountain National Park may result in disappointing outings, the dynamic conditions the winds present every now and again will provide dynamic, albeit gritty conditions.
I was lucky enough to come away with some keepers late last week while photographing in a very windy Rocky Mountain National Park. Conditions change quickly when its windy in the park, so it can be difficult trying to decide which locations will offer the best chance at coming away with a few keepers.
The continental divide was blanketed and obscured. Snow and clouds were being blown off the divide and quickly moving towards the east which remained clear. The high winds were blowing blankets of snow and clouds eastward so finding a vantage point facing east and towards the rising sun appeared most likely to yield results.
So I headed up Trail Ridge Road towards Many Parks curve to check scope out the view over Upper Beaver Meadows and Moraine Park. My vehicle rocking and bouncing as blasts of winds rolled over hill and dale. With every gust of wind, my expectations lowered. Photographing in this squall was going to be nearly impossible I thought to myself.
I soon arrived at Many Parks curve. An orange glow to the east was forming on the horizon and it appeared the sun would at least make an appearance this morning. I unpacked my camera gear, setup my tripod and composed an image. I had to keep a hand on my tripod to keep it from blowing off the side of the mountain but I could see the potential if I could just manage to get a few shots off in between the blasts of wind as the sun rose and hopefully illuminated the clouds racing through the sky.
Within minutes the sky started to fill with brilliant color. For brief moments the wind would abate allowing me to get a few shots off before another gust would roll off the mountainside and I'd have to brace myself and my gear. The colors of a warm sunrise combined with sheets of snow blowing across the valley made for surreal and dreamy conditions. Finally the sun itself rose over the horizon and for a few short moments I was able to capture this spectacular scene unfolding over Rocky.
While the wind made conditions difficult, it was also the wind that allowed for such a dramatic sunrise to unfold behind the diffused light caused by the blowing snow. It may not have been the kind of day that I'd want to be outside for and extended period of time, but being outside in the elements for sunrise was certainly well worth it.