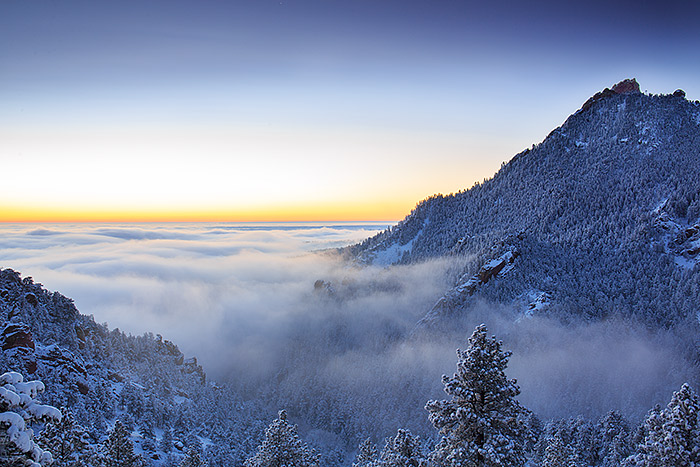 The weather around here started changing in a big way last Monday. While January ended up being the third snowiest month on record for the Boulder area, we had a good stretch of warm days and cloudless skies. Great weather for just about everything except landscape photography. But as January transitioned into February, the conditions along the Front Range became more unsettled. In other words, unsettled weather is just what I had been hoping for.
I spent the better part of last week splitting my time between Rocky Mountain National Park and the Boulder area. Both locations are favorite of mine and because I photograph in these areas so often I have a pretty good sense of where to be to optimize my chances of capturing dramatic imagery in conditions favorable for landscape photography.
Prior to the change in the weather last week we either had cloudy morning with no breaks in the sun, or clear bluebird skies with no clouds. That whipsawed pretty quickly last week with cold temperatures and a couple of weather fronts moving through the state.
The cool temperatures and upsloping winds managed to form a nice inversion on both Saturday and Sunday morning. Saturday the inversion and cloud line sat at about 7500 ft above sea level which meant the eastern slopes of Rocky Mountain National Park were in prime position to potentially yield dramatic conditions of fog and clouds at sunrise. By Sunday morning, the inversion had moved down to around 6000 ft or so meaning the area around Boulder was now the most promising area to photograph.
There was no way I was going to miss sunrise on Saturday and Sunday with some of my favorite weather conditions prevailing over Rocky Mountain National Park and the Boulder area. As is always the case when photographing in these conditions, one has to be ready to move quickly and be prepared to find differing locations to accommodate the conditions and the lighting. There is also a pretty good chance you will just end up getting skunked by the conditions. Staying at home of course will guarantee you of that outcome.
So after a few weeks of less than stellar sunrises and mild and clear weather the conditions greatly improved for creating images. As the saying goes amongst photographers, bad weather equals great photographs.