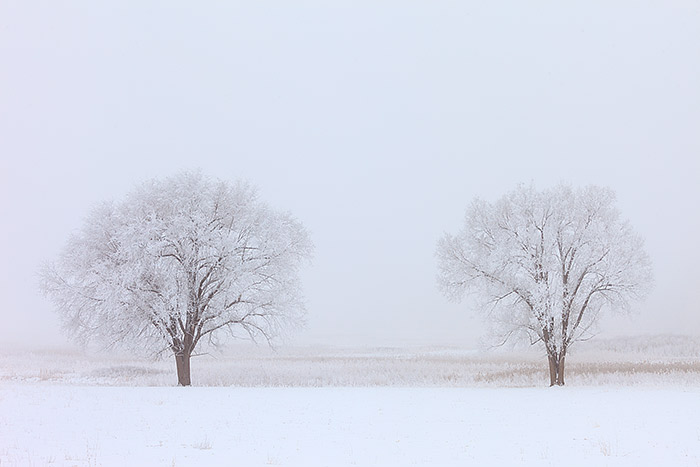 The streak of interesting and turbulent weather in and around Boulder continued this week. While I'm counting the days down until summer, the weather conditions on the Front Range are certainly making for very enticing opportunities for winter photography. The combination of lots of snow and cold temperatures are certainly keeping everybody on their toes.
The transitioning weather brought with it another one of my favorite conditions to photograph in, hoarfrost. It's a fairly rare occurrence for hoarfrost to form on the tree's and grasses here in Boulder, but when it does occur it quickly transforms the landscape into something straight out of a dream.
Hoarfrost occurs when the relative humidity of the air is greater than 100%. Combine this heavily saturated air with cold temperatures and objects such as trees and grasses below freezing and hoarfrost will form on branches, leaves and blades of grasses coating everything a pristine covering of white ice.
Hoarfrost can make even mundane, overlooked locations shine. The fog encompassing the landscape makes the white tree's and grasses stand out like ghosts. The fog also helps to conceal and cover over signs of man that may have normally acted as a distraction to the image.
The tree's in the marshy wetlands just east of the Bobolink trailhead cried out to be photographed while covered in the white frosting as did the Ponderosa Pines on Flagstaff Mountain. Hoarfrost is both rare and fleeting. It only takes a short period of sun or warming temperatures and it's gone. So when the landscape is covered with hoarfrost, enjoy the beauty but have your camera at the ready.