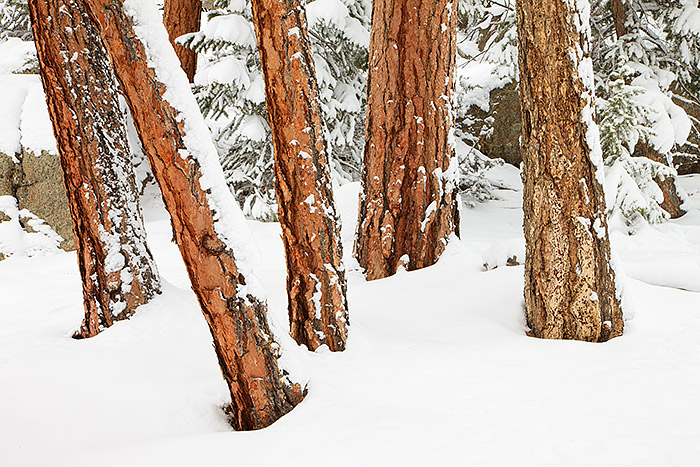 Since it's still the offseason in Rocky Mountain National Park, and the lakes and trails are still frozen over, one needs to get a bit creative to find subjects to photograph. One of my favorite subjects to photograph anytime of year are trees.
The potential and beauty found in the different shapes, contortions, and forms of tree's are endless. Tree's are a great subject all times of year. Here are a few of my tricks and tips for photographing trees successfully.
1. Eliminate Distractions: Naturally tree's tend to grow amongst other trees and foliage. I find its very important when photographing images of trees to be very aware of what's happening in the viewfinder. Rogue branches, leaves and deadfall can all become distractions that draw the eye away from the subject. Make sure to check the edges of your viewfinder or LCD screen carefully when composing to avoid distracting objects.
2. Make Order Out Of Chaos: This is one of the most important items when photographing trees. Naturally scenes with tree's in them tend to be chaotic. I find it's best to try to avoid converging lines. When setting up your tripod and framing your composition, try to keep spacing between tree trunks and allow room on the edges of the frame. Not every group of trees are going to make for an interesting composition. In fact I find nine out of ten times I scout out a group of trees, I end up moving on because there's just no way to photograph the scene and eliminate distractions.
3. Rule Of Odds: This is a personal preference of mine. It's certainly a rule that can and should be broken but one that I find most pleasing when photographing trees. Often I find that the best images of trees come when the tree's are found in odd numbered groups. One, Three or Five trees placed cleanly in an image seems more pleasing to the eye the even numbered groups. Of course this is only a general and I have some very successful images of tree's in even numbers as well.
4. Singularity: This is much more difficult to accomplish than many would think. Finding a single tree with a clean background can be quite difficult. It's rare in nature to find a single tree that has not been encroached upon by bushes, branches, rocks and deadfall. Even if you do find a single tree it can be even more difficult to find a clean, non distraction background to use as a backdrop. Single tree's make for powerful imagery as the exemplify independence, perseverance and tenacity.
Again these are just general rules, and rules in general are meant to be broken. This is the checklist I work off of when out in the field photographing tree's. It helps me to quickly break down a scene and decide if I should just enjoy the view and move on, or if its time to drop the pack and setup the tripod and start shooting.