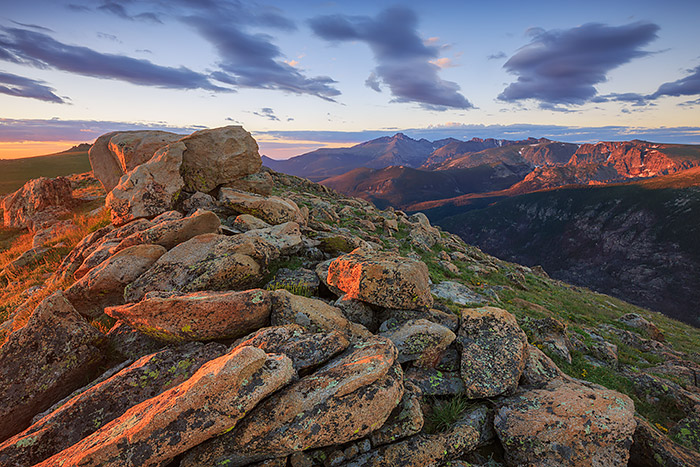 Being above tree line in Rocky Mountain National Park is one of those special and unique experiences that come with exploring the park. While there are many places in Colorado where one can get above tree line, Trail Ridge Road allows easy access by car and trailheads found along Trail Ridge Road such as the Ute trail allow visitors and photographers the ability to get out on the alpine tundra and explore the world above tree line.
The Ute trail in particular is popular with visitors and it offers some of the best views of Rocky Mountain National Park and many of its high peaks. Because of this its a favorite location of mine to photograph, especially in the summer when the conditions are favorable, which at over 11,000 ft above sea level is often easier said then done.
It is often told that the Ute trail was one of three crossings of the Continental Divide in Rocky Mountain National Park used by Native Americans prior to the arrival of European-American settlers and travelers to the region. While there is no doubt the Ute Indians used this area for travel and game hunting the name itself is mo it's more likely the route was named by the Colorado Geographic Board as a tribute to one of the two native tribes, the Ute and Arapaho whom inhabited this area prior to the discovery by early European-American settlers.
The Ute trail is a very interesting area to explore and it's geographic orientation allows for good lighting and photography in both the mornings and afternoons. Whenever hiking above tree line in Rocky, one should be mindful of the weather and avoid being out on the alpine tundra if there is any chance whatsoever of lighting from electrical storms. Lighting storms above tree line are no joke and people are struck and killed by lighting almost every year in Rocky, especially in areas of the park above tree line.
If one is looking for opportunities to photograph some of the finest alpine scenery in all of Colorado, hiking along the Ute trail can make for a very rewarding day. Even a short excursion along the Ute trail will allow one to move away from the crowded and busy overlooks along Trail Ridge Road such as the Rock Cut and Forest Canyon overlook. So be it sunrise or sunset one the Ute trail is one of the best vantage points a photographer can choose to capture some of Rocky Mountain National Park's best scenery.