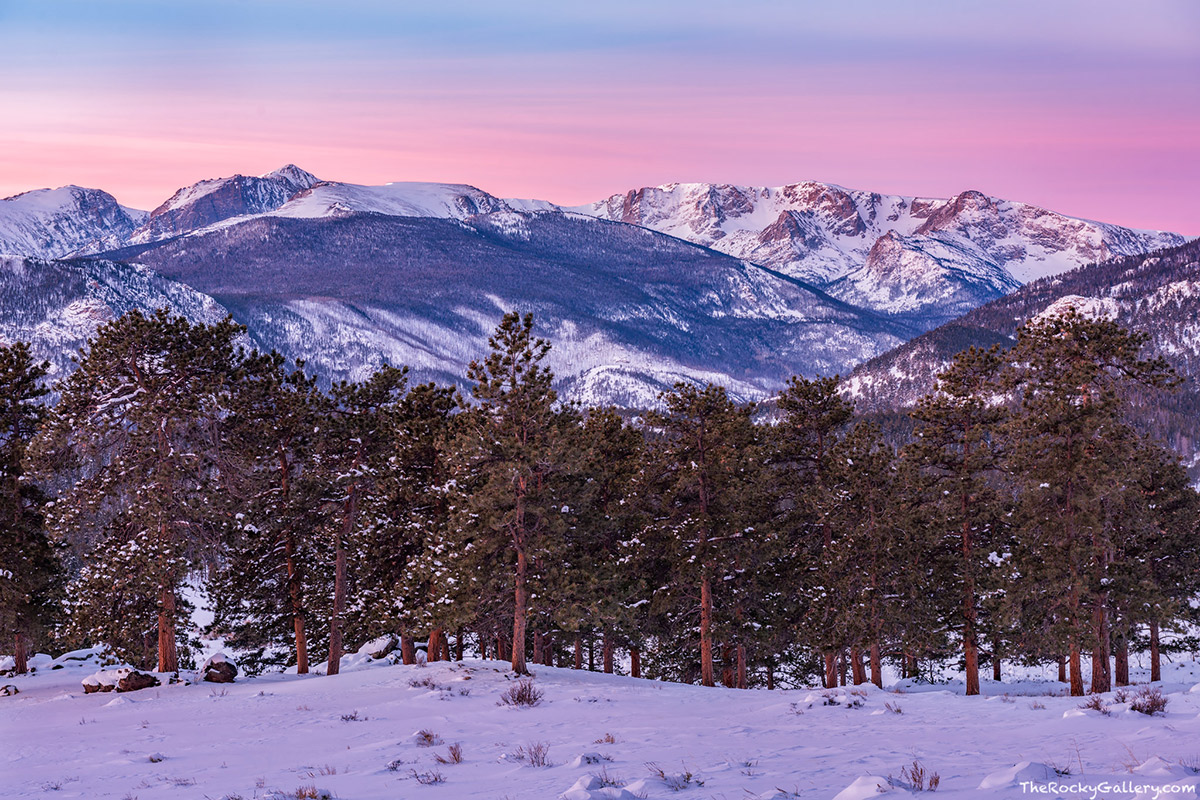 With the 2016 in the rear view mirror and a new start to 2017 just underway, it was about time that I photographed Rocky Mountain National Park for the first time in the new year. With holiday parties and family festivities over, the time was right to get out and start creating some new images for 2017.
Holiday or not, the last month in Rocky Mountain National Park has been a challenge for photographers. Photographing Rocky Mountain National Park during the winter months is always a challenge, but this past December seemed to be particularly challenging. Clear mornings and lots of windy days had made it less than ideal. The month started off very dry and once the snow did start to fall, the storms quickly moved out leaving only high winds and snowless trees behind.
As is the case with both photographing Rocky and photography in general the key when one finds themselves in a rut or at the short end of the stick photographically speaking is to just keep heading out and photographing. Eventually the law of averages will prevail and perseverance will pay off.
Last week I headed up to the park on a day that looked like it might be ok for images at sunrise. The forecast showed there could be some clouds around but overall it also looked as if the chances to walk away with no new images would be just as likely. It had snowed a day before so I figured at least the high peaks of RMNP would look good with fresh snow even if most of the snow had melted and blown from the pine bows in the lower elevations.
As I waited for the sun to rise, conditions were looking less than promising for a dramatic sunrise. It appeared the skies over the continental divide were clear and only a small lenticular cloud had formed just east of the Estes Cone and Lily Mountain. I was going to capture my first images of 2017 regardless and as I setup my camera equipment as dawn was nearing I began to detect the slightest hint of a pink hue in the skies to the south of Rocky.
Thin high clouds were present in the skies and as the sun was rising a beautiful pink glow over the mountains of Rocky Mountain National Park was forming. With fresh snow on the peaks and a beautiful pink hue in the skies my first image of Rocky Mountain National Park for the new year shaped up nicely. All things considered I was quite pleased I decided to head on out to photograph this particular morning as opposed to watching this as a spectator from another location (namely my desk).