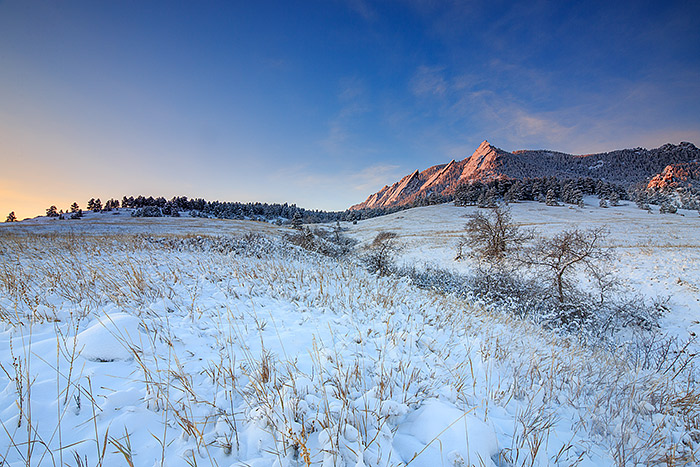 It probably goes without saying but if you live in Colorado people just assume you love the snow and cold. While that's mostly true, there are some days that leave me dreaming of Summer and warmer weather. Winter photography can make even the most mundane landscapes look magical so it's always worth the effort involved getting out in the field on a wintry morning.
There are some mornings however, when even those of us who enjoy the winter season have to push ourselves out of our warm bed in the morning. Last Friday morning was just one of those days for me. Arctic air had settled in over Colorado earlier in the week. Sub zero cold temperatures had settled in over Colorado and the Front Range along with a daily dose of light snow.
The whether conditions were culminating to a point where it became apparent, that one of these frosty mornings would be conducive to a cold but productive morning of photography.
I crawled out of the warm comforts of bed on Friday morning to find the thermometer reading a balmy -9 degrees Fahrenheit. I checked and scanned the horizon looking for snow and or clear skies. If it was crystal clear or snowing, I could use that as an excuse to crawl back into bed. I'd have no such luck, clouds drifted overhead and the horizon looked clear meaning a beautiful sunrise on the freshly snow covered peaks was looking likely.
No crawling back into bed for me, it was time to hustle, bundle up like a mummy and head out to that cold piece of metal otherwise known as my truck. I figured Chautauqua Park in Boulder would be as good a place as any for sunrise, and even more so since it would only be a short hike out into the meadow on this cold morning.
Arriving at Chautauqua Park, I hiked out into the meadow and began setting up my camera in the stillness of the morning. Even though it was cold, I love being in Chautauqua Meadow overlooking Boulder before sunrise. It's amazing how even a bustling town like Boulder can be so quiet and peaceful in the stillness before dawn.
On a cold morning like this, waiting for sunrise can seem like an eternity. I was setup no more than 20 minutes before dawn, but the warmth of my truck had quickly dissipated into the chill of morning. Finally the clouds above the Flatirons started glowing with the color of the approaching sunrise.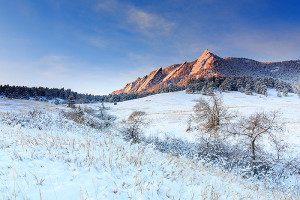 My Achilles heel in cold weather has always been my fingers. No matter how hard I try, or what gloves I try my fingers always end up becoming painfully frozen within a matter of minutes. Obviously I need to work my camera and feather my neutral density filter by hand over my lens as I'm photographing. It becomes quite a task at this point to keep my fingers out of the lens and the shot, and keep my hands warm enough to even hold the filter and fire the cable release.
So in between cursing at the cold and attempting to periodically warm my hands, I was able to photograph the a beautiful albeit frigid sunrise over the Flatirons. When it was over, I barely enough feeling left in my fingers to pack my bag and fold up my tripod. A short sprint back to my truck ensued and I sat in my vehicle frozen like a block of ice for a good 10 minutes before I felt coordinated and thawed out enough to drive back home.
My love hate relationship with the cold always quickly comes to an end when I'm back at home in front of my computer with a hot cup of coffee editing my images. I quickly forget the cold when finding images I'm pleased with. So until the next morning I'm out in the field with no feeling in my fingers, I'll welcome more opportunities for cold and snow.