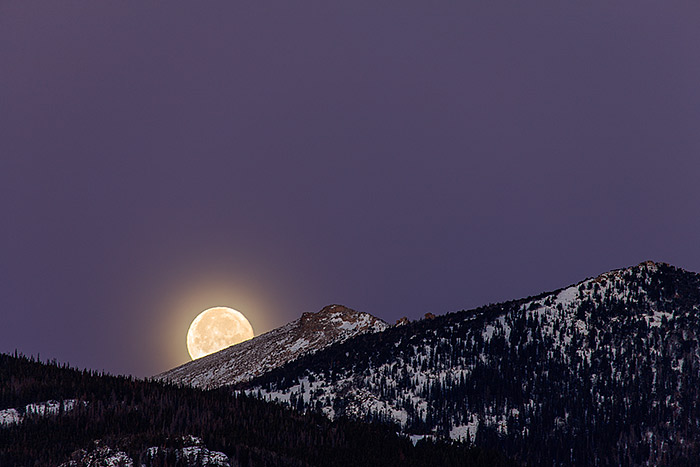 When I head up to Rocky to photograph at sunrise, I usual have some idea in mind of where and what I want to shoot. Sometimes I have a location in mind that will require a long hike to reach, and sometimes I have a general area in mind that I would just like to explore and photograph what strikes me as interesting. Over the years, I've found that I need to remain flexible and have a good 'plan B' location in case my pre-determined areas are looking less primary.
For me personally, I find having a location in mind allows me to make sure I'm at a good location when the action starts happening and the sun rises. I've found the 'lets go hike around and see what unfolds' approach often ends up with me running up a trailhead rushing to capture the unfolding sunrise leaves me rushed, detached and unprepared.
On very few occasions do I head up to Rocky Mountain National Park with little to no idea on where or what I want to photography. 90% of the time I have a fairly good idea of where I want to be and what I want to photograph.
A few weeks ago I found myself in the position of being up in Rocky with no game plan at all. It's the middle of the brown season and most of the waterways and lakes in the park have frozen over. The peaks and the mountains though are still only covered with snow in all but the highest locations.
For me, any day in Rocky Mountain National Park, regardless of the conditions is better than spending a morning anywhere else on the planet. Because of this, I headed up to Rocky with no agenda, and no plan for where I wanted to be at sunrise. I took a lets just see what happens approach, contrary to how I normally photograph most mornings.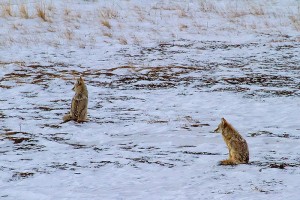 I'll admit the conditions and lack of a plan left me feeling a little uninspired as I approached Estes Park. There were no clouds in the sky this morning, it had been a week or so since any fresh snow had fallen and so I really had no good ideas on what I wanted to shoot that morning when I entered the park.
That all changed in a heartbeat as I round a corner in Moraine Park and glimpsed off to the west. A beautiful full moon was quickly setting to the west and over the continental divide. At that moment I knew what I wanted to photograph. I quickly headed up a hillside near the Moraine Park Museum to get an unobstructed view of the setting moon.
As I was setting up my camera and tripod, admiring the beautiful setting moon, a pair of Coyotes wandered out into Moraine Park and started barking, yipping and howling. It was an impressive display with the full moon setting over Beaver Mountain while the chorus from the playful Coyotes howling echoed through Moraine Park.
The scene quickly inspired me. Heading up to Rocky with little to no idea of what I would photograph had now placed me in Moraine Park experiencing a unique and memorable experience that one can only experience in the American west. That's why in the end I like to say, a morning in Rocky is better than a morning anywhere else, and sometimes the journey and unknown is inspiration alone.