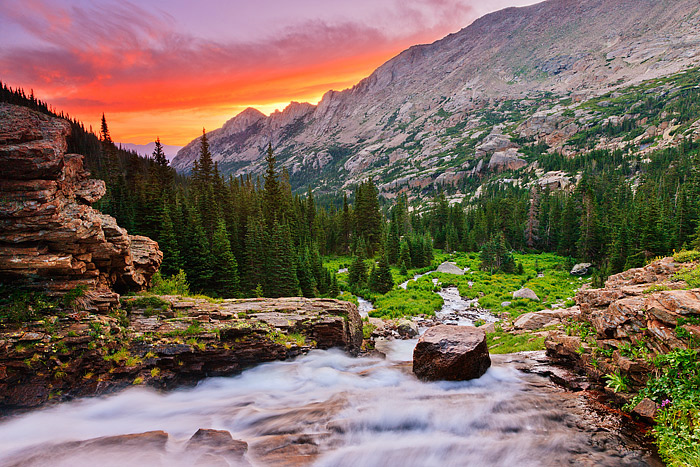 This image posted from Ribbon Falls is a follow up to the image posted from Black Lake a few weeks back. As I stated previously, I had a great hike up to Black Lake and was lucky to have near perfect conditions on that mornings hike and accompanying shoot.
There was no wind present this morning and I had a great set of clouds that rolled in right at sunrise. Ribbon Falls just below Black Lake was my first that morning. I was able to make a few images here at Ribbon Falls just before the sunrise.
The clouds to the east were just starting to glow when I took this image from the top of Ribbon Falls, looking back towards the sides of Storm Mountain. I was able to quickly pack up and scoot up to Black Lake for sunrise, and the falls on the inlet stream to Black Lake after that.
All in all I walked away with four images of the Black Lake area that I'm very pleased with. It was one of the best mornings I've had in Rocky Mountain National Park, and certainly one of my most productive. Now if I could only get every morning in Rocky to work out this well.