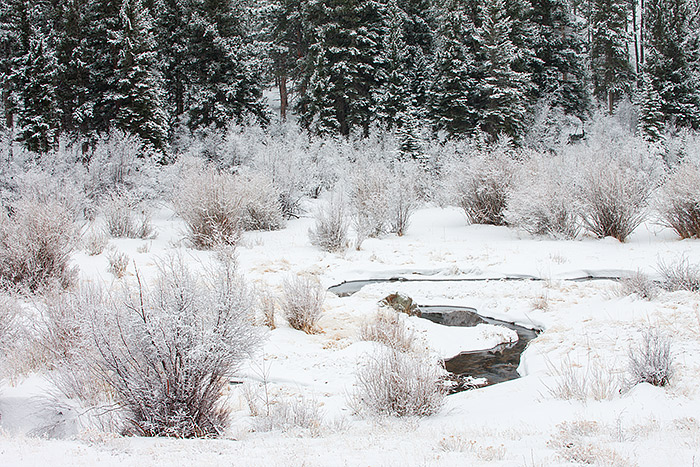 Another winter storm, another weekend of interesting conditions here on the northern Front Range of Colorado. With our current weather pattern and the timing of storms hitting the state, winter is taking on a groundhog day like feel to it. Rinse and repeat is the order of the day with the current weather pattern. No complaints from me as the current setup is working out quite nicely when it comes to photography along the Front Range.
Snowy weather continued over Rocky Mountain National Park Friday night into Saturday night. It's seems all it has been doing in Rocky for the last month or so is either snowing, or the wind is howling, or a combination of both has been occurring. Even so, it still sets of good opportunities for photography if you can find a window between the snow and heavy winds.
As harsh as the conditions have been in Rocky Mountain National Park the last month or so, spring is definitely creeping into the air. Streams are starting to thaw in pockets, the birds are getting a little nosier each morning and every now again one can catch a whiff of that organic, earthen smell that tells you things are starting to thaw. Even the snow takes on a different quality as the temperatures increase slightly and the flakes grow larger with moisture.
As has been the pattern the last month or so. These storms that move over Colorado with moisture from the Pacific, pull down cold arctic air as they move through the state. As the storms have moved out, the cold air remains settled in the valley's and low spots of the Front Range. This pattern has been perfect for allowing for cold air inversions over the lower valley's and plains after the snow has moved out.
That being the case, an expedition up Flagstaff Mountain just west of Boulder has been the perfect spot for taking advantages of the inversion by getting up above the cold layer of air entrenched below. Having an inversion setup over the foothills west of Boulder allows for many images that one normally could not photograph. The cloud cover caused by the inversion covers the city like a blanket covering all the man made objects below and beneath the cloud cover.
So I'll take the rinse and repeat aspect of the last few weeks. Sure I cant wait for summer to settle in, but the repetitive conditions have really made for some fun expeditions and allowed me to create images that ordinarily may not be possible. As for this weekends forecast?, stay tuned as it's again looking snowy and unsettled.