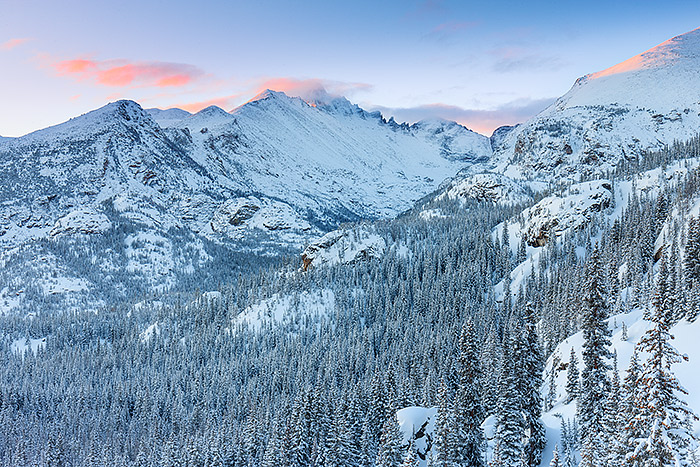 As landscape photographers we find ourselves constantly chasing both the light and the weather. These two ingredients are at the heart of what makes a successful, dynamic landscape image. The trick is of course attempting to take advantage of these conditions when it may be favorable to do so. That of course is much harder said then done. Like a golfer sinking a 40 foot birdie put on the eighteenth hole after an awful round of golf, nailing a shot in dynamic weather and light quickly makes us forget past failed attempts and has us searching again for that next image.
Weather is dynamic on the Front Range of the Rocky Mountains. It's constantly in flux, especially as we move towards spring. Weather changes happen quickly here in Colorado and in ways that can be both helpful to your photography or a detriment.
It's not uncommon to have the skies clouded over and snow still falling only a few hours before sunrise, to then find the skies at sunrise cloudless and clear with only fresh snow on the pines and granite to attest to latest storm. While this is great for skiing, snowshoeing, and other outdoor activities it doesn't jive well with the bad weather equals good photographs meme.
Many a time it's a race to see if the clouds can hang on just long enough to add color to the skies above the peaks. Clouds add interest and bring an important element and dimension to an image, so whenever possible having clouds in the photograph is a benefit. But when one of our quick moving storms starts moving out the skies can clear in a very short period of time.
This was the case after our last storm. Snow fell at a good clip the day the before. Weather forecasts indicated that the snow that was falling hard on Friday, would indeed move out quickly with clear skies predicted for sunrise Saturday morning. Of course the weather forecasts interpretation of clear skies can be different than a photographers so there is a possibility that some of the clouds and fog from the storm could linger around the high peaks of Rocky Mountain National Park for sunrise.
When I left my house on Saturday morning on my way to Rocky the skies were completely clouded over. By the time I arrived at entrance to the park, the skies had started to clear considerably and there were now large breaks in the cloud cover with the stars shining above. After parking my vehicle at Bear Lake and throwing on snowshoes for the hike up towards Dream Lake, the skies had cleared even more that when I had arrived at the entrance. It was becoming obvious that the cloud were quickly on their way out and the race was going to be on to see if any would stick around long enough to make sunrise.
I hurried up the trail through the virgin powder towards Dream Lake, all the while watching the sky and clouds hoping they would hang on long enough. The conditions were perfect and a beautiful sunrise with colorful clouds over Longs Peak would be the icing on the cake.
By the time I reached the ridge just below Dream Lake which gives a commanding view of Glacier Gorge and Longs Peak there were only a few clouds still hanging over and around Longs Peak. Hold on is all I could think as I setup my camera and tripod. A few more minutes and the sun would be up. Hold on just long enough the clouds did making for a beautiful late winter scene over Rocky Mountain National Park and another great morning in Rocky.