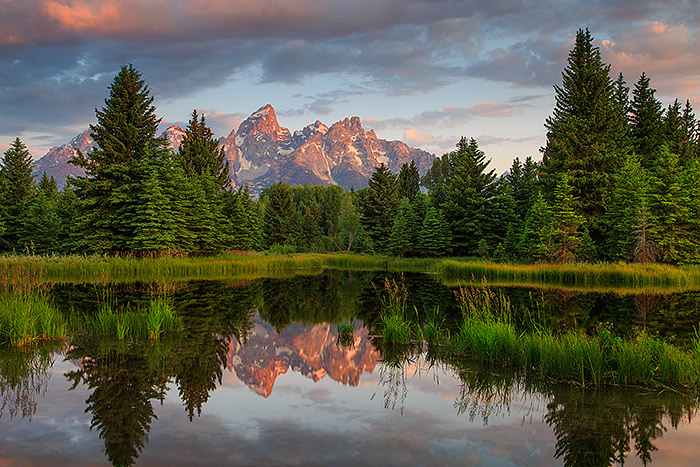 Long road trips over short periods of time usually wont produce a great return on investment when it comes to photography. These kind of trips usually lend themselves best to expeditionary roles for future adventures when you have more time to spend in the field with your subject.
I just returned from just such a road trip to Bozeman, Montana for a friends wedding. The trip which extended over the fourth of July holiday required that I be back in Denver on Saturday with only four days to travel to and from the wedding. With Bozeman being ten hours from Denver and my wife needing to be in Bozeman for the rehearsal and ceremony, my time to get out in the field was going to be very limited.
I was able to convince my wife to make a stop over for a night in Jackson Hole, Wyoming on the way up to Bozeman. To be honest, I never have to convince Holly to make a stop over in Jackson Hole as it's one of our favorite places on earth. Needless to say the stopover in Jackson would be brief and would dovetail with the busy fourth of July holiday.
We'd only have one night in Jackson Hole and I'd have a few short hours around sunrise to photograph the Tetons. The chance of walking away with a portfolio worthy image of Grand Teton National Park with only one morning was slim. Worst case scenario meant a night in Jackson Hole checking out the sights and galleries with my wife, followed by a morning in Grand Teton. I could only hope all my worst case scenarios in life would be this sweet.
After a beautiful night of checking out the sights around town which included a few cocktails at the Silver Dollar Bar, I awoke early and surveyed the skies over Jackson. The sky above was filled with clouds. As is always the case when I see clouds in the sky, my blood starts pumping with anticipation for a potentially great sunrise.
I was on my way out of Jackson Hole by 4:00 AM for the short trip north to Grand Teton National Park. The plan was to get to Schwabachers Landing early to setup for a prime location of this iconic location. I've photographed Scwabachers in the past as the location is always a popular one with other photographers and often times there can be over twenty to thirty photographers lining the shores of the ponds before dawn. Being a holiday, I figured Schwabachers would be a busy location.
I was aware that the current sequester of budget funding to the Park Service had caused them to close the mile long dirt road that takes visitors to the landing and Snake River. I held out hope that the additional effort required to get into Schwabachers would limit the amount of photographers along the banks of the river and ponds this morning.
Schwabachers is not only a popular location for photographers, it's also a very popular location for the resident Grizzly Bears, Black Bears, Bison and Moose. Having the sequester close the gate to the landing makes the experience of getting to Schwabachers before sunrise all the more primal.
I arrived at 4:30 AM on a nearly moonless night to find no other cars parked at the gate and plenty of clouds still swirling above some of America's most majestic peaks. Sunrise was looking like it was going to be great. I grabbed my backpack, turned on my headlamp and started my hike across the sage flats down to the landing.
Because it was nearly moonless, it was very dark on the hike down to the landing. Your senses become heightened when hiking in areas popular with Grizzly Bears. On nights when the moon is out, I often don't need a headlamp. I like to let my eyes adjust to make out shapes and silhouettes.
Dark nights like this night are more problematic. You can see with your headlamp, but you get tunnel like vision. You can only see your immediate surroundings only a few yards from where your light is shining. Turning off my headlamp just left me standing in the dark in the same predicament.
I made lots of noise on my hike down to the landing. I even had a somewhat comical moment on the hike down when I had a hard time discerning a whether or not a large sagebrush growing on the side of the road was not in fact a large mammal. To an observer, it must have been an interesting sight watching a guy try to carry a conversation on with a piece of brush.
Needless to say I may it down to Schwabachers Landing without incident. I found a great location to setup for a sunrise that looked like it was going to be magical and waited for the hoards of photographers to arrive. I had envisioned tangled tripods, tensions running high and the one guy who always has to setup in everybody else's shot.
But this fourth of July at Schwabachers would not fulfill my expectations of a mob scene. A beautiful sunrise came and went and I remained the only photographer at this iconic location. I had to keep looking around to make sure this was indeed the case. I not only had one of my most memorable sunrises in recent memory, but I was able to soak up this spectacular location in total solitude.
I passed some latecomers on the hike out of Schwabachers that morning. The experience, hike and sunrise of this morning had left me exhilarated. While I'm sure some of the late arrivals made some beautiful images and had a great experience, I could not help to think of what an amazing morning I had just had.