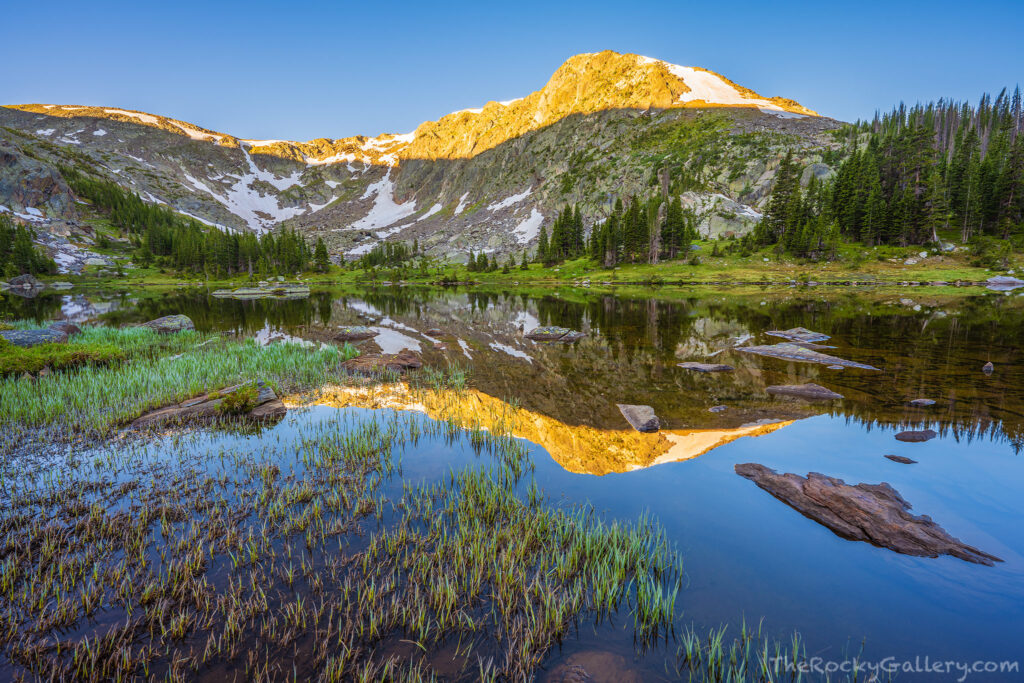 It's mid July here in Rocky Mountain National Park. While late September may vie for the best time of year in RMNP, I think mid July gives late September and run for its money. The snow has more or less melted in the higher elevations or at least on most maintained trails, the tundra and grasses are a vibrant green, and wildflowers are blooming all over Rocky.
Days are long, start earlier and end late but its amazing to watch everything come alive again after a deep winter slumber that for some of these locations lasts into early June. We've had some really interesting weather here in Rocky. Anecdotally, I would say I noticed a change about mid way through last summer. Lots of moisture, cooler, and overall, much more conducive to landscape photography.
It's not uncommon in Rocky Mountain National Park to get a week without seeing all but a few clouds in the skies during the summer months. This can be especially true if the monsoonal flow of moisture that runs up from the Southwest and Gulf of California is not active or is cut off by a high pressure system parked right over Colorado.
That weather pattern has been occurring here in Rocky for about the past week or so. Not much interesting out there to photograph from an atmospheric standpoint for the past week or so. Looks like starting tomorrow the monsoonal flow is going to kick back in and we should have some really good chances for active and dramatic atmospheric conditions and landscape photography.
This is going to coincide with me spending a few days on the west side of Rocky Mountain National Park backpacking, so I'm both really excited and keeping my fingers crossed that I can stay mostly dry but also come home with some great images in sections of the park that can be difficult to photograph without lots of effort.
Even with the clear conditions, I've been out in the field, hiking, photographing and exploring. After all, some of my best images and times in RMNP have come when I've had the lowest expectations or just decided to try something different because things did not look promising.
As I often do this time of year with Trail Ridge Road open for the season, I spend a lot of time on the west side of Rocky Mountain National Park. Not only is it easier to access this time of year with Trail Ridge Road open, but for the most part its a lot less crowded and many of the great locations on this side of the park are just flat out ignored by other photographers. Many of these locations are physically much more difficult to reach and require much earlier or later start times, but they are both amazing an awesome.
While it was sunny last week with nary a cloud in the sky, I spent time exploring and photographing the burn area on the west side of the park. While the bloom in Big Meadows is not quite as good as last year, its still offers lots of promise. I also made a run up to Timber Lake for sunrise just because why not?. Sure it was clear when I arrived after hiking the five plus miles, but the winds were calm, I got to watch both a Moose and her calf graze in the meadow below the wake as well as watch a pair of bald eagles at the lake hunt for fish.
While Rocky is only 400+ square miles, its still huge when most of ones travel is on foot. Some may not realize this, but it can be years between visiting locations no matter how efficient one is or how many days a year I spend in the park photographing the landscape and wildlife.
Photographing locations like Timber Lake are like visiting and old friend. Even after a great morning hike into the lake for sunrise, heading out and leaving one often feels a sense of somberness as you may not see your old friend for years again as other locations in the park are visited and photographed. Life is short, and watching short seasons in the high country like summer and fall make you only appreciate how little time one really has to spend at each of these spectacular locations. None of us know how much time we have on this planet, but its certainly shorter then many expect. You only have so many sunrises and sunsets and sometimes you can be on the shore of Timber Lake to photograph them. Appreciate each day, get out and explore and embrace the excitement, beauty and even the somberness that comes with photographing these unique locations in Rocky Mountain National Park.