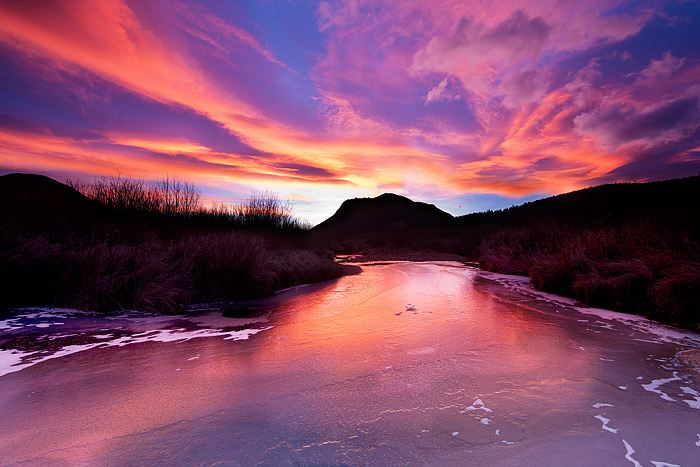 Many of my favorite locations in Rocky Mountain National Park are the alpine lakes at base of Rocky's many beautiful granite peaks. Once the cold weather and snow start to settle in, these lakes will freeze over and become covered in snow. These locations are still beautiful cloaked in their winter attire, but photographing them while rewarding, can be challenging due to snow, wind, and cold.
Typically what I like to do when the higher elevations of Rocky begin to freeze over, is to settle down in some of the lower elevations of the park. Places like Moraine Park, and Horseshoe Park are likely to have less snow, and more flowing water even into late November.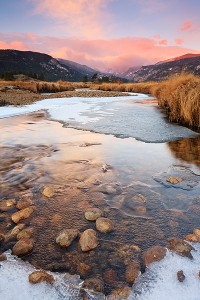 Horseshoe and Moraine Park take on a very peaceful quietness to them this time of year. The crowds of people gathering to watch the Elk Rut have dispersed, and the legions of summer hikers turns to a trickle. The Moraine Park campground empties out of tents and RV's and the overall pace in Rocky slows.
The grasses in the two parks move from golden to a more subdued brown, and the willows along the rivers drop their leaves only to have the red hued skeletons remaining. The Big Thompson and Fall River slow to a trickle. Bends in the rivers will freeze over, but water continues to flow downstream. Elk herds will gather in both locations, but with exception of an occasional bugle, the rut will have ended and the Bulls will again begin to congregate together.
Most would find this time of year to have the least appeal for photographers. After all, who wants to spend time photographing leafless trees, brown grasses and mange looking elk. My advice, take the time to explore these areas and enjoy the calm. Settle in and watch the sunrises explode with color as wave clouds setup over the Front Range. Enjoy the quietness of these areas when they are nearly free from visitors. Doing so will you allow you to truly appreciate these beautiful places.