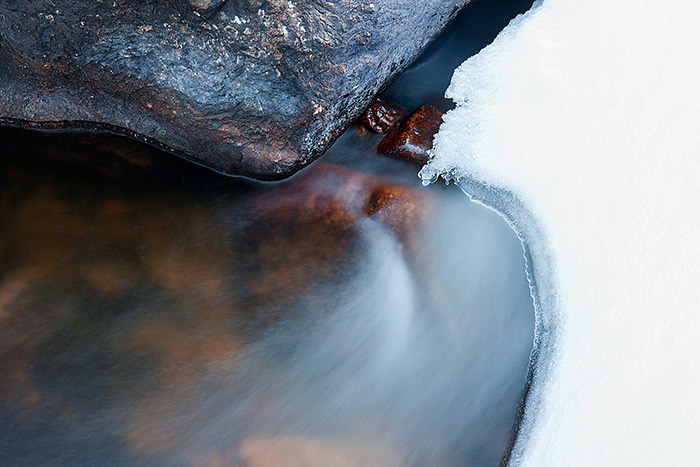 With the calendar rolling past St. Patrick's day spring is nearly here. Spring conjures up images of warmer weather, greening grass and chirping birds. While we can already see signs of spring beginning in the lower elevations of the Front Range, were entering another 'tweener' season in Rocky Mountain National Park that can lower ones motivation and cause photographers to find other ways to spend their time in the field.
While finding interesting subjects to photograph between seasons can be difficult, here are a few tips for keeping it fresh and interesting in between the spring melt off and summer in Rocky Mountain National Park.
1. Pay attention to thawing streams and lakes. Water will add a dimension and depth to your image. After a long cold winter, moving water can be hard to come by. By mid March the streams should be starting to thaw in areas which are exposed to the sun allowing for photographers to advantage of reflections or foreground subjects. Lakes may also allow for reflections or interesting subjects for leading lines. Don't expect to find any of the lakes in Rocky Mountain National Park thawed an open this time of year. Check the inlets and outlets of lakes at various altitudes. Moving water will cause the inlets and outlets to thaw and run first. Use extreme caution this time of year when working around water and ice. Poor judgment and a misstep can cost you more than just your camera equipment.
2. Look for interesting skies at sunrise and sunset. This applies to photographing Rocky Mountain National Park anytime of year but I believe its even more applicable during the 'tweener' season. Dramatic lighting can turn a so-so landscape from blasé to spectacular easily. Dirty snow, leafless trees and partially frozen landscapes are quickly transformed into beautiful, vibrant scenes with dramatic and colorful skies above.
3. Continue to embrace your winter mojo. Why does one need to embrace winter when we are talking about landscape photography as we transition to spring?. Simple really, spring in Rocky Mountain National Park has lots of stops and starts. Spring in Rocky is much more likely to provide winter like conditions than those of the summer so it's important to keep your mindset open to photographing in snowy conditions. Some of my best winter/snow images have been made during the spring season. March and April are some of our snowiest months so your certainly going to have the opportunity to photograph the landscape covered in white, so you might as well take advantage of it.
So while many have cabin fever setting in or are dreaming of heading to warmer locations south of Rocky Mountain National Park, the 'tweener' season still presents plenty of opportunities for photographers to make dynamic images in the park. Like always, keep and open mind, come prepared and most importantly make sure you get out in the field to create images.