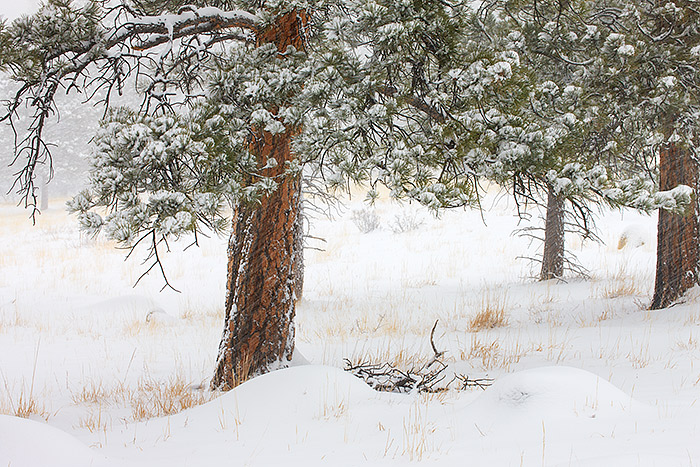 Located west of Eldorado Canyon State Park lies Walker Ranch. Situated on Boulder County open space property, Walker Ranch is the site of a former homestead from the turn of the century. Portions of the property skirt the banks of South Boulder creek which makes for great hiking and fishing.
The area around Walker Ranch is going through a transition of sorts. In 2000, the Walker Ranch fire burned through much of the property and it's forest. In 2013, the Flagstaff fire again burned inside portions of the Walker Ranch area. Many of the tree's inside of Walker Ranch have been affected by these two most recent fires.
Even with the recent burns in the area, Walker Ranch is still a spectacular location for photography. Our long dry spell seems to have temporarily abated in the last couple of weeks. Snow has become a common occurrence once again in and around Boulder.
During a recent snowstorm, I took the opportunity to head up to Walker Ranch to see what subjects I could find. It was snowing hard, and the wind had really begun to pickup as I headed out in search of images. I found this group of Ponderosa pines weathering the storm.
Though it was snowing hard, it was quiet and peaceful as I photographed. Not another soul was to be found. The parking lots were empty and people remained in the comforts of the inside returning this popular location back to a place of wildness and solitude.
I was only able to photograph for a short time. The winds and blowing snow soon made it to difficult to keep the front of my lens snow free. I packed up and headed back to the car. Though I'm a photographer, experiences like these are never about recording images to a memory card. For me, it's the experience of committing special days like this to my memory.