Dramatic sunrises and sunsets are hard to beat when it comes to photography. It's hard to top the anticipation and excitement that comes from the experience of being in the right place at the right time and capturing the colors and intensity of an epic sunrise or sunset. I have to admit however, I enjoy being out in less ideal weather conditions just as much as I do the ideal ones.
Saturday was just such one of those days in Rocky Mountain National Park. The weather forecast called for blizzard like conditions during the day with high winds and heavy snow. Sounded like a perfect March day in Rocky to me.
Photographing in snow I really enjoy, high winds with blowing snow, not so much. These kinds of conditions open up so many different viewpoints and locations that would likely go ignored during more ideal conditions. It appeared there would be a short window in the morning where there would be moderate snow before the front moved east and the winds really started picking up.
I arrived at the Beaver Meadows entrance to Rocky about an hour before sunrise. It was snowing hard but the park was quiet and serene. My vehicle cut first tracks through the snow along the yet unplowed roads in the park. The plan was simple this morning. Cruise the roads along Moraine and Horseshoe Park attempting to capture Rocky without the drama of a spectacular sunrise, but instead the serenity of a March snowstorm.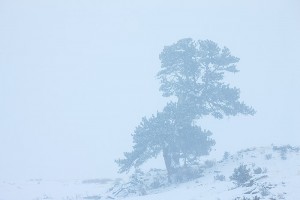 It didn't take long before I was being pounded by heavy wet flakes of snow, capturing images of evergreens and aspens in some of my favorite conditions. It's days like these that I'm thankful that I shoot with a weather sealed body. It's a chore in itself to keep your equipment clean and your lens elements dry but even if my body was not weather sealed, I still be out attempting to photograph in these wet conditions.
After about two hours of photographing in Moraine and Horseshoe Park, the winds really started to pick up and the snow was blowing hard. The conditions quickly got to the point where photography was becoming increasingly difficult. It was time to call it a day and start drying out my now soaked camera and lenses.
As far as I'm concerned it was another perfect morning in Rocky Mountain National Park and I'm just as pleased with my images from this morning as I am from mornings when I'm photographing more dramatic lighting in more ideal conditions. Got to love March in Rocky!.