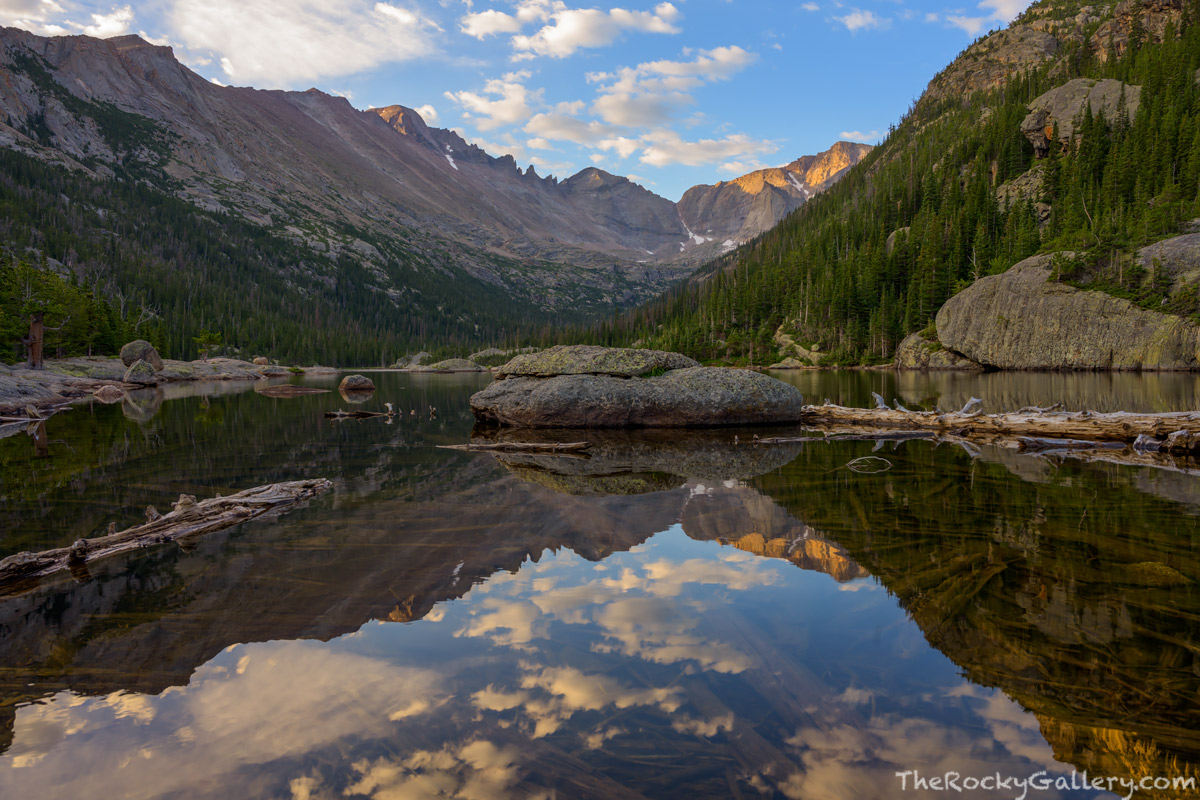 On Tuesday morning of this week I took a quick trek up to Mills Lake for sunrise. In my opinion Mills Lake, located in Glacier Gorge is one of Rocky Mountain National Park's most spectacular and jaw dropping locations. One of the reasons Mills Lake does not get quite as much attention from photographers as do some of RMNP's other dramatic locations is that Mills Lake can be difficult to photograph.
With Mills Lake resting at the bottom of Glacier Gorge. It's nestled in and around some of Rocky Mountain National Park's most impressive and iconic peaks. Longs Peak, Rocky's tallest peak at 14,259 ft towers above the eastern shore of Mills Lake along with Half Mountain and Pagoda Peak. To the south rests Chiefs Head Peak and the iconic Spearhead. On the west side of Mills Lake, Thatchtop Mountain rises high above with the Arrowhead down valley. With all of these impressive and iconic peaks of RMNP rising above Mills Lake, it makes for one of the most dramatic and visually impressive locations in all of Rocky.
These same peaks however, make Mills Lake difficult to photography because more times than less, they are overshadowing and blocking the sunlight in and around Glacier Gorge. This is especially true early in the morning and late in the afternoon when the sun is low in the sky.
Mornings at Mills Lake means that only the summit of Longs Peak will catch sun. In the middle of summer Chiefs Head Peak will catch first light. It still takes awhile for the sun to reach the Spearhead even during the longest days of the year.
Afternoons are best at Mills Lake but even with that said sunlight can be sparse. The backside of Longs Peak otherwise known as The Keyboard of The Winds will glow at sunset. That's all well and good but many summer afternoons produce strong thunderstorms and cloud cover over Rocky Mountain National Park meaning you have a good chance of not getting any light at sunset. Wind is also an issue with a large lake like Mills and both the afternoon and mornings have a good chance of having a breeze flowing down Glacier Gorge.
With that said, my strategy at Mills Lake has been to look for heavy cloud cover over Longs Peak and hope there break in the cloud cover to the east. They way I see it when it comes to photographing Mills Lake, is that while I would call it more of an afternoon shot than a morning shot, a good set of clouds over Glacier Gorge can help even the score.
Tuesday morning I headed up the 2.8 miles to Mills Lake with decent cloud cover of the Gorge. That cloud cover thinned out as the sun rose, but enough white puffy clouds hung around after sunrise to make for a beautiful scene. Even better, the northern end of Mills Lake remained calm enough to allow for a great reflection. Not exactly how I had drawn up the morning in my mind, but regardless the results were still more than satisfactory.
One other note in closing here not related to photography at Mills Lake but to my tour and workshop schedule in late summer and fall. My schedule for photography tours this fall is quickly filling up. Many of my clients book these autumn dates nearly a year in advance. That being said if you are looking to take a photography tour or workshop with me at the end of August or through September and the fall color season, I still have some openings. Please contact me sooner than later and I'll be happy to let you know what open dates I still have for summer and fall photography tours in Rocky Mountain National Park.
Late August, September and the first half of October is some of the best times to photograph Rocky Mountain National Park. It's a great time to take a photography tour and I''m happy to try and accommodate anybody who is interested in heading out with me in the next few months.