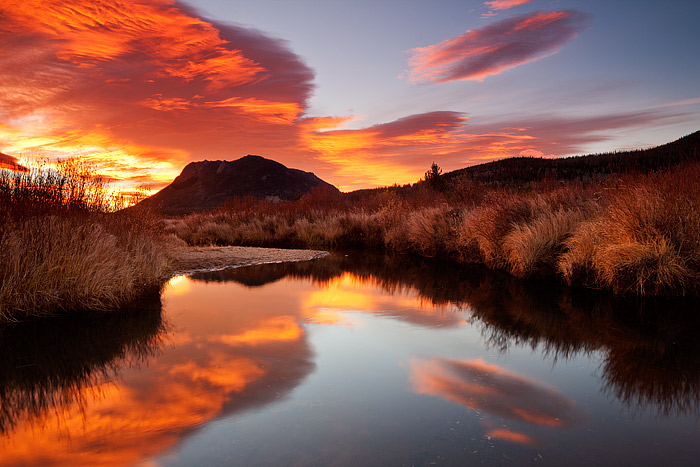 Elk bugling in the distance, autumn grasses lining the banks of a gently flowing Fall River, and a beautiful lenticular cloud hanging over Horseshoe Park. There are few moments that typify Rocky Mountain National Park more than mornings in the presence of this kind of beauty.
Most mornings last week were cloudless but higher winds on Saturday allowed for a nice wave or lenticular cloud to form over the northern Front Range. Originally, the plan was to head up to Glacier Gorge to photograph sunrise. There is a particular Krummholz tree in Glacier Gorge I had in mind to photograph with the wave cloud above, but that image would have to wait for another day.
I had to quickly alter those plans after arriving at the Glacier Gorge trailhead. The winds were howling down Glacier Gorge. Tree's were swaying back and forth and it became apparent I was going to need to find another subject to photograph.
Horseshoe Park seemed like a good 'plan B' location. Sunrise was rapidly approaching so I did not have a lot of time to horse around so to speak. A short walk out along Fall River yielded this view of Deer Mountain and sunrise reflecting in Fall River. Horseshoe Park, as opposed to Glacier Gorge was nearly devoid of any wind. A large herd of Elk grazed in the meadow just out of sight. The morning turned out to be different than I had envisioned, but only in a great way.