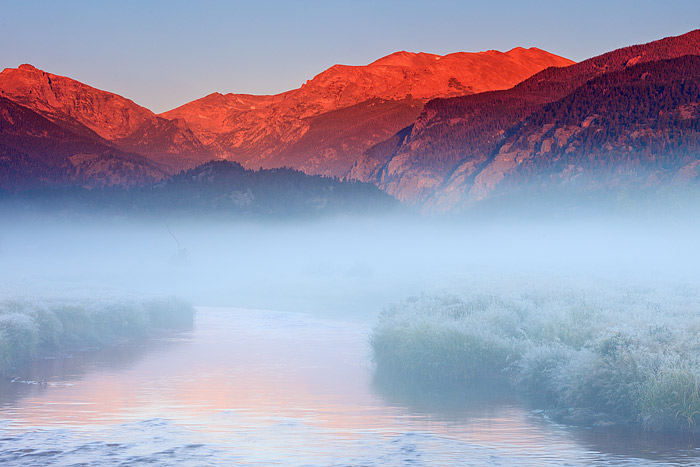 Fall is really starting to hit it's stride in Rocky now. Aspen tree's are turning gold all around the park, and we had our first heavy frost in Moraine Park on Saturday. Finally, that distinctive sound of Elk bugling through the meadows and valleys is a sure sign autumn has arrived in Rocky Mountain National Park.
Photography in the park can be overwhelming this time of year. Overwhelming in a good way of course. There is a ton of potential this time of year. Do you hike to a high alpine lake which is still unfrozen for sunrise?. Should I train my camera and lens on that grove of golden aspens?. Or should I hang around Horseshoe Park and Moraine Park looking for herds of Elk and photograph the rut?.
Some photographers excel in trying to capture all of the above subjects at the same time. Personally, I find it best to concentrate on one subject at a time. That's not to say I wont attempt to photograph multiple subjects in Rocky on the same outings, I just find my style works best when I filter some of the background noise and set a destination.
I find it's a good idea to have a starting point and goal when heading out in the field. That being said, I also like to have a 'Plan B' ready in case I have to alter plans due to lighting, location of clouds or weather. It's also important for me to take advantage of unforeseen images or opportunities when in the field.
Saturday morning was clear and cool. I had planned to hike to Bluebird Lake in Wild Basin for sunrise but changed my plans on the way up to Rocky when it was apparent I had a zero percent change of getting any clouds at sunrise. I had passed through some low lying fog on the way up to Rocky so I figured I'd take a quick look at Moraine Park to see if any fog was hovering in the valley over the Big Thompson.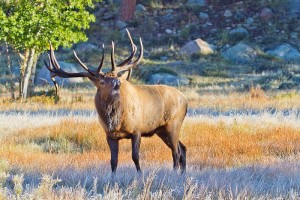 Cresting over the rise from Upper Beaver Meadows I was pleased to find some low lying fog hanging out Moraine Park along the river. Cars parked at the Cub Lake trailhead had a nice coat of frost on their windshields. A short hike out to a nice bend in the Big Thompson River and the elements started coming together. Skies were clear but the fog along the river would provide a nice element to the scene. Furthermore, it would cover up the many fences installed around Moraine Park to protect the foliage from the every hungry elk herds.
Heading back to the trailhead, I could hear Bull Elk bugling all around Moraine Park. This time of year I keep my Canon 7D and 100-400 IS lens with me in the front seat of my vehicle. I don't consider myself a wildlife photographer per se, but opportunities to photograph the Elk rut can be plentiful on mornings like this so it's a good idea to be prepared if the opportunity presents itself.
On my way out of Moraine Park I was lucky enough to come upon this beautiful Bull Elk and his harem. For a good twenty minutes or so I was able to photograph this Bull Elk bugling, herding and chasing other males from his harem. Finally they headed back into the cover and shade of the Ponderosa's, and I headed home satisfied.