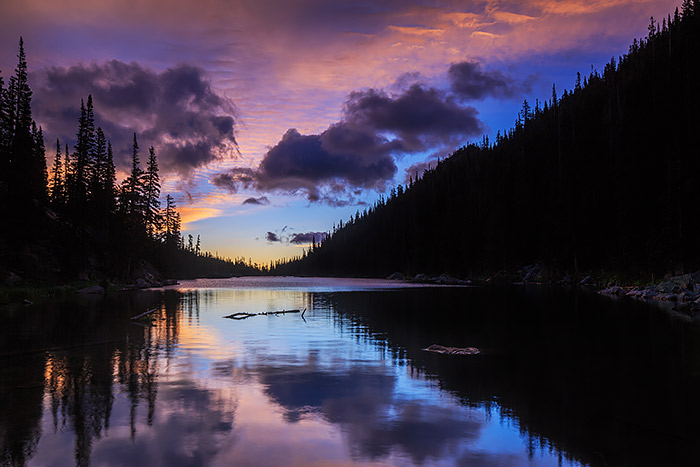 been spending quite a bit of time in the field these last 3 weeks. I've made it a priority to get out and photograph as much as I can this summer. Summer is my favorite season in Rocky Mountain National Park. In my opinion you just cant beat hiking to alpine lakes, the smell of the pines when hiking through the forrest and the sounds of brooks babbling over rocks.
Since setting aside this time in the field to shoot, two things have become apparent to me. First off, perhaps all the time I've been able to spend photographing Rocky has skewed my recollection, but as far as I'm concerned we've had some of the best sunrise and sunsets on a consistent basis that I can even remember. Not to jinx my string of good luck, but it seems that we have consistently had beautiful sunrises filled with colorful clouds three to four days a week. In the past I can remember going eight or nine straight days with nary a cloud in the sky, especially during our drought years in the early 2000's. Without a doubt this is tied to the increased moisture thats been present over Colorado the last year or so.
The second thing thats apparent, and is something I stress often is the need to assess and photograph locations both looking towards the peaks and mountains, as well as looking away from the peaks and mountains. For example, some of the best color in the sky occurs over the eastern plains of Colorado during sunrise. While it's tempting to always want to point your camera towards the mountains, don't neglect the opposite view.
This morning for example I used this principle to photograph sunrise over Dream Lake. While this image did not include iconic Hallett Peak or Flattop Mountain and in fact did not include any of the prominent peaks associated with Dream Lake, I came away with one of my favorite images of a subject I shoot often. So go ahead and take advantage of both the colorful sunrises and sunsets, but also take advantage of the opportunity to try something new when photographing in Rocky Mountain National Park.