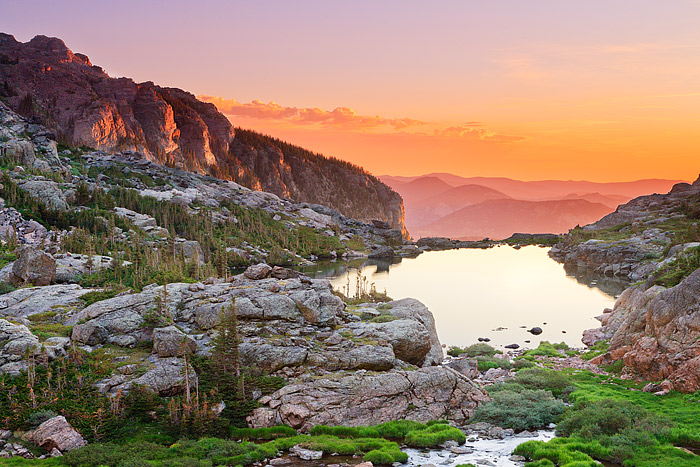 Rocky Mountain National Park has one beautiful lake and peak after another. Study at Topo map of Rocky Mountain and one can attempt to imagine the beauty of the location and surrounding peaks before ever setting foot in the area.
People often ask me what's my favorite area of Rocky Mountain National Park, or what area do I think is the most beautiful. It's not a question I can even attempt to answer thankfully. There are just too many beautiful places and locations in Rocky Mountain National Park. Photographing in any area of Rocky will keep me satisfied.
That being said, there are some areas of Rocky Mountain National Park that have an almost other worldly quality to them. The layout of the land, the peaks, the way the light filters in through the valleys give certain areas a look and feel that can only be truly appreciated in person.
One of these 'slam dunk' areas of Rocky is the Sky Pond and Lake of Glass area. A moderate hike of 4.5 miles leads you through Loch Vale and some of the most spectacular scenery found anywhere in Colorado. The Lake of Glass and Sky Pond area sit on a high shelf above Loch Vale and the view from the cirque is impressive in all directions.
This area which is world famous for it's rock climbing formations such as the 'Sharkstooth' and the 'Petit Grepon' make up the Cathedral Spires which border Sky Pond and Lake of Glass. Along with Taylor Peak, these formations and peaks make the photography very enticing as well.
With that being said, my favorite view from the Sky Pond area is looking northeast back over Lake of Glass and Loch Vale. It's a classic Colorado alpine scene at sunrise. It has all the elements, lakes, mountains, valleys and lighting that make the 4.5 mile hike well worth the effort.