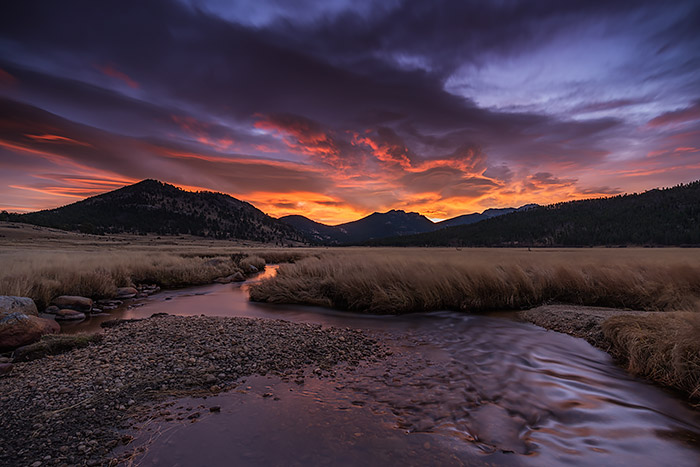 Were now firmly in whats known as 'Shoulder Season' in Rocky Mountain National Park and the two towns of Estes Park and Grand Lake that border Rocky. The autumn leaves are off the tree's, the Elk rut has wound down and the throngs or visitors to Rocky, Estes, and Grand Lake has decreased considerably. Even with our mild weather to date, the cool nights have frozen over much of the surfaces of the higher lakes and at this point it's only going to take one cold front and some snow to propel Rocky Mountain National Park into full winter mode. As of this writing it looks like that cold weather event will be upon us by next week.
It's easy as a photographer to take a step back from making images and waking in the middle of the night to make it to your destination before sunrise. Grasses have turned golden or brown and the westerly winds seem to blow unabated each day. While it's certainly a little less glamorous of a time to photograph Rocky Mountain National Park then say summer and fall, there are still unlimited opportunities for 'wow' type moments and images to be had.
I'm also using this time to continue to give the Nikon D810 a full shake down in the field. As I stated last week, I picked up a Nikon D810 with a modest set of Nikkor lenses to put the famous 36 megapixel Sony Exmor sensor through its paces. Clean, pliable, high dynamic range files at low ISO are very useful for the images I create when out in the field.
My Canon's have served me very well and over time I have been able to adjust to the limitations of my Canon bodies and sensors to create images the reflect my vision. Even with that being said, I've seen very little improvement in low ISO files on my Canon bodies and quite frankly my 2007 Canon EOS 1Ds III had cleaner lower ISO files then my 2012 5D Mark III does. I'm really hoping Canon takes a hard look at low ISO dynamic range and again becomes a class leading innovator in this area. In fairness to Canon their sensors at high ISO until very recently were class leading and Canon continues to add innovate and update lenses in their lineup setting them apart from every other camera manufacture. As has been said many times, photographers don't buy a sensor, they buy a camera system. As a whole, Canon is still a very attractive and innovative system. Even so, at this time I believe it's only fair to give the Nikon D810 and it's class leading low ISO sensor a whirl to see if it indeed does live up to the hype and potentially help to aid my image making.
If your looking for a full on review of the Nikon D810, your looking in the wrong place. There are plenty of great sites on the internet with in-depth reviews, charts and test images. Periodically, I will use this space to reflect on my experiences with the D810 and what my real world impressions are of the camera and sensor from the perspective of a landscape photographer who typically does not need to photograph at ISO's higher than 400.
Here are a few thoughts after having the camera in hand now for a week and having sometime to use it in the field. I expect some of my impressions to change overtime as I get used to the new interface of the Nikon system. While I was a Nikon user 15 years ago, the past 15 years of Canon usage has more or less erased all my Nikon 'muscle memory' so to speak and the first and most difficult thing I'm dealing with is seamlessly working with the camera in the field. I still feel quite disjointed using the D810 but I expect this to dissipate quickly with more use.
First off some of the negatives of the camera from my perspective as a Canon user. The menu system is not nearly as easy to navigate as Canon's. While it's not as quirky as some other reports make it out to be, to me at least it's not nearly as intuitive as Canon's layout.
Secondly, I miss the Canon quick control dial on the back of the camera. On the D810 there are two dials to adjust shutter speed and aperture, to my liking the quick control dial is much more easily found and accessed when one's eye is pressed against the viewfinder. Thirdly, Live View is still very much behind Canon's implementation. As a former 4×5 large format shooter, I use Live View religiously to check focus on my images. Canon's Live is quick, responsive, detailed, accurate and also acts to lock the mirror in the up position during shooting to prevent additional camera shake. One of the reasons I never purchased the Nikon D800 was because I had heard Live View was more or less useless. The image on the screen was an oversampled image and not a true representation of what the viewfinder was seeing. The Nikon D810 Live View supposedly addressed this and improved upon it. While it apparently no longer over samples the image on the LCD, it's quite jumpy when trying to zoom and its still difficult for me at least to gauge if I'm actually in focus, especially in dim lit conditions which is often the case in the predawn hours that I'm out.
Lastly, I am finding the color balance on the Nikon to be more difficult to work with. For the most part, I very much enjoyed the color balance of the Canon sensors and the Canon's do a very good job setting a proper white balance. The Nikon on the other hand at least to me tends to lean to a more yellowish coloration and I often find I really need to play around with the white balance to get it more to my liking. Even so, none of those issues are deal breakers for me and I'm already well on my way to making adjustments.
As for some of the positives, there are quite a few. First off and most important to me is the low ISO dynamic range of the sensor. To date I have been blown away with the quality of the sensor. The files from the D810 are like rubber. It is very easy to push and pull shadows and highlights with little degradation to the image file. No banding, no chroma noise in the shadows and clean skies. All things I constantly had to adjust and fight with when processing files from my Canons. The native 64 ISO of the D810 creates a beautiful clean raw file to work with when exposed properly. This of course is why I purchased a D810 and to date I'm really impressed at just how much cleaner the files from this camera are.
Secondly, I am impressed with the 3 Nikkor lenses I am using on the demanding 36 megapixel sensor. With the exception of the Nikkor 14-24mm F2.8 lens which has now achieved legendary status, I had heard mixed reviews on some of the Nikkor lenses. When I shot Nikon's back in my film days I had always been extremely pleases with Nikon glass but with pixel peeping, demanding sensors and the internet amplification affect I was a little unsure of what to expect from the 3 lens kit I have chosen. To be clear, my Nikon kit is much more modest than my Canon one, but I still need lenses that will perform on the D810 when used between F8 and F13 which is where I do 95% of my landscape shooting. The 18-35mm F3.5-4.5, 24-120 F4 and 28-300mm F4-5.6 have all proven very capable to date. While I'm guessing I may make some slight adjustments to this kit if I continue to move forward with Nikon, I feel I can cover most of my bases with this current setup.
So in summary after a week with the D810 I'm very pleased with the quality of the files coming from the camera. I would say to date, the files from the D810 have exceeded my expectations. I'm pleased with my current lens kit and at this point other than having a lens wider than 18mm, I dont see the Nikkor lenses as a weak point in the system. Live View needs lots of improvement and Canon's is still far superior. Overall I'm still getting used to the menu's and ergonomics of the D810 but I expect these to fade with more usage. As always, the most important thing is not gear. It's one vision, passion for the subject and ability to put themselves in the field often that will lead to true growth and improvement. Overlook these and it wont matter what camera or lens you own.