Fall in the Rockies is like natures great tease. Golden foliage, warm days and sunshine make it a favorite among many. Then, wham!. Snow, wind and freezing temperatures put a quick end to the beautiful and easy pace of autumn in the high country. As discreetly as autumn weaves its way into the meadows, forests and canyons that make up Rocky Mountain National Park, Old Man Winter arrives with all the subtlety of a canon blast.
This week Rocky has gotten it's second significant blast of cold winter weather. The first blast which arrived on September 10th was too early to cause any damage to the foliage and in my opinion did nothing to dampen what was a very good color year in Rocky Mountain National Park. This second cold blast however has caused snow to fall over Rocky three nights in a row. Trail Ridge Road has been closed down because of snowdrifts 2-3 ft high according to the NPS and much of the Autumn foliage has either fallen or is now past peak.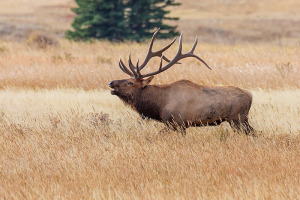 There are however, a spotty areas of fall color in Rocky Mountain National Park which may hold up through the end of the week. Higher elevations such as Bear Lake have been past peak for over a week now so I wont go into much detail regarding color status in those areas.
The Bierstadt Moraine is pretty much done. There are a few decent stands near the base of the Moraine but otherwise it's pretty spotty. Moraine Park will still have some color through the week. There are still a fair amount of aspen stands that are mostly green. The aspens in Lower Beaver Meadows and near the Beaver Meadows entrance station are a past peak. There are a few decent stands with color and one should be able to frame Longs Peak with some color into the weekend. There are a few smaller groves in Upper Beaver Meadows that are just starting to turn and may offer some of the best late color in the park.
The Horseshoe Park area is also now past peak. Most of the larger aspen groves in Horseshoe Park are past peak and have dropped their leaves. There are a few isolated trees and groves hear and there in Horseshoe Park that still look good. If you take your time there is the potential to photograph more intimate scenes of color in and around Horseshoe Park.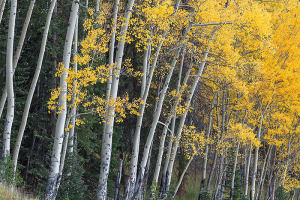 I've not been over the the west side of Rocky Mountain National Park since Saturday. At that time much of the color was just past peak. I would have to believe that this last storm has stripped many of the tree's of their leaves in and around the Kawuneeche Valley. The large stand of aspens at the Timber Creek trailhead was well past peak as of last Saturday. Even though the foliage in most of Rocky Mountain National Park is now past peak, many of the grasses in Moraine, Horseshoe and the Kawuneeche Valley are now golden and looking very good.
Lastly the Elk Rut is still underway in Rocky and while the Elk are very active in Moraine, Horseshoe, Beaver Meadows and the Kawuneeche Valley, especially at dusk and dawn their seems to be a noticeable turn down to the intensity of the rut at this point in time. As always theres a million things to do and photograph in Rocky Mountain National Park. Regardless of the seasons or the weather the next few weeks photographers should have little problem staying busy and creative.