Spending time on the west side of Rocky Mountain National Park in the offseason is one of my favorite things to do. The crowds are long gone from the west side of the park and Grand Lake. Trail Ridge Road is closed at the Colorado River trailhead and for all intents and purposes the west side of Rocky becomes an island on to itself with miles of open trails and light traffic on the roads.
Snow has begun to coat the high peaks of Rocky Mountain National Park and the meadows and valleys are also seeing the snow accumulate over their trees and grasses. Ice is forming along the edges of the streams and on top of the boulders and winters coming grip is slowly ebbing the flow of water downstream. In short order, feet of snow will begin to accumulate over the land and the streams and waterfalls will completely freeze over.
The transition time between autumn in Colorado and winter is brief and manic. Warm sunny days can quickly morph into full on blizzards which cover the peaks with snow and freeze the many streams and waterfalls.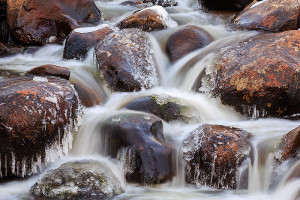 Some years however, the transition from autumn to winter is slow and more pronounced. Ironically, with all the historic weather we've had leading up to autumn, this has been one of those years in Rocky. So before winter fully settles into Rocky, I spent time venturing around the west side of the park photographing some of the creeks and falls before they completely freeze over for winter. The combination of freshly fallen snow and ice was perfect. There were still open areas of water, but winter is methodically creeping over the landscape of Rocky Mountain National Park.
The next time I photograph the west side of Rocky, the transition from autumn to winter will be complete. Winter will have asserted her grip on the park and sealed the peaks and streams with a coating of snow and ice, only making for more opportunities to photograph the ever changing seasons.