It's been an age old issue in landscape photography since it's inception. When conditions are dynamic but changing should you settle on one location or perhaps move to another location that may yield an even better image. Even more difficult, should you make an attempt to photograph two locations in a hurried fashion?. The second approach leaving one essentially attempting to try and both have your cake and eat it. The risk may pay off in multiple images in conditions that are rare and often no duplicated, or of course it may backfire and leave you scrambling around with nothing to show for frenetic efforts once the dust settles.
Generally speaking I advocate taking a more methodical, contemplative, mindful and less hurried approach to photography. There are times however, when spectacular conditions combined with equally spectacular locations transcend one's contemplative approach and we throw caution to the wind and let our excitement overrun our sensibilities.
I've run into this quandary often when out photographing in the field. Conditions for dynamic landscape photography look perfect. The stars are aligning in your favor. The earlier morning hike to an alpine lake 4 miles from the trailhead looks like its going to reward your hard work in getting to the remote location long before sunrise.
Of course there's that pesky little voice inside your head that both harbors doubt,questions your original intent and begins suggesting different or more favorable destinations. For me, I may find myself questioning whether my original location is really going to be 'the shot'. Maybe a seed of doubt has now been planted, maybe that next alpine lake another mile higher will be even more dramatic. And for those now concerned for my health, don't worry this is all part of the creative process for me. It's my discussion with my muse, it's my attempt at rationalizing something that most rational people wont attempt to accomplish. Somewhat counterintuitive as it may seem, it can actually be a way for me of being more immersed in the moment. I'm sensing, feeling, moving all the while attempting to anticipate how the 'moment' is going to unfold before my eyes and camera.
I found myself in this very situation a few weeks back. The plan was to get to the Glacier Gorge trailhead early so that I could be up at Sky Pond for sunrise. Arriving at the trailhead a little after 4:15 AM I found the skies over Rocky Mountain National Park still covered with clouds. Skies to the east over the plains of Colorado were clear so the conditions were shaping up to be perfect for this four and half mile trek up to Sky Pond. Sunrise was around 6:15 AM, so this particular morning so I had a good amount of time to make it to my destination but not so much that I could dilly dally along the way.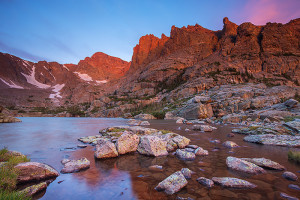 I set out from the trailhead with my headlamp lighting the way feeling pretty good about my prospects. Clouds drifted overhead and the wind was still as I bounded along the trail. I made it to western edge of The Loch in good time. I stopped briefly to survey the eastern horizon to confirm there were still nice breaks in the clouds. Sure enough it looked great, maybe too much so. It was not even 5:30 AM but the pre dawn colors had already begun to explode in the sky and The Loch was still as glass. While I was set on photographing Sky Pond, the little voice inside my head said 'you have to photograph this!'. Anyone who has attempted to photograph Loch Vale enough times knows windless mornings are rare, and windless mornings with beautiful clouds even more so. I glanced at my watch and attempted to reason with myself. If I was going to photograph from Sky Pond and give myself enough time to setup, I really needed to keep moving. I'll be quick I figured, Just a few exposures and I'll be on my way.
So I quickly setup my tripod and camera and started making images of this beautiful and tranquil scene unfolding before me. Photographers of course know that photographing in predawn light often requires very long exposure times. So even 'a couple' of exposures was taking much longer that I had anticipated. But I could tell from reviewing the display that these images were worth making. My five minute pit stop quickly turned into fifteen minutes and I forced myself to pack up and start heading up the trail towards my original destination.
It was now 5:40 AM and I was still one and a half miles from my final destination. The sky looked great, the clouds looked great and I was beginning to strongly question my decision to stop at The Loch. The last 1.5 miles to Sky Pond include a fairly steep ascent from The Loch as well as a scramble up and over Timberline Falls. I knew I was cutting it much too close for comfort at this point. Worst case scenario I figured I would stop short of Sky Pond and shoot Lake of Glass just below Sky Pond. So I pushed onward at a very fast pace huffing and puffing as I ascended the steep switchbacks just below Timberline Falls.
As I started the scramble up the side of Timberline Falls, the sky was really starting to explode with color. There was no way that I was going to be able to get to the western edge of Sky Pond for sunrise and the last thing I wanted to be doing was hiking along the trail as an epic sunrise unfolded over the peaks and lakes. As I crested the top of Timberline Falls and arrived at Lake of Glass it was apparent that I would have to setup here if I wanted to catch first light.

Tired and sweaty from the final push up Timberline Falls I setup along the shore of Lake of Glass just as the sun started to illuminate Taylor Peak and the Cathedral Spires. Sunrise was beautiful and if only for the fact that my original intent was to be at Sky Pond for sunrise I was quite pleased with my results from Lake of Glass.
I again packed up my camera gear and hiked up to my final destination along the western edge of Sky Pond. The clouds that had made sunrise so beautiful earlier had now obscured the sun. There were still a few breaks in the cloud cover so I again setup and waited to see if the sun would make a brief appearance as it rose in the sky. Shortly thereafter the sun illuminated for one last time the bottom half of The Cathedral Spires before again being blocked out by the cloud cover for the remainder of the morning.
What a morning it had been. A little more excitement and hustling around then I had anticipated but I felt good about the images I had created. It felt like not only did I have my cake, but I was able to eat it as well. While there's a small part of me that wonders what sunrise would have been like at Sky Pond if I had not stopped at The Loch and Lake of Glass I'm pleased with my how the morning turned out. The next time I'm heading to Sky Pond however, there will be not pit stops made along the way regardless of what that little voice suggests.